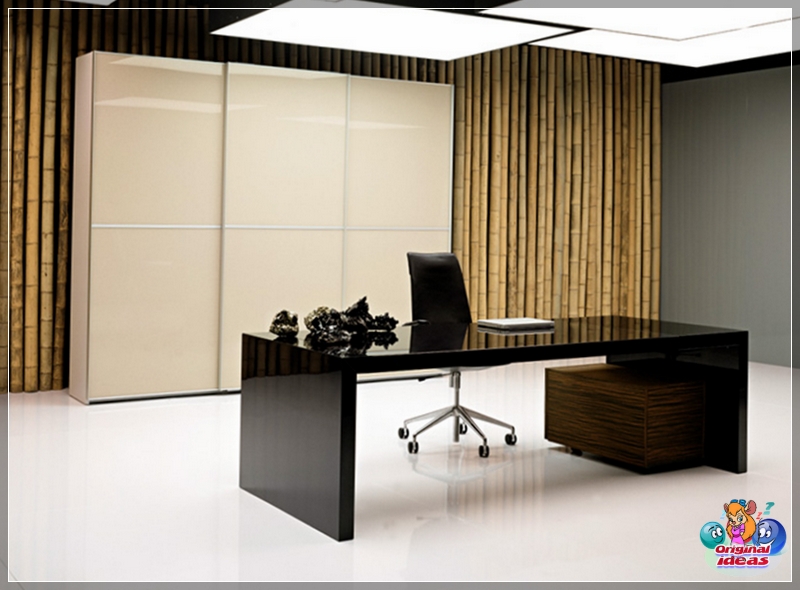 When it comes to designing a really well-optimized study, minimalism is seen as the most appropriate style of interior design for this purpose. In the end, nothing motivates you to work like a comfortable and well-organized office - spacious, bright and free of all unnecessary. Such a workspace is ideal for productive mental or creative activities, and at the same time it does not matter at all where you organize it - at work or at home.
In this article, we'll show you how to best furnish your office in a minimalist style. For clarity, we have accompanied our tips and tricks with photos of the best workspaces created by truly talented people around the world.
Finishing the interior of the cabinet in the style of minimalism
According to people who are versed in minimalism, an office in this style should be finished mainly with natural materials. This is surprising to many uninitiated people, but only because minimalism is often confused (and sometimes equated) with hi-tech.
Parquet is the most preferable option for finishing floors in rooms, the interior of which claims to belong to minimalism. The advantage of a parquet floor is that it has the property of "ennobling" any interior.
This is especially important for a minimalist interior, since no matter how expensive the furniture used in it is, it will still be quite simple in design.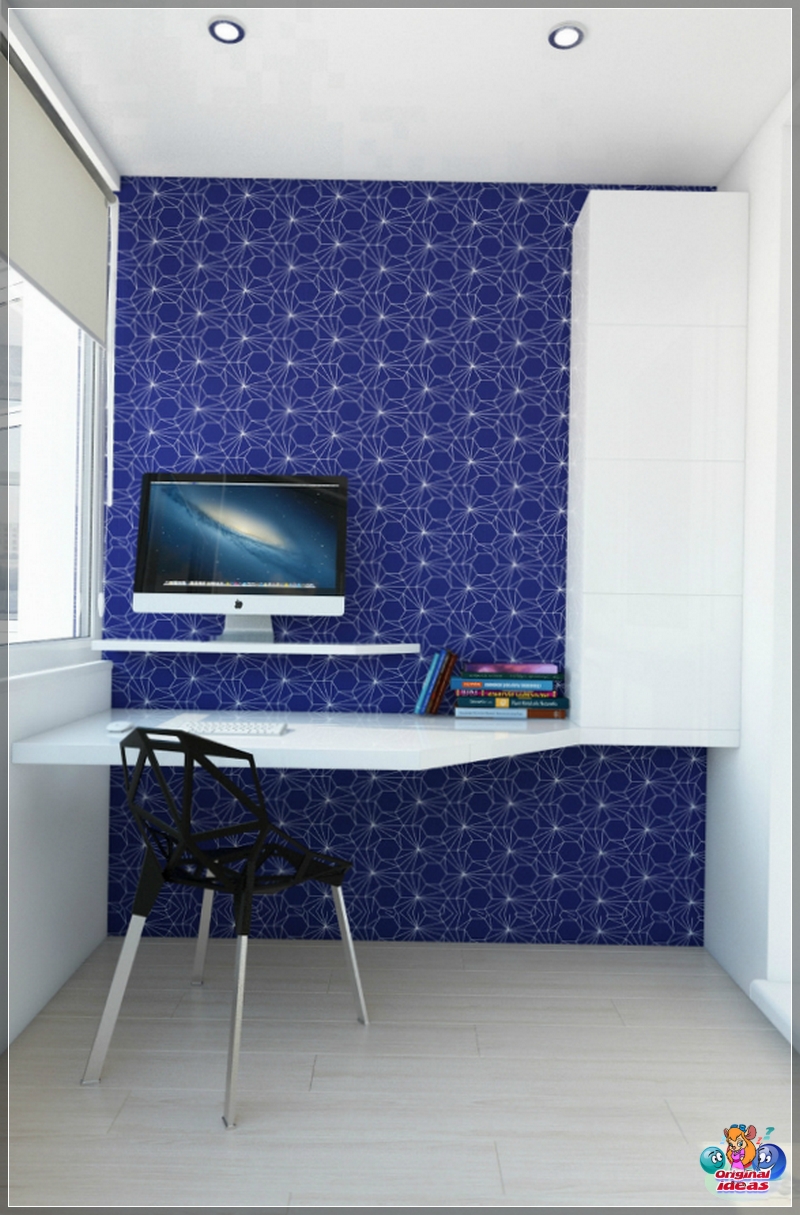 As an alternative to parquet, you can use linoleum or carpet (of course, without any patterns).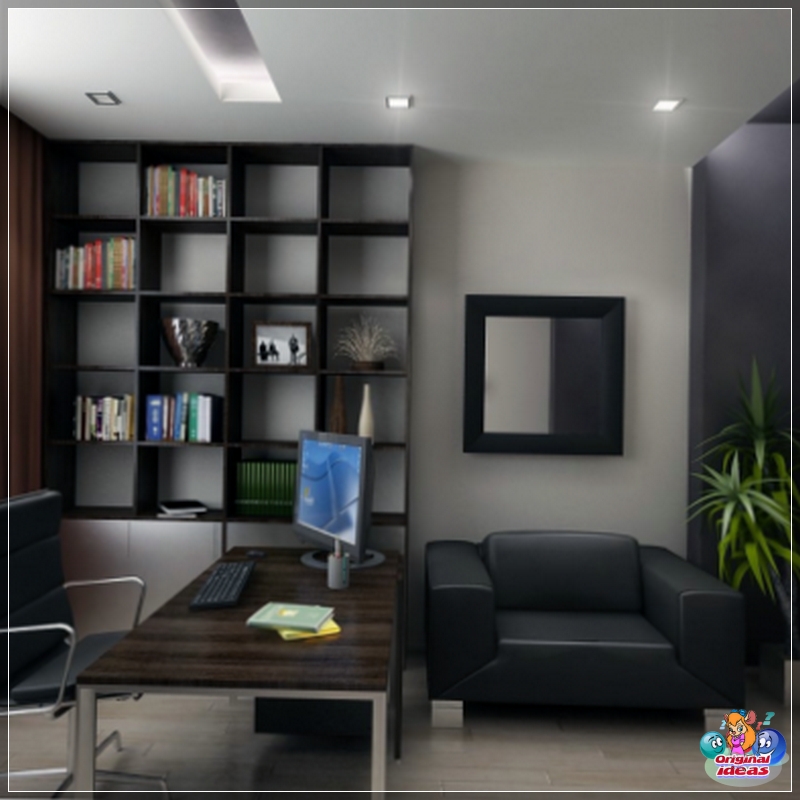 Walls are usually decorated with plaster or paint. Sometimes the walls are sheathed with plasterboard or cork panels. Wallpaper is also acceptable, but only plain or paintable.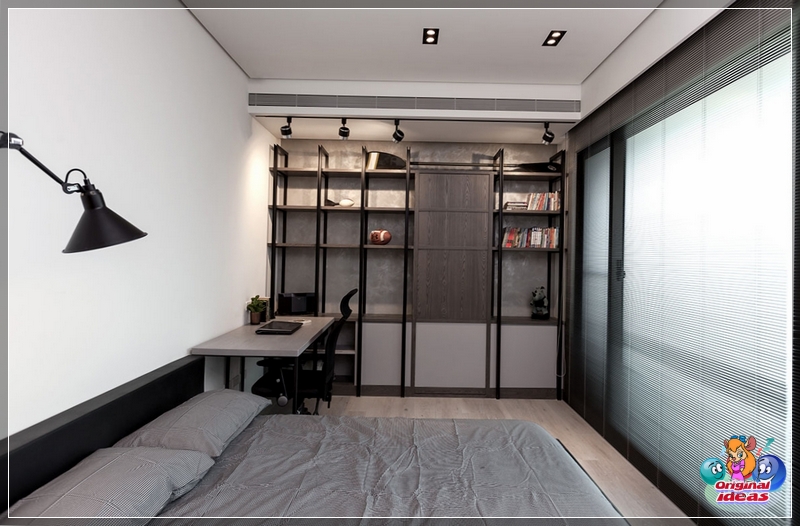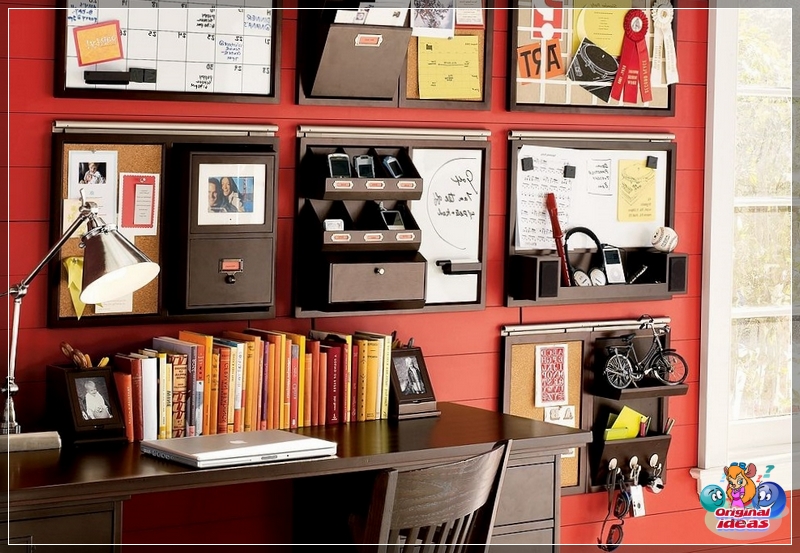 The color palette of the interior of the cabinet in the style of minimalism
Contrary to popular belief, decorating an office in the style of minimalism, it is not at all necessary to be content with only those meager means that black and white can offer.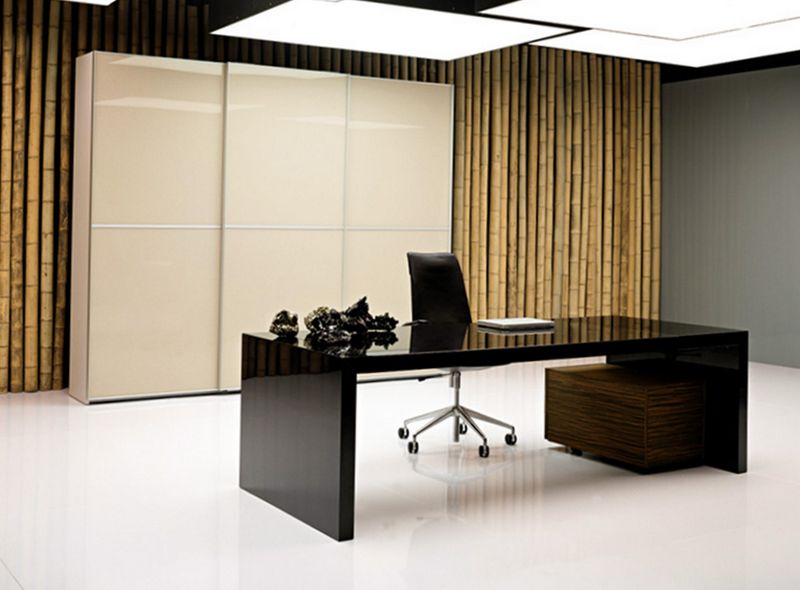 However, absolutely any color will not work either.
In order not to be mistaken, take note of the following recommendations:
Keep the color scheme as simple as possible. As a rule, no more than three colors are used in a minimalist interior, two of which must be neutral, and one must be contrasting. As the first neutral color in which walls and furniture will be sustained, you can choose any warm natural color - white, cream, ash, pistachio, light brown, pale yellow. The second neutral color is usually the warm woody tone of the floor. Accentuating elements in shades of navy blue, gray or black are responsible for the integration of neutral colors within a single interior concept.
In addition to accents in the interior, you can designate the so-called "focal point". Almost any piece of furniture can become such a point, provided that it is bright, sharply contrasting with respect to both the main colors and accentuating elements. As a rule, the focal point in the interior of the study is an armchair, a desk or their individual parts (for example, a cabinet door).
Often, in minimalist offices, the wall to which the desk is facing has a different color from the main one. With the help of various color schemes, you can mark the boundaries of not only the working area, but also, for example, recreation areas. However, in order for such solutions to also bring practical benefits, the walls should be painted in strictly defined colors. The influence of different colors on brain activity is well known: for example, an orange wall in front of your desk will stimulate your mental activity; having turned in a chair 180 degrees, you will see the opposite wall in front of you, painted in turquoise color, which has a relaxing effect on the body.
Advice. You can use up to three different woods in different shades to dilute the monochrome color palette of a minimalist interior.
Cabinet interior design in the style of minimalism
Minimalism suggests that if it is enough to make the interior of an ordinary room simply organized, then the interior of the study must be super-organized.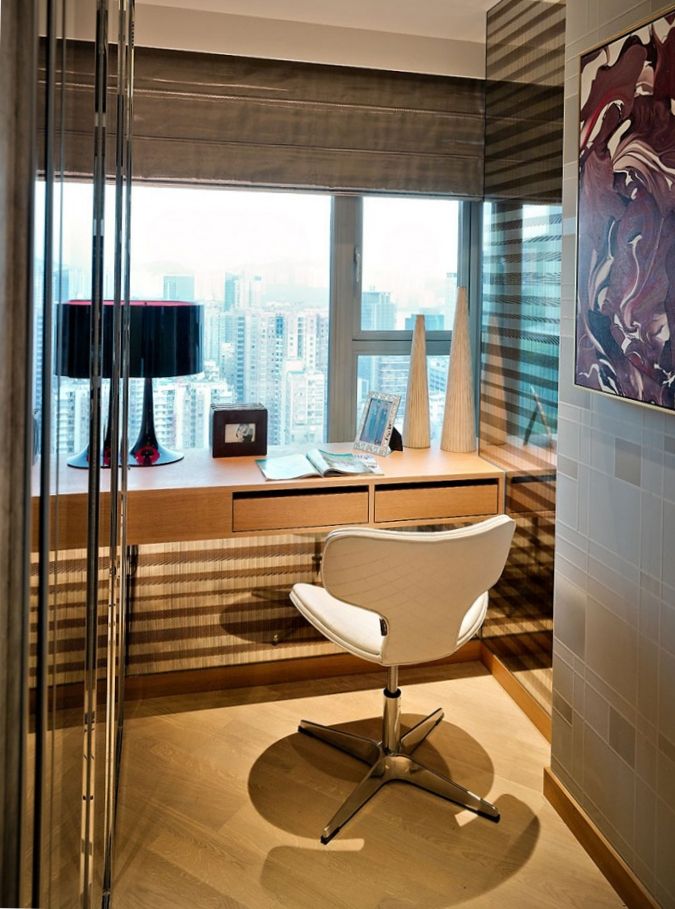 However, this does not mean at all that your workplace will certainly look like some kind of lifeless nanolaboratory.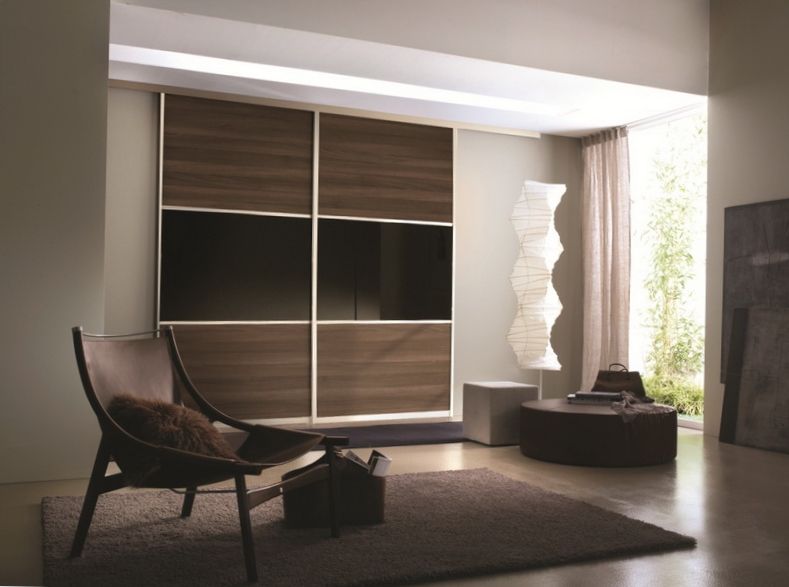 There are many ways to bring a little personality to the interior of a minimalist office, even if every detail of it screams: "To work!"
Give up curtains. As a last resort (if, for example, your office windows face the sunny side), it is permissible to use blinds. If there is a beautiful view from the windows, try to maximize it. While it is believed that a window directly in front of a desk does not allow for proper focus on work, for people of creative professions, the view of the green landscape, on the contrary, can be a source of inspiration.
If your desk is facing the wall, hang a blackboard above it, like a school one, on which you can use a special marker to write down tasks with the highest priority. An ordinary window can serve a similar purpose if glued on non-stickers with notes.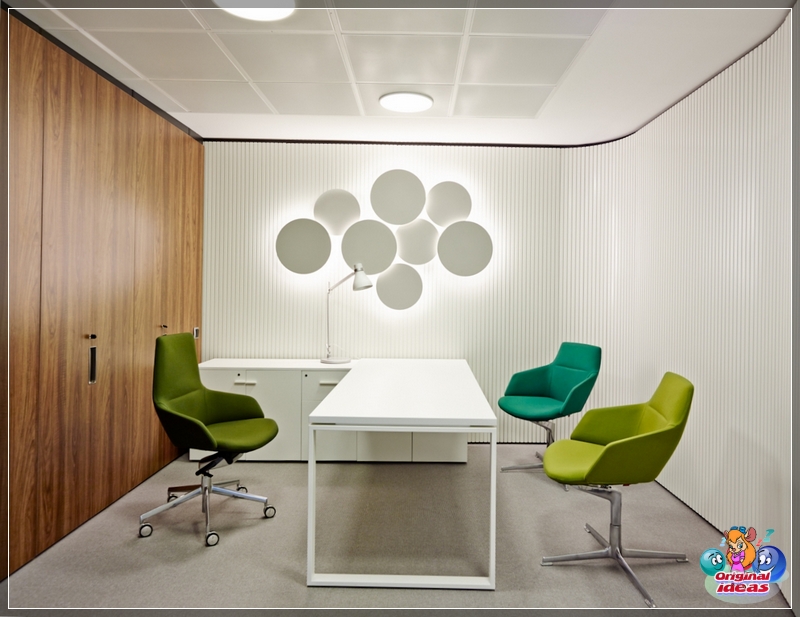 Make sure that the desk accessories in your office are not only in the same style, but also belong to the same collection. Such accessories will emphasize the chosen interior concept and at the same time help you keep things in perfect order.
Regardless of what style you choose when developing a design project for your office - minimalism or something more conservative - the desktop will certainly be the central element in its interior. V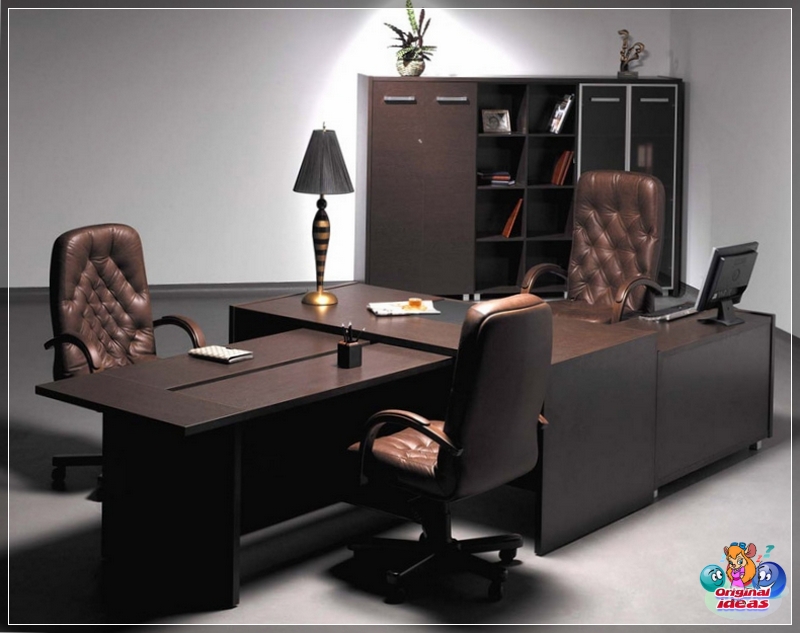 by the way, progress itself today is clearly on the side of the minimalists: if until recently you needed to have just a huge desktop on which you could place the system unit, monitor and keyboard, now, with the widespread use of laptops, laptops and desktops, such tables can be safely considered a relic of the past.
They were replaced by other models, as if descended from the pages of a volume of science fiction.
Consider workbenches with office supplies built directly into the worktop. The design of some of them is downright the quintessence of minimalism.
Your desk doesn't have to be on the floor. Today you can find options for tables, consisting of only one table top and a drawer located under it for storing office supplies. They are attached to the wall at a convenient height for the user and from the side look like they are floating in the air. But, of course, such a model is suitable only for those who work with a laptop.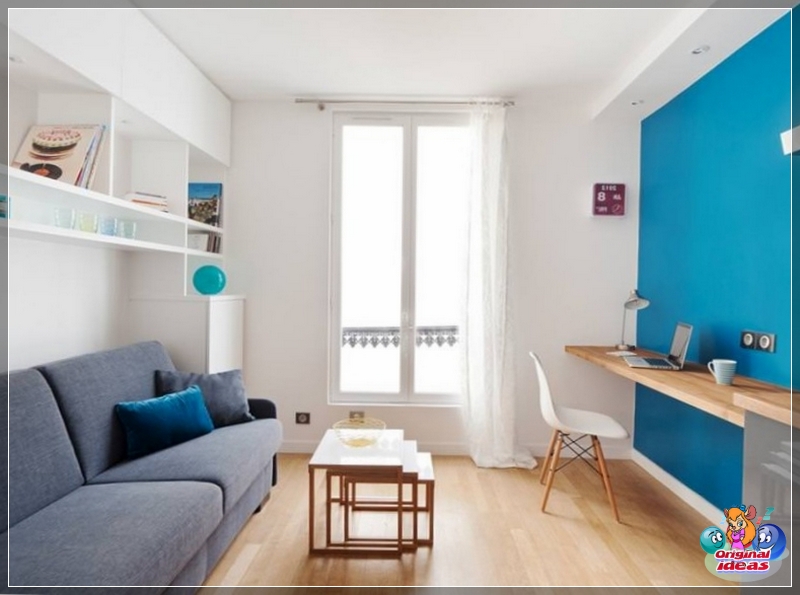 An innovation in office design - a desktop with an integrated computer. Some models even have retractable monitors. Of course, while such tables are still too expensive for most people, the very prospect of contemplating perfectly smooth surfaces of an office interior every morning is quite tempting.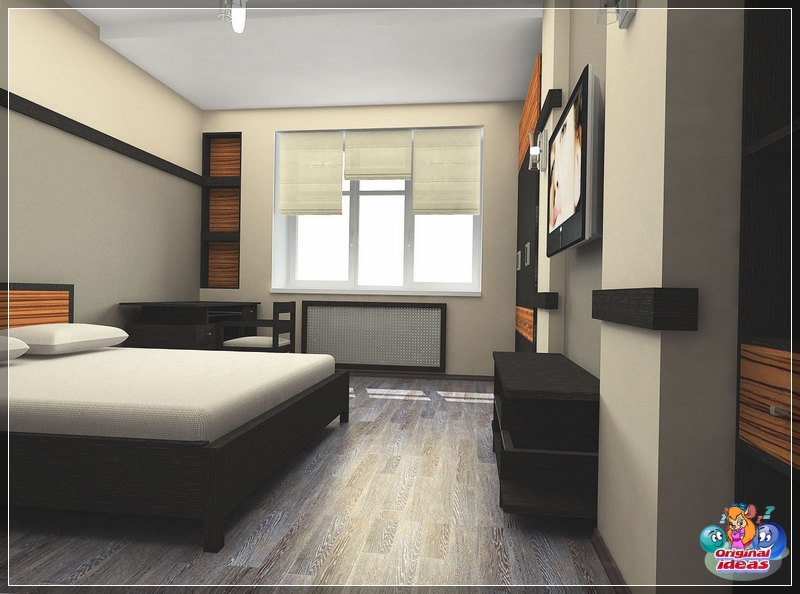 Decorative elements in the interior of the cabinet in the style of minimalism
Putting the final touches on the look of the cabinet, the interior of which tends to be minimalist, pay special attention to the choice of decorative elements.
This is especially important if you are not the only person in the office - it will never be superfluous to impress your visitors as a person with good taste.
Add spatial depth to the interior by expanding the texture range. If your office has a sofa, a pair of contrasting color pillows will look good on it. Excessive austerity in office furniture can be counterbalanced by a small rug with a playful pattern.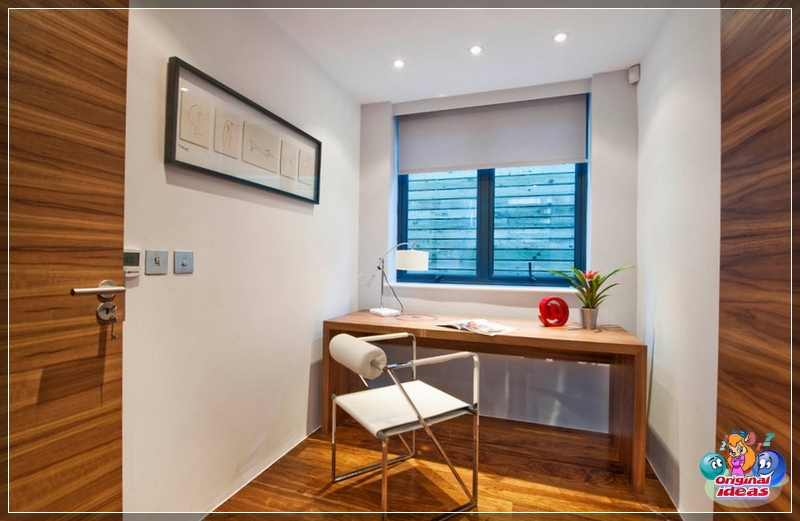 Display typographic posters prominently. Inspirational quotes and original slogans printed on them will inspire you to professional achievements. In addition, the bizarre geometry of lines so characteristic of the typographic style tends to visibly "revive" bare walls.
If your office is designed for one person, hang on the wall in front of you a few of any black and white photographs - they will set you up to work alone. A small cactus in a cube-shaped pot placed on the desktop will also keep the lone worker company, at the same time bringing a little organic aesthetics to the interior.
Use accessories with a simple design based on combinations of straight lines and geometric shapes. A classic example of a desktop accessory for a minimalist office - Newton's cradle.
Advice. If your work computer is visible from anywhere in the office, make sure that the screensaver installed on it is in harmony with the minimalist aesthetics of the interior.
In this case, it can even act as a central accent.