People have used wallpaper and paint in their renovations for a long time. They wanted to try something new. Decorative plaster coped well with this task. She looks good enough on the walls. Thanks to her, an unusual repair is obtained.
It can be used in various rooms. In this article, you can see in the photo what decorative plaster looks like in the interior of an apartment, and you can learn a lot about it.
Decorative plaster in the interior
Advantages of decorative plaster
Excellent combination of gray-white color in the interior
Decorative plaster has advantages over other finishing materials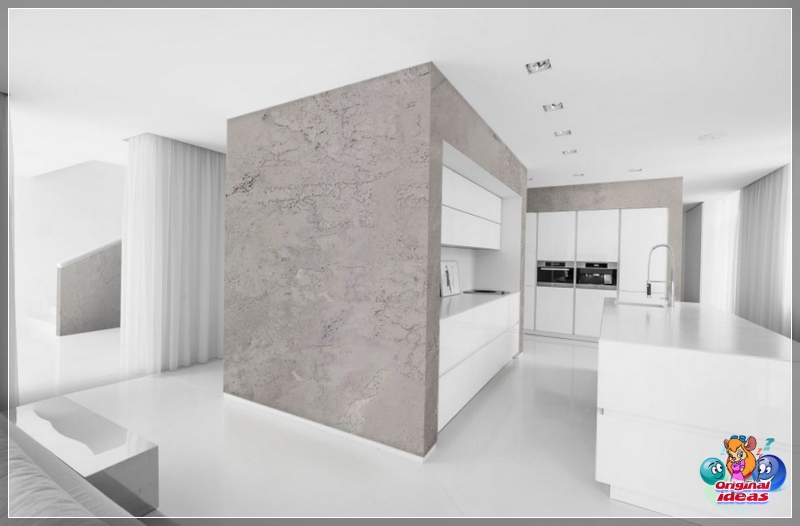 Decorative effect of concrete
easy enough to apply to the surface;
no additional finishing work is needed before application, but it is imperative to apply a primer and prepare the wall;
in comparison with others, a fairly inexpensive finishing material;
easily masks flaws in the wall, while there is no need for repairs;
prevents the appearance of mold;
the plaster is resistant to moisture and temperature extremes;
imitates stone, wood, marble, granite, silk quite well;
you can make patterns and drawings on the wall and ceiling;
is an environmentally friendly product.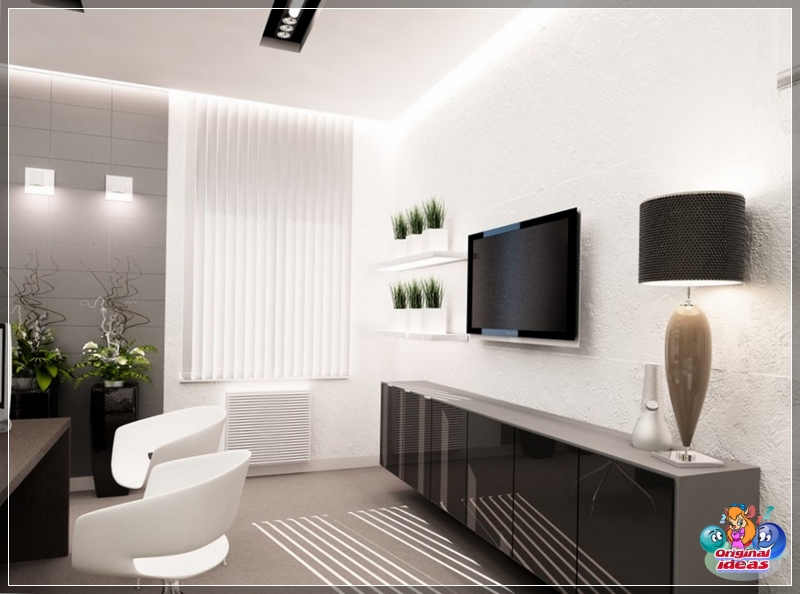 Plaster option in the living room
Decorative plaster allows you to create a unique image of any of your rooms and create your own unique charm.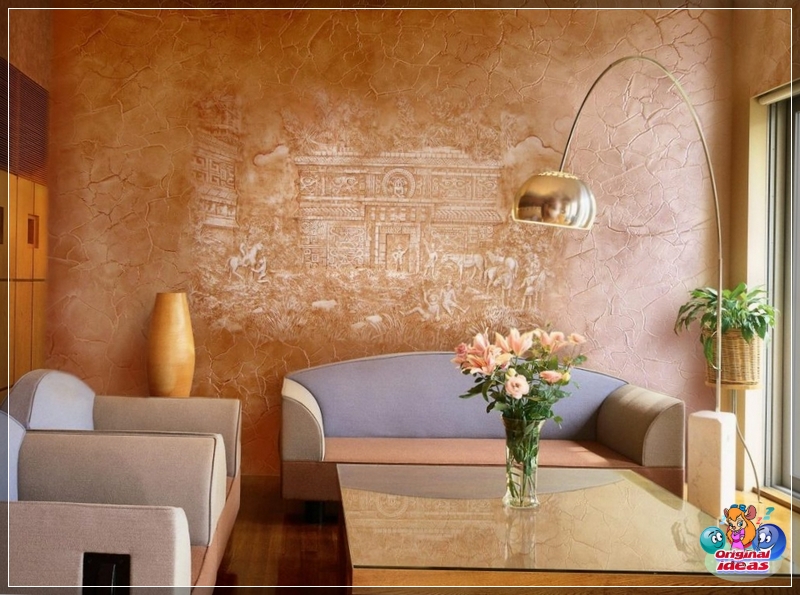 Advantages of decorative plaster
Varieties of decorative plaster
Loft-style decorative finish
The most luxurious and presentable plaster - Venetian. It contains slaked lime, beeswax and stone dust. It all depends on what kind of relief you prefer. You just need to mix the solution with the particles you need. With small particles, a rough pattern is obtained, and with large parts, a volumetric and quite distinct.
Decorative wall decoration in the hall
The decorative plaster itself is white, but if you want to achieve a brighter and more saturated color, then you need to add color. The plaster is diluted with water or a special liquid. In the photo below you can see how decorative plaster in the Venetian style looks in
apartment interior. Decorative plaster in dark green tones
As for the silk plaster, it is more elegant in the interior of the apartment. Its surface is smooth and velvety. If you are thinking of a modern style or a classic, then this type of plaster is for you. In most cases, it is used for the bedroom. You can see an example of silk decorative plaster in the interior in the photo.
Column baroque plaster
It is also called
liquid wallpaper.
The texture is fairly new, but is starting to gain popularity among citizens.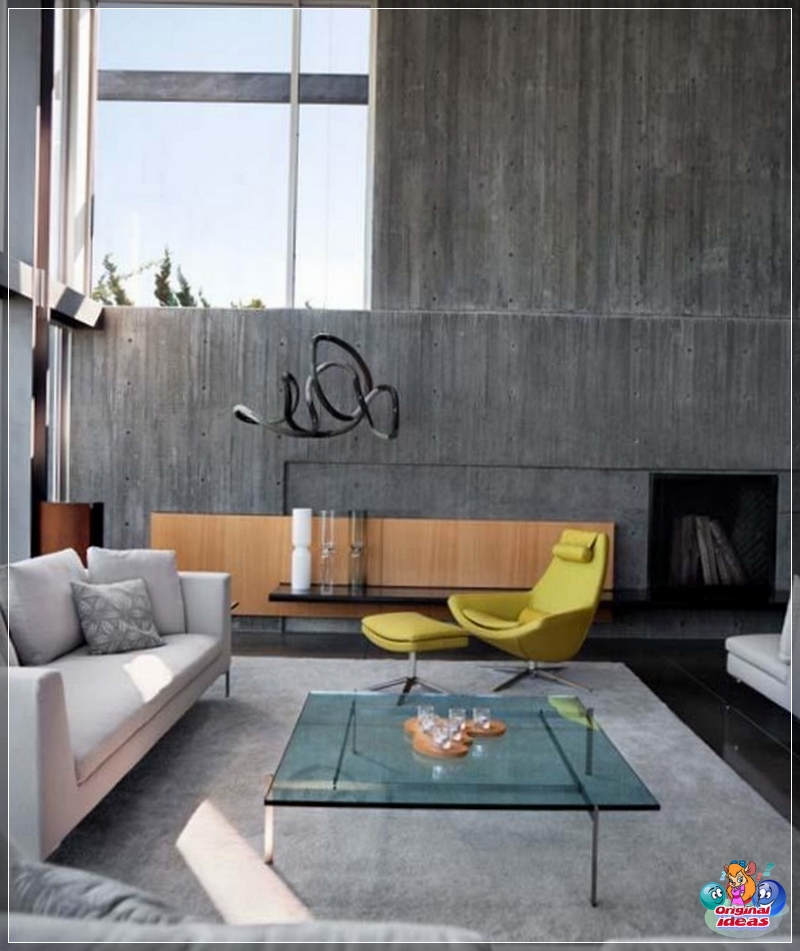 Stylish wall decoration
Decorative plaster bark beetle - practical and modern. Due to its structure, which includes grooves, it can mimic a tree. Only with the help of a special application technology can you create a texture that is suitable for any room. Shades of bark beetle in white or blue tones are most suitable for the bedroom, and darker ones for the hallway.
Loft style in an interior with concrete walls
The most interesting textured plaster. It makes it possible to create any convex embossed surface: wood, stone, water drops, sea foam, snake skin, etc.NS. The variety of colors allows you to use it in any style: classic, modern, etc.
Living room walls are finished in dark gray tones
Marseille wax. Such a relief texture makes it possible to display the bark of a tree, brick or stone on the surface. It is imperative that after application, the surface of the plaster is polished with wax. This will give it a glossy look. Such decorative plaster is suitable for an apartment made in French style.
Bedroom with decorative wall decoration
Structural plaster. Painterly drawings can be done with structural plaster. Such plaster is supplied to stores in white. The desire to make it in different colors will help different pigments.
Silver shades of walls in the bedroom
Decorative plaster "Manna". Its surface can be flat or stone-like. The surface will be rough as it contains marble chips. Suitable for any stylistic focus.
Stone wall decoration
Decorative plaster in the living room
Plaster of purple flowers in a Provence stele
For
the living room is characterized by low humidity and stable temperature. Unusually finished, bare walls with backlighting
Therefore, plaster mixes are made on the basis of mineral, silicate and polymer additives.
Wall decoration in African style
Mixtures containing gypsum with cement or slaked lime are perfect for a living room.
Plaster in the living room
Decorative plaster in the interior of the corridor
Gold finish
Decorative plaster is widely used in the interior of the hallway, you can make sure of this by looking at sites on this topic, you can see a large number of photos on them.
Decorative plaster in gray tones
Positive qualities of decorative plaster in the corridor:
high resistance to abrasion and mechanical stress, you can do wet cleaning, it is easy to wash dirty places;
some types of plaster visually expand the space, giving it additional lighting;
using plaster, you can refine the corridor, giving it a certain charm.
For the corridor, the following types of plaster will be appropriate:
Venetian marble;
Plaster in the hallway
silk pearl or nacreous;
structural with a small texture, so as not to narrow the room;
embossed plaster, made to look like natural stone.
Decorative stone finish
In this section, you can see decorative plaster in the photo in the interior of the corridor.
DIY decorative plaster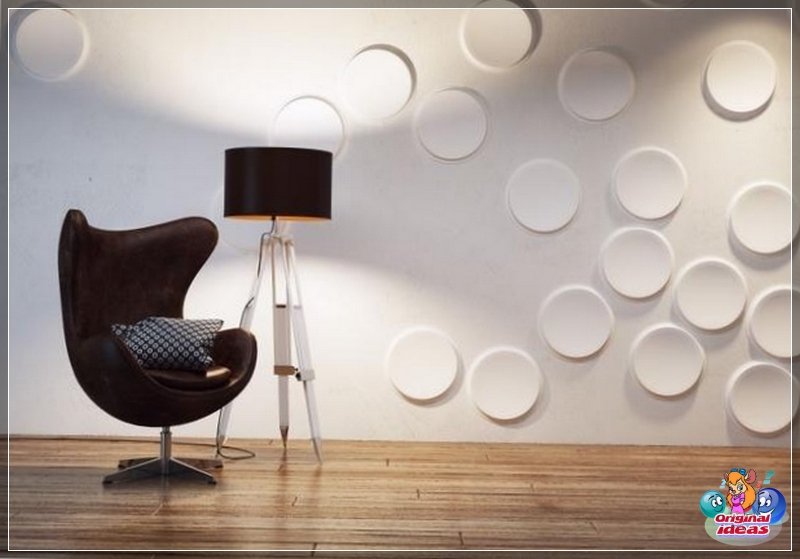 Wall decoration round panels
Let's look at how you can make decorative plaster with your own hands and demonstrate this in the photo.
Stylish wall and ceiling design
There are quite a few ways to make decorative plaster with your own hands. With the help of a variety of materials, you can give it a unique external texture and special qualities.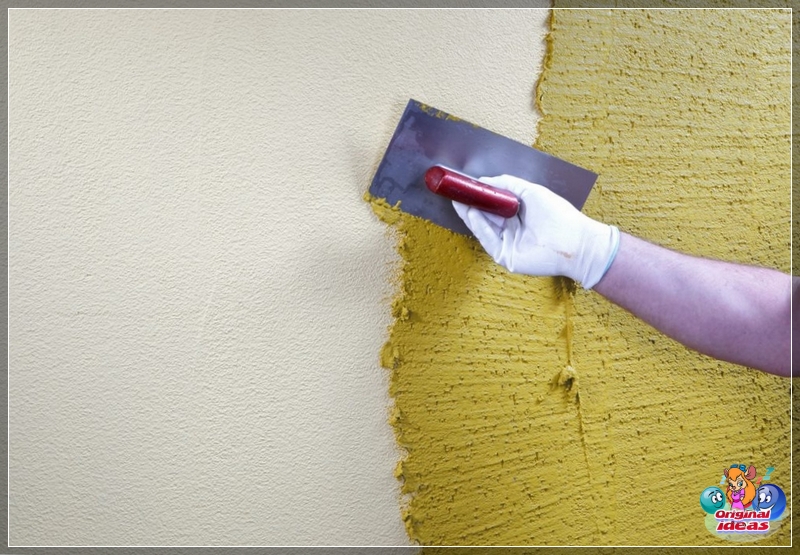 DIY decorative plaster
What basis can be taken for the preparation of plaster?
Unusual wall decoration with panels in the style of minimalism
Gypsum base. The composition may contain sand, wood fibers, stone chips.
Putty base. In addition, any granules made of durable materials or sand with fractions of up to 3 mm can be used.
Multi-colored paneling
To make the plaster look more attractive, with a variety of visual effects, reliefs are created:
Crumpled relief.
Weathered stone.
Relief reminiscent of roses.
Rock.
Scales.
Patterns and ornaments.
In the photo below you can see how the patterns on the wall are made.
Multi-decor, bronze wall finish
Wallpaper for decorative plaster in the interior
Bathroom finish in black with mirrors
After looking at a photo of wallpaper under decorative plaster, you will see that the material looks good enough in an interior with a variety of
stylistic orientation.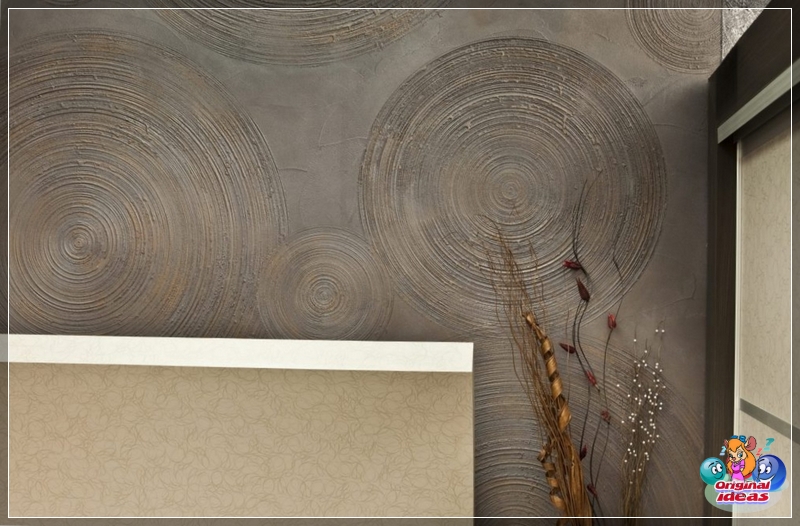 Wallpaper for decorative plaster
We can distinguish several types of plaster wallpaper that are most popular:
textured wallpaper imitating plaster coating;
wallpaper imitating plaster based on non-woven fabric;
wallpaper for Venetian type plaster;
aged wallpaper;
Stylized plaster wallpaper.
Pros of wallpaper for decorative plaster
Black wall decoration living room
The lifespan of wallpaper for decorative plaster is several times longer than that of ordinary paper wallpaper.
Strong enough.
Antistatic properties.
Sun resistant.
Easy to apply and remove from the surface.
In general, during use, wallpaper for decorative plaster does not differ from ordinary wallpaper.
Wallpaper gluing technology
In conclusion, we note that only you can choose which decorative plaster you prefer to apply to your wall, and the photos laid out in the article made it possible for you to clearly understand what its essence is in the interior of the apartment.