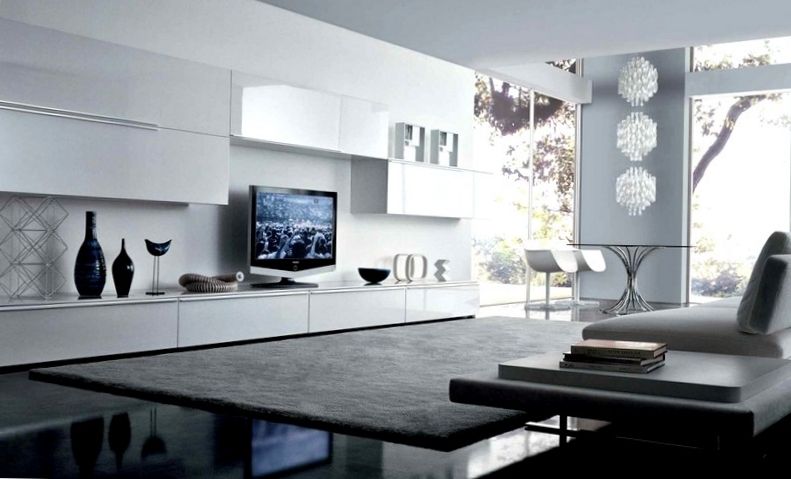 Modern is a modern trend for interior decoration, which also contains ancient features. Art Nouveau living room furniture has several distinctive features. This style combines various directions and variations, which influences the choice of a headset, but the general trend implies practicality and simplicity of interior items.
Living room in modern style - the room is stylish, comfortable, cozy and functional. It harmoniously combines practicality and beauty. Each item has its own purpose. That is why the direction is quite in demand, although in fashionable dwellings one can trace the features of the last century, reminiscent of its origin.
General stylistic features
The interior is characterized by simplicity and smoothness of lines, the absence of non-standard configurations. The dynamics of the design is emphasized by the right combination of tones and materials.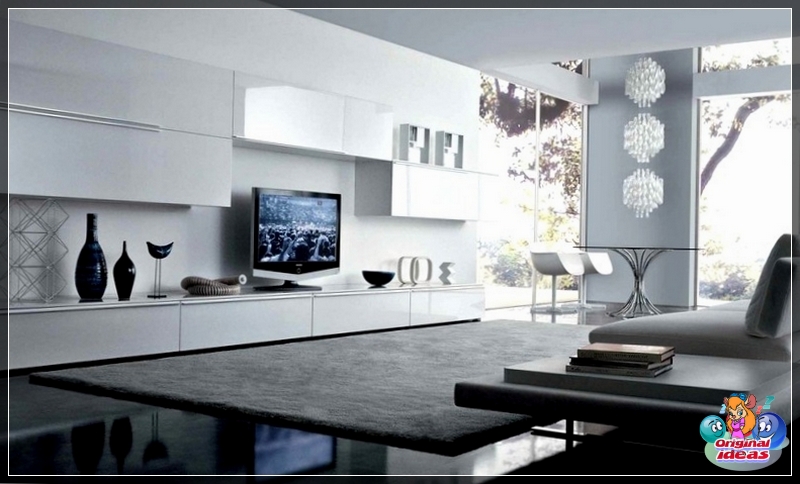 The direction has some other distinctive features:
Creation of additional structures. These are podiums, niche shelves, as well as multilevel ceilings.
Using different light sources, there should be several of them. Multilevel lighting is allowed, wall sconces, floor lamps, pendant and spotlights, parquet floor only in light color, soft carpet of small size in one of the zones.
Visual zoning of space using a combination of neutral or saturated shades. Reception allows you to highlight the main accents of the room.
Use of metal, glass, leather and imitation coatings. Items are located along the entire length of the perimeter of the space, which emphasizes this style.
Availability of technical means. Equipment should be oversized, for example, home theater, plasma TV with a large diagonal.
A small number of decorative elements. These are most often textile accessories.
The interior can be supplemented with elements of traditional classics. An antique mirror in a patterned frame, a coffee table with an original carving will do. They will complement the individuality and not disrupt the fashionable look.
Materials and colors
To create a comfortable living room, you need not only to fill it correctly with the furnishings, but also to correctly select the type of finishing material and its colors. To make the room look chic, you can finish the floor with marble.
On a note! The main shades for decoration are rich green, lilac, gray-pearl.
Tones should be slightly muted, tender and soft.  The use of light gray is a good choice for interior decoration. It looks not dull, practical.  Red is popular, but it can only be used to decorate two walls. It can be present in accessories or textile items.
The following materials are admissible:
marble;
gypsum;
glass;
crystal;
natural wood;
natural and decorative stone;
wallpaper;
dye;
embossed panels.
Wallpaper gives comfort to the interior. They should have a slight print or stripe. Walls painted in a single color are decorated with moldings. This visually stretches the walls horizontally or vertically.
Advice!  Light background visually expands the space. By decorating the walls of the room in beige and / or white, you can make the living room more spacious.
Large-format wallpaper is a great idea for this area. But an accent can only create a drawing that is conspicuous.
Furnishing for modern
Furniture in the living room must be selected based on its functionality. Suitable for convertible and modular, folding tables and sofas.
The style, distinguished by its functionality, allows you to use the area at the request of the owner. You can divide it into any zones. For this, zoning racks, drywall partitions, shelving and bookcases are suitable.  Screens and curtains made of lightweight fabrics will also do an excellent job of this role. Areas are also highlighted with specific lighting.
A bar counter will perfectly fit into a small room. Furniture should be arranged so as to ensure free movement, areas near doors and windows should be free, technical equipment can be easily integrated into the headset.
The wall in the modern living room should not affect the functionality of the room. You can arrange it to your liking, you do not need to comply with any standards. The headsets are characterized by the presence of smooth lines, original forms that will visually merge with the main structural elements.
Walls are made of plastic and wood, glass, metal. Dark wood shades are predominantly used. It is decorated with brass, copper, silver and mother-of-pearl inserts, large relief carvings. The ornament should be dominated by vegetation, and even individual components may look like a flower or a leaf. Colors - only natural.
Cabinet doors are decorated with stained-glass windows or curved inserts, the glass has a relief surface. Mirror surfaces decorate the back walls of dish shelves, shelves with LED lamps are welcomed.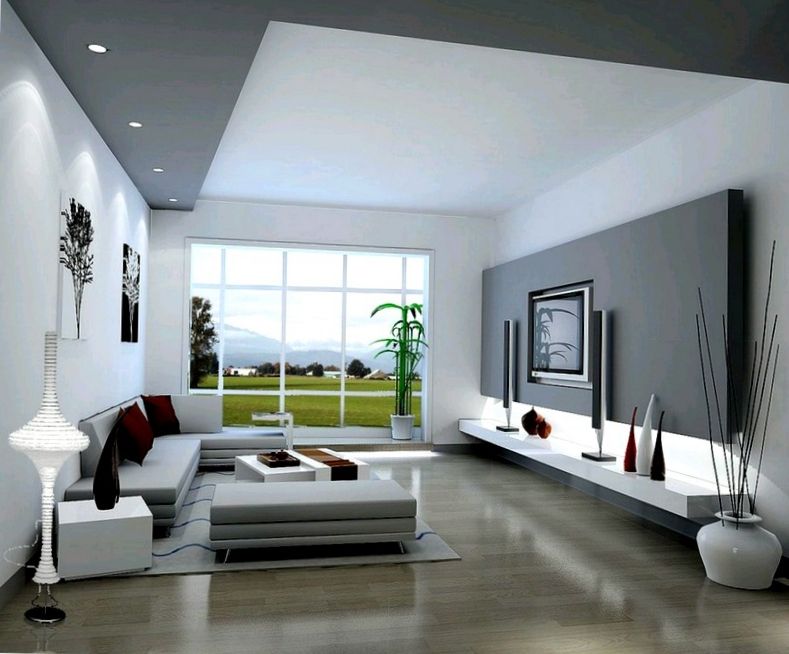 Modern living room furniture is distinguished by well-chosen elements. Interior items must necessarily have ornate-curved legs, graceful fittings. But this furniture is not always comfortable, because the emphasis is only on its exquisite appearance. The polished surface is varnished. This allows you to showcase the texture of the material and its natural coloration. Cabinet furniture always includes matte or colored glazing. Upholstery of upholstered furniture - silk or satin.
The wall is selected in accordance with the area of ​​\ u200b \ u200bthe room and the needs of residents. It can be located along the entire wall or occupy only a small part of it.
Glossy living room furniture in Art Nouveau style
Stylish and original glossy furniture is often used in the latest design solutions to add elegance and noble chic to the room. Its mirror shine during the day visually expands the space, the room is filled with positive and becomes brighter. In the twilight, the facades begin to shimmer with various shades, creating a romantic image.
Such a wall design in the living room adds uniqueness and originality to the space. Glossy furniture is produced in a variety of shades. She is the hallmark of the home. This can be a wall, a coffee table, a rack or chairs.
Important! Gloss visually enlarges the space due to specular reflections that occur in both natural and artificial lighting.
This finish is considered difficult to maintain, but it is not. Effective products that greatly simplify the care of glossy surfaces can be purchased at any market.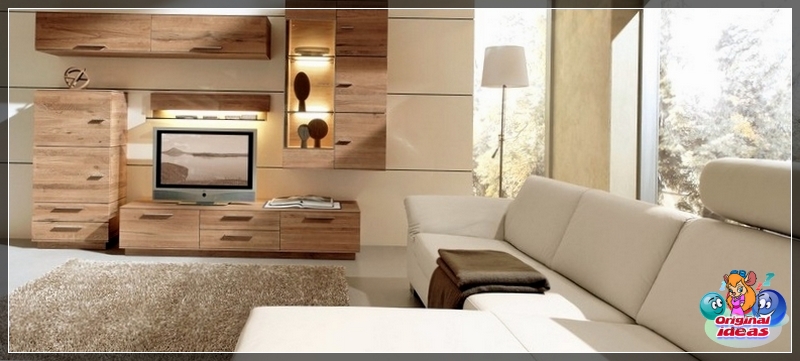 A great option modular furniture for a modern living room. It is not made up of huge modules, but of light and compact elements. Using modules, you can create a unique interior, choosing the components to your liking. Walls in the modern style for the living room can be with a large number of shelves for dishes, books, equipment and other necessary things. Modules are functional and save space.
Modern sofas in the living room
The main piece of upholstered furniture is considered to be a sofa. It is desirable to choose it among large models. Its upholstery should be monochromatic without patterned design. But there may be original inserts made of velvet or tapestry. Leather armchairs and sofas with curved legs that emphasize the natural beginning of this style look very good.
Chairs should be harmoniously combined with each other, as well as complement each other. They can be purchased as a set with a sofa. It is the soft set that makes the interior of the room harmonious, holistic. The sofa does not have to stand against the wall, it can be placed in the center of the room.
Upholstered furniture in the hall in the Art Nouveau style 2022 is associated with the words coziness and comfort. During the day, it serves for relaxation, receiving guests, and at night it is used for sleeping. Elegant corner sofas for spare rooms. They are very comfortable.
Additional furnishings
In a spacious room, you can put not only a standard furniture set, but also place a fireplace in it. Place a rocking chair next to it, an original ottoman. Models of poufs for style are offered not only comfortable, but also multifunctional. They can be expanded into a small but comfortable chair, used as a footrest.
Modern Art Nouveau - a style created on the basis of natural principles along with new textures and materials.  The interior of the living room is distinguished by the artistic unity of furnishings and decor, as well as the consistency of all details.