The kitchen is that place in our house or apartment, where functionality and convenience play a very important role. That is why modern style is the best option for the kitchen, because it combines such necessary factors as convenience, functionality and comfort.
Kitchen design option
Features of modern style
The basis of the modern style is minimalism and practicality, it is customary to use as few details as possible, as well as as simple and clear forms as possible. Therefore, if you are making your kitchen in a modern style, you just need to be as careful about the placement of furniture in order to avoid cluttering and at the same time make your own kitchen as functional as possible.
interior design of the kitchen in a modern style
It is believed that when decorating a kitchen in a modern style, it is necessary to hide equipment so that it does not violate the general concept of the room. It should be noted that this opinion is not supported by many interior designers, since technology, on the contrary, can become a real property of your kitchen if it is placed correctly.
kitchen design in beige colors
The main features of modern kitchen design are simplicity, elegance, good taste and clear forms.
It should be noted that the modern style has recently gained very great popularity, which is why there are a large number of different developments in this direction, which allows everyone to choose such a style for their own requirements and conditions.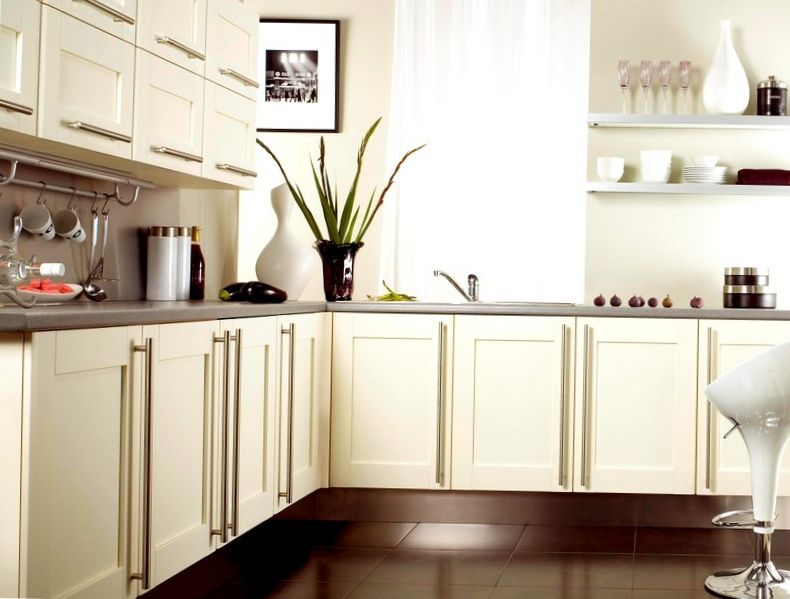 Kitchen design in light colors
One of the advantages of modern kitchen design is that it allows you to combine a range of components that could never be used in other styles.
Modern kitchen interior
When adding elements of other styles, the main thing to remember is that they must meet the main criteria of a modern style, that is, they must have simplicity and clarity of lines.
modern kitchen design
What materials are used in modern style?
As you can see, a very large number of different materials were used in the design and creation of the interior of a modern kitchen. They can be used in kitchens for decoration, however, they all must have the main requirement: they must be modern materials.
almost every material is able to add some peculiarity to the interior
Such materials fit quite well into the modern style: gypsum, wood, cardboard, glass, plastic, etc. Perhaps wood cannot be called a modern material, however, if in the kitchen interior it is combined with other modern materials, as well as with new and modern household appliances, and the overall design of the room is laconic, clear lines and simple forms, then wood in such conditions will be look very modern.
Kitchen decoration in a classic style
It is this approach that is one of the main in terms of the choice of materials for modern kitchens, the main thing is that the selected materials can fit into the given style.
Ideal for kitchen interiors
You should also take into account the fact that almost every material is able to add some of its own peculiarity to the interior. For example, wood can create a lively atmosphere and add coziness to the kitchen; metal gives the kitchen atmosphere a certain austerity and special chic; glass will make the kitchen lighter and fill it with light.
Kitchen interior idea
The flooring plays an important role in creating the atmosphere and overall picture of the design. That is why the choice of flooring for the kitchen should also be taken as seriously as possible.
kitchen decoration in red colors
There are a large number of coating options that can be used in this case. It can be: laminate, carpet, tiles, parquet or even wood, the main thing is that they look modern and meet all the basic requirements of this style, as well as the general atmosphere and design idea of ​​your kitchen.
Choosing a color for the kitchen
Of course, everyone has their own favorite colors and, of course, everyone would like their home to be decorated in the colors that they like best. But if we talk about modern style, then light shades are best suited for the kitchen.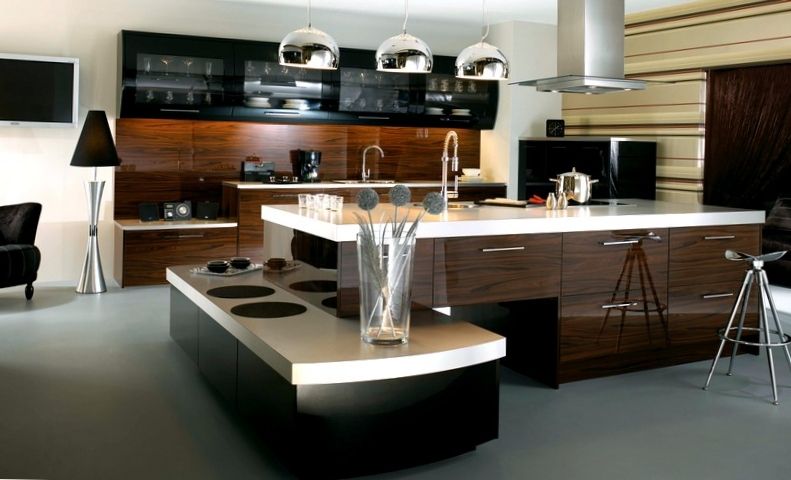 Luxury kitchen design
Bright colors in this case may not be the best solution. For example, you can take one color and just play with its shades, it should turn out pretty good, interesting and cozy.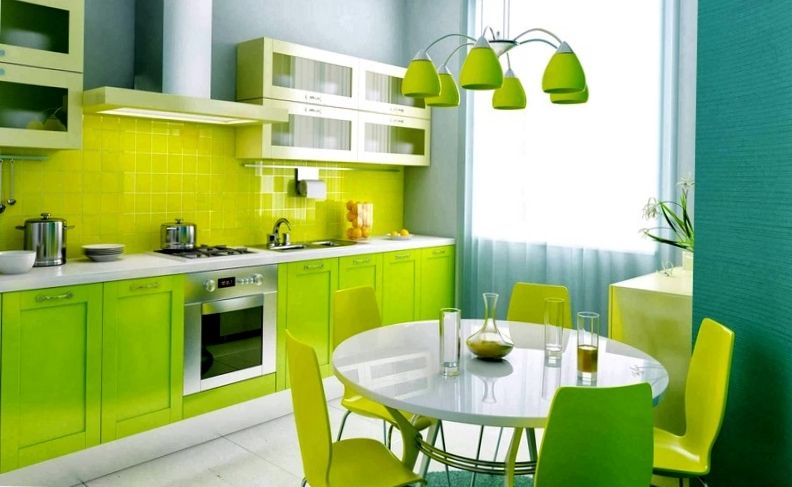 Kitchen interior in shades of green
Special ideas for a modern kitchen
Nowadays, in terms of home interiors, it is customary to experiment and try to find new solutions and forms. For example, you can install a bar counter in the kitchen, or make a kitchen combined with a dining room or living room, which looks very interesting and progressive. Let's take a closer look at each of these options.
Special ideas for a modern kitchen
Kitchen combined with living room or dining room
Combining a kitchen with a dining room or living room is very modern, and also very comfortable and convenient.
Bright kitchen interior
Unusual kitchen interior
It is especially good if the room combined with the kitchen is small in size. Very often, with this combination, zoning is used with the help of light or special interior elements (for example, use different flooring for different rooms). In any case, if you decide to go this route, you can add even more comfort and convenience to yourself.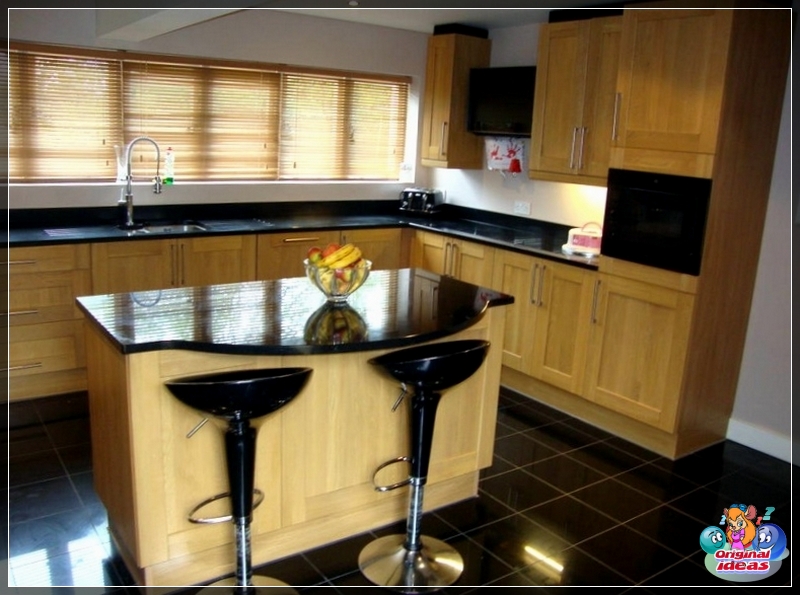 Kitchen combined with living room
Bar counter for the kitchen in a modern style
The bar counter goes well with modern design, it can become an extremely practical solution, as it saves space, and also acts as an additional work space.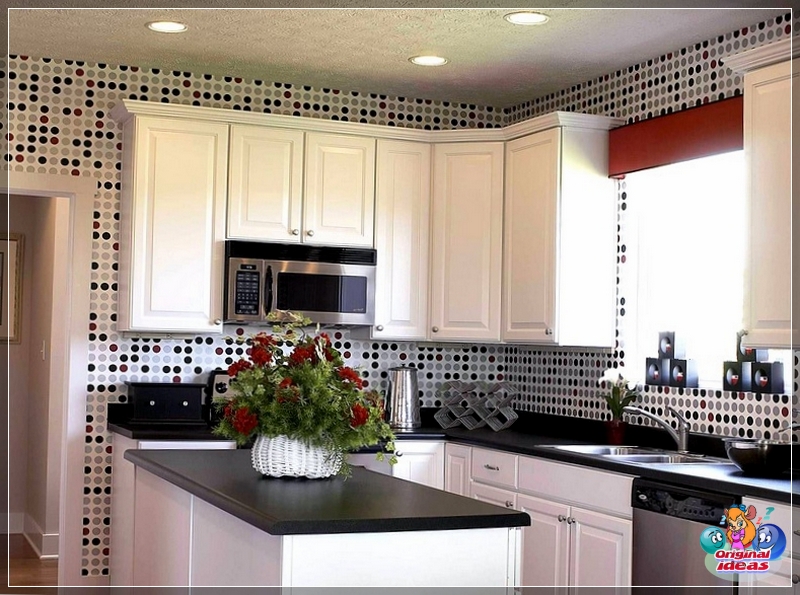 beautiful kitchen design
At the bar you can always have a nice and quick snack or drink tea. Therefore, its presence in the kitchen is quite appropriate, this is also indicated by photographs of modern corner kitchens, the interior design of which looks very interesting if bar counters are used in it.
Bar kitchen
I would like to believe that this article was really useful for you, and here you found the information you need for yourself and learned a lot of new things. This will give you a better understanding of contemporary style and possibly help with renovating and decorating your kitchen.
Bar counter for the kitchen in a modern style