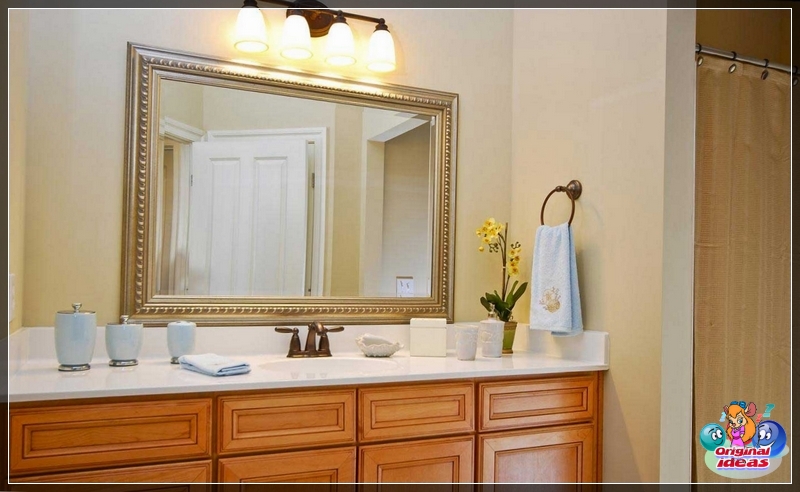 In small apartments, there is often a problem with the design of a small bathroom. However, having started the arrangement of the bathroom, in reality, you can face many problems. Firstly, it is very difficult to fit everything you need in a small area, and secondly, you need to take into account the overall design and style for a comfortable and pleasant pastime for each family member.
Small bathroom design option
Small bathroom design guidelines
Before starting a full-fledged repair, you should decide what to put in the room - a shower or a bath. Designers advise giving preference to the first option, since for
small apartments are the most practical choice. However, today there are a large number of different baths, so they can be selected or ordered in such sizes and shapes as the consumer wishes. For example, a great design for a small bathroom would be corner bathroom. An excellent design option would be a corner bathroom
Also, when choosing between a shower or a bath, you need to rely on your own preferences. Someone does not like taking baths at all and loves an invigorating shower, and some cannot imagine their evening without a relaxing bath full of fragrant foam. Based on personal tastes and characteristics, and you need to make the final choice.
Scandinavian style bathroom design
Since the room itself is small, you should think about how you can significantly save space and use some tricks.
So:
corner multi-level shelves will significantly save space, you can place shampoos, shower gels, washcloths and other necessary little things on them;
mounted equipment - very convenient and will facilitate the cleaning process. In this case, high-quality installation of any mounted objects is important;
the space under the sink can be used to store household chemicals;
it is appropriate to hang towels on wall hooks where there will be free space.
Small bathroom design
A little advice that will help make the room more spacious and not cluttered: household chemicals, personal hygiene products, towels, dressing gowns and other necessary things should not be in sight. At least in large numbers. Better to try to hide it all from prying eyes. By the way, this will also help to make the cleaning process much faster and easier.
Bathroom mirror
Do not forget about the mirror - such a necessary accessory in every bathroom. It can also help make the room visually larger. Ideally, hang a large, wide mirror. Thus, both a practical and aesthetic function will be performed. And the room will seem larger.
Great design for a small bathroom
Niches have become quite popular. Firstly, many items can be placed in them - towels and beautiful jars of shampoos and gels, and secondly, they look stylish and aesthetically pleasing. Especially if you install additional lighting in the niche.
Design idea for a small bathroom
But from suspended ceilings, if the room is already small, many designers advise to refuse. Otherwise, the ceiling will seem to press, which can negatively affect the mood and energy of each family member.
Bathroom interior in beige colors
When choosing a sink and toilet, you should not give preference to large plumbing. Something original and unusual, while rather bulky, will look ridiculous and stupid in a small bathroom.
Bathroom interior in white
Better to choose standard plumbing in the same style.
Bright accents
When decorating a bathroom, I want to make it practical and at the same time interesting and attractive in appearance.
Beautiful small bathroom in blue colors
Stylish accessories and other little things can radically change the whole look of a room. However, special attention should be paid to the tiles. Floor and wall tiles are usually placed in the bathroom.
Bathroom interior in gray
Finishing
small bathroom tiles are presented below. The design perfectly conveys how original and stylish it is possible to equip the room with the help of modern tiles. It is important to entrust the laying of tiles to a professional if the owners do not have professional knowledge in this skill. Choosing a tile is not difficult, but it is important to follow some rules. Stylish design for a small bathroom
It is advisable to select the main color of the tiles for the walls in light colors, which will help to visually enlarge the room. In this case, you can make a bright accent in the form of contrasting tiles near the sink or bathtub. It can even be a whole composition, but at the same time it is relevant to the subject in a given room.
Best design for a small bathroom
Recently, many residents are giving preference to rather creative options, for example, highlighting the wall behind the bathroom with tiles with an unusual texture. It can be wood, stone or brick of bright, saturated colors. The main rule is that such a tile should be in harmony with the overall design of a small bathroom, otherwise something ridiculous and tasteless may turn out.
Mirror tiles
Mirror tiles are considered one of the fashion trends. On the one hand, it is beautiful and stylish, on the other hand, it is important to take into account personal tastes. Perhaps not everyone will be pleased to see themselves constantly reflected in the walls of the room.
Floor tiles can be made much darker than wall tiles. Now manufacturers produce whole sets of tiles, which include both wall and floor tiles. Moreover, such sets look harmonious and complement each other perfectly.
bathroom furniture
As for lighting, there should be a lot of it. In addition to the chandelier or plafond on the ceiling, you can add wall lighting or hang an additional sconce next to the mirror. The imitation of a backlit window looks very original.
Small bathroom with stylish decor
Stylish accessories such as figurines, vases, decorative bottles for cosmetics, soap dishes, cups for toothbrushes and other little things, it is advisable to select everything in the same style. And by the way, it is even more preferable to select them to match the overall design of the bathroom walls. Thus, all the little things seem to merge with the general view and will not look too clumsy.
Modern solution for a small bathroom
At the same time, you can highlight some objects, but so that they still harmonize with other elements of the room.
Small bathroom with burgundy accents
As for the washing machine - in small bathrooms, it would be appropriate to refuse to install it. The machine can be placed in the kitchen or in the hallway. If, for some reason, this cannot be done, you should choose a small model.
Small bathroom with shower
09The latest trends and practical tips will make the room comfortable and stylish at the same time. And little tricks will visually expand the space and allow each family member to fully relax in the evening and cheer up in the morning.
Luxurious design for a small bathroom