Bamboo wallpaper is a special material for finishing an apartment. They can be used for finishing in the corridor, on the balcony, in the bathroom.
Despite the fact that this material is quite expensive, many people prefer this type of finish because of its qualities.
Bamboo wallpaper in the interior
In this article you will see photos of various versions of bamboo wallpaper in the interior of the apartment. Before purchasing this type of coating, you can compare them in the photo and choose a more suitable copy for yourself.
Quality bamboo wallpaper
What are the properties of bamboo wallpaper?
natural composition;
universal material: such wallpapers are perfect both in the hallway and in the kitchen, but it is worth considering that they need their own style in the interior of the apartment;
resistance to wear: such a coating will last long enough and will delight you for many years, but do not forget that any material requires maintenance;
the next nuance is simplicity, it will not be difficult for an inexperienced person to glue bamboo wallpaper correctly, it is even easier to glue them than ordinary wallpaper.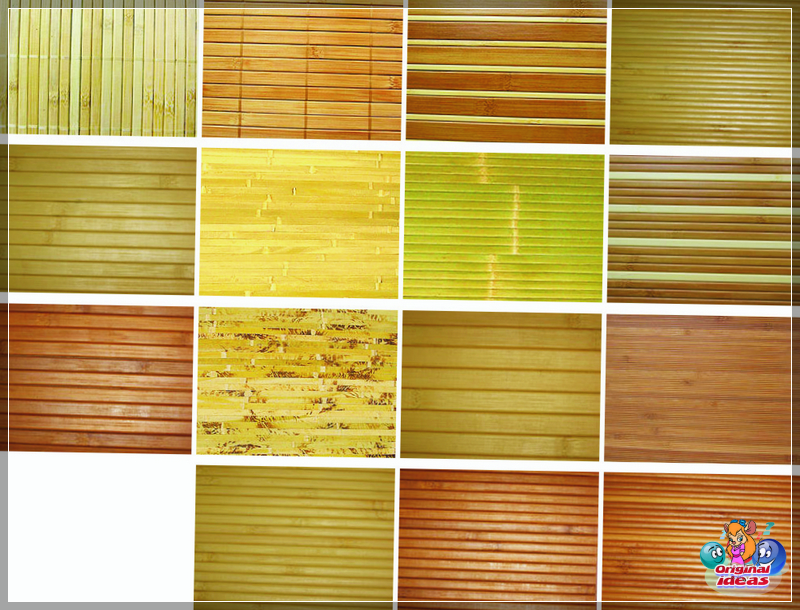 Types of bamboo wallpaper
Along with the above qualities, there are some nuances that you should pay attention to if you want to acquire this type of material:
When gluing wall panels with this type of wallpaper, it may be difficult to join.
Temperature differences or significant water ingress on them can lead to their unusability. You should not glue them on the side where the sun's rays fall, because then they can directly spoil them, and they will disappear. Wait until the glue dries, and then the likelihood that the wallpaper will not stick to the wall will be less.
Monotony of choice. If you paste over the wall in the form of a decor with separate inserts, then this is better than pasting over an entire wall with such wallpaper. Although it's a matter of taste. In addition, such wallpapers can be purchased with decorative patterns, which will give the interior a zest.
Bamboo wallpaper is resistant to wear and tear
What to combine bamboo wallpaper with?
The golden hue is the natural color of bamboo. Its color can be changed by heating to a certain temperature. Having received richer shades, you can realize most of the design fantasies that can come to mind.
Golden bamboo wallpaper
The color palette of bamboo wallpaper is varied. They have cream, white, peach, golden brown, greenish brown, greenish olive and copper colors that impress the imagination. The buyer may come across wallpapers in which elements of dark and light shades alternate, as well as wallpapers with beautiful floral designs.
To make bamboo look even better, it is combined with materials for finishing work, tiles for natural stone or wallpaper for painting. For example, the combination of natural bamboo with dark, cold shades will add sophistication to the room, and in order to create warmth and comfort, they use warm colors.
Naturalness of the interior with bamboo wallpaper
Wallpaper looks good enough in combination with furniture. The presence of natural shades is required. Furniture upholstery must be made of leather or linen. Furniture set should be made of natural wood. If you adhere to all this, then you will get a harmonious ensemble.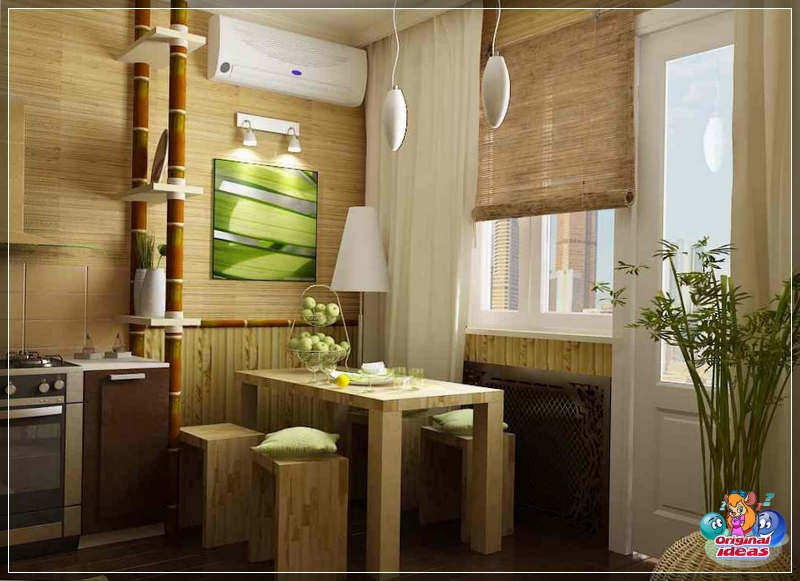 Bamboo wallpaper in the interior of the kitchen in combination with natural wood furniture
If you decide to use bamboo wallpaper in your interior, then pay attention to different details, namely, how materials are combined, their texture, decorative components. Here you can use houseplants, decorative details made of natural stone, paintings depicting nature.
The combination of light bamboo wallpaper with decorative elements
How to glue such wallpaper?
This type of wallpaper is sold in all building materials stores. In the construction departments you can purchase both plain and fabric-based wallpapers.
An example of calculating wallpaper for a room
The technology of pasting walls with wallpaper is much easier than with ordinary paper wallpaper.
For this type of material, only one type of liquid nails is suitable. They have the property of plasticity, in the case when the bamboo is deformed, and the ability to reliably fix the material.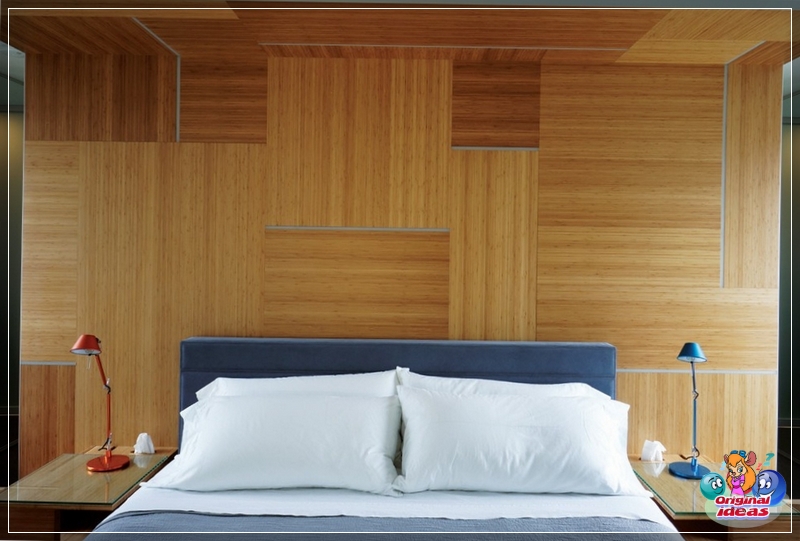 Pressed bamboo headboard
The most budgetary and simplest is the way of fastening bamboo to a putty. This option is only suitable for a corridor where the temperature does not change. For the balcony, this option disappears, since it may be too cold there or, conversely, hot.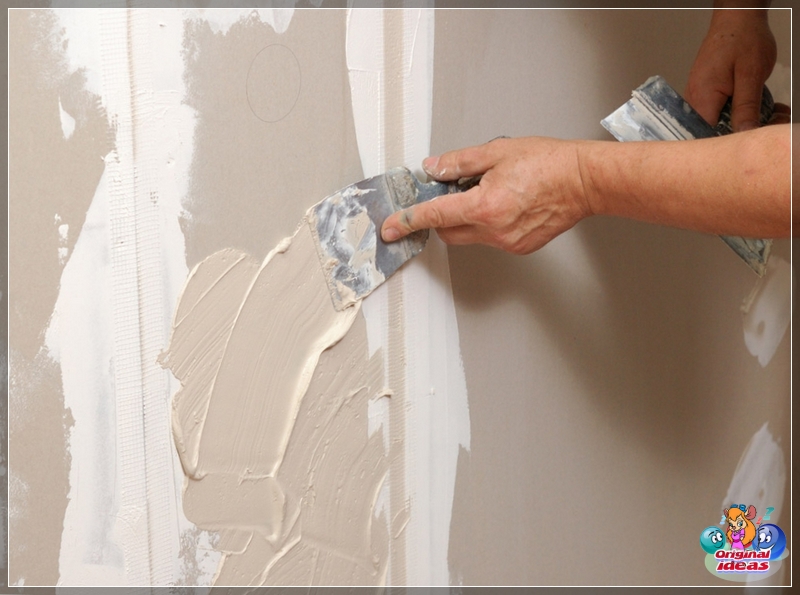 Wall putty
The putty is not yet practical because after gluing the wallpaper, it crawls out of the cracks in the coating, and it will need to be removed with a spatula. And it's not so easy to clean it up. Therefore, do not save money, but just buy glue, and then your work will be pleasant and successful.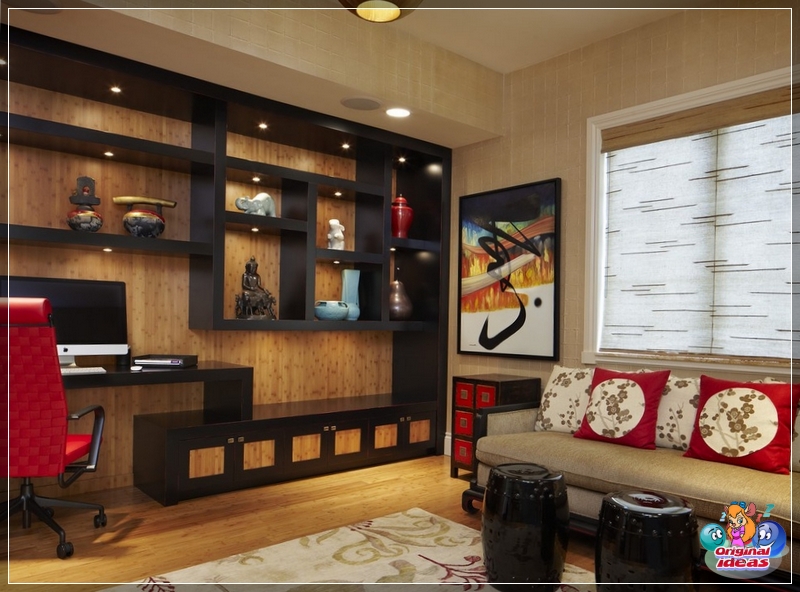 Bamboo inserts in the interior of the living room
Where can I paste bamboo wallpaper?
Thanks to a large selection of materials and designs, they can be placed in any room.
Bamboo visually reduces space
Natural wallpaper will look great in the hallway. Moreover, if they are on a natural fabric basis. In the photo below you can see how bamboo wallpaper looks in the interior of the hallway.
Technology for pasting bamboo wallpaper
In the photo you can see not only what the texture of bamboo wallpaper is, but also the color palette that changes the interior of the hallway. I just want to touch them, feel their warmth.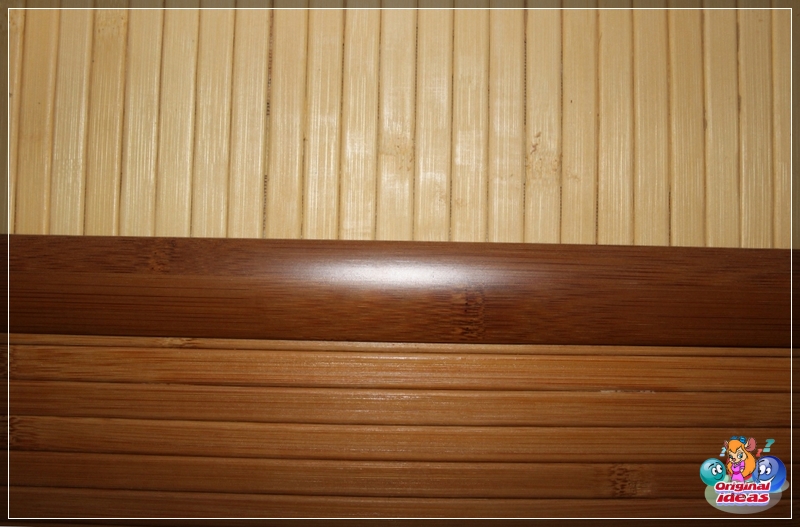 Bamboo wallpapers are versatile and will harmoniously fit into any environment
This wonderful coating has a beneficial effect on the state of the body as soon as you cross the threshold of the apartment.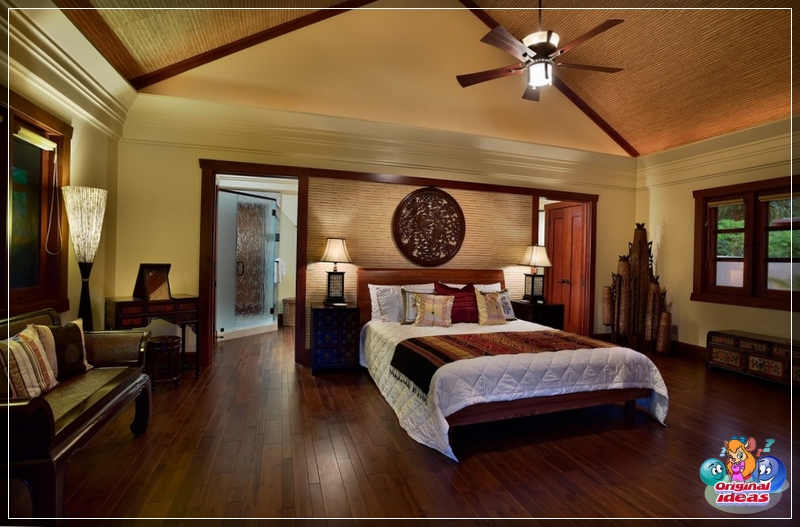 Ceiling covered with bamboo slats
The drawing on the wallpaper will visually clutter up the space, so it is not advisable to glue such wallpaper in the corridor. We recommend stopping your choice on light shades for the hallway.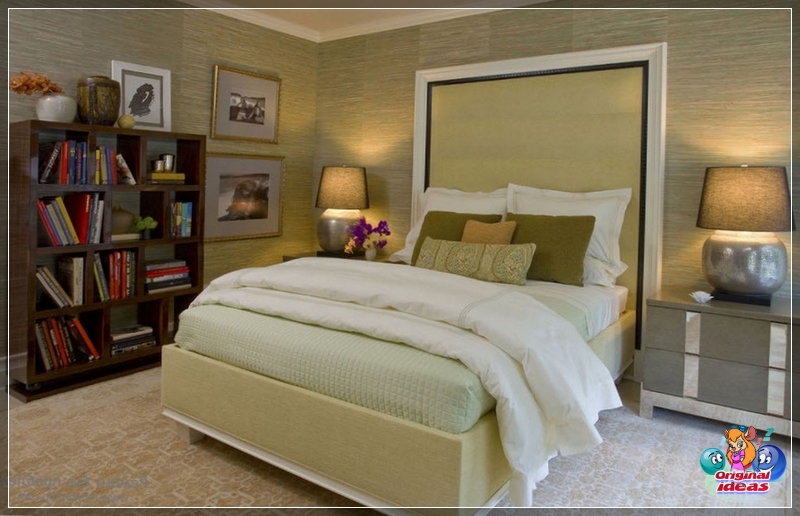 Comfortable bedroom in bamboo frame
You can arrange bamboo wallpaper in the kitchen. A good enough option to apply bamboo wallpaper with a pattern. The main thing is not to glue them next to the sink, but in the dining area it is quite suitable - beautiful, cozy and far from moisture.
Bamboo wallpaper is moisture resistant
To prevent the interior from looking boring and monotonous, we suggest combining different types of coatings.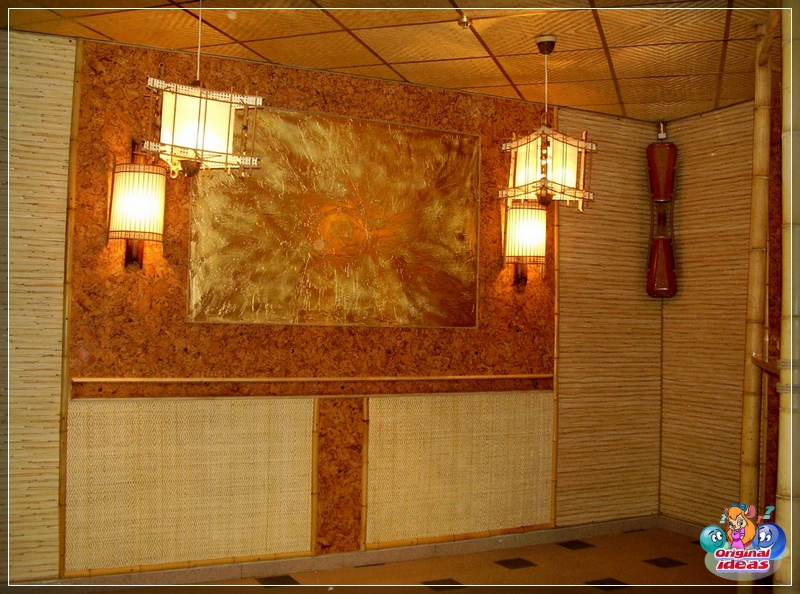 Bamboo wallpaper brings harmony and comfort to a person's life
Also, bamboo wallpaper is perfect for decorating a bedroom. And this is not surprising. After all, they have a beneficial effect on the general well-being of a person, bringing harmony and comfort into his life. A bed of light shades and a chest of drawers made of dark wood will go well in such an interior.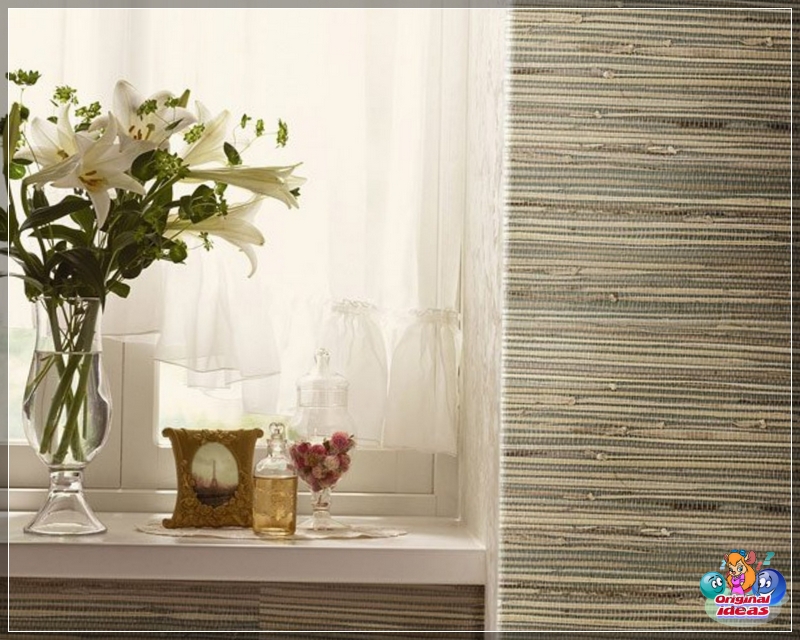 Bamboo wallpaper is the trend of modern fashion
In conclusion, we note that when choosing bamboo wallpapers for the interior, follow your intuition and design flair, and then you will succeed.