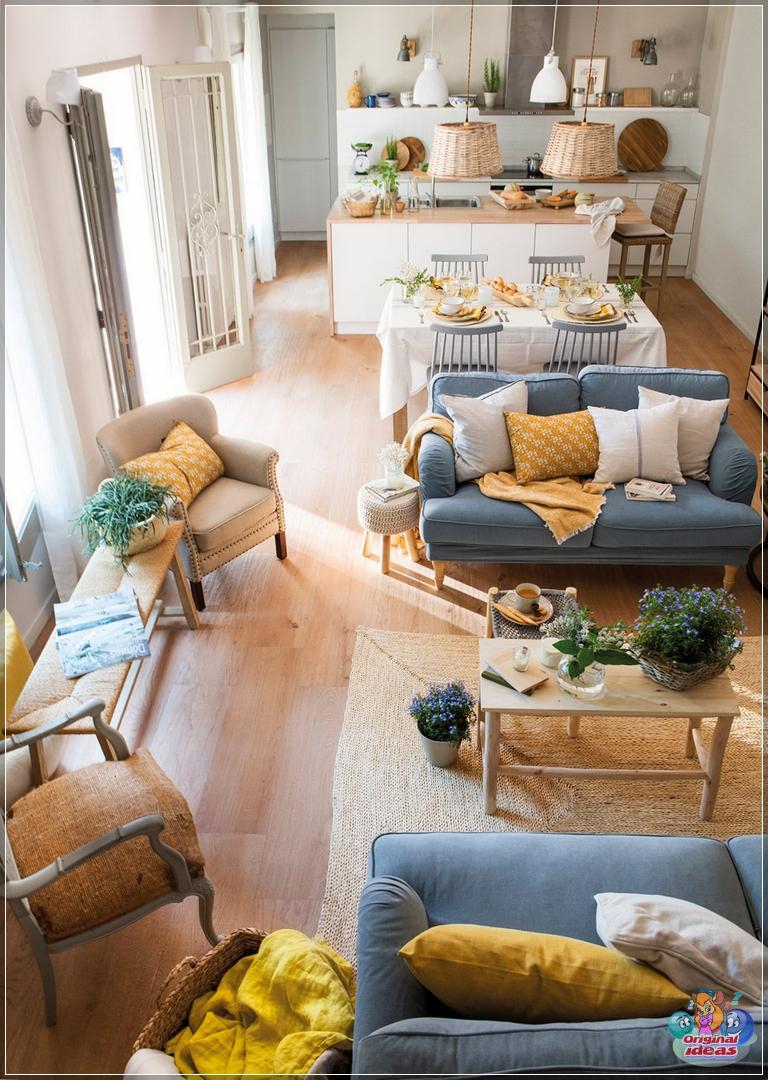 To create a sophisticated and beautiful design of a studio apartment with the necessary functionality and maximum comfort is a couple, not an easy task even for experienced professionals. In order to competently organize a small space, you should take into account the basic principles and rules of ergonomics, as well as observe the correct balance of color and proportions of the room.
The space shortage dictates its own conditions - therefore, it is necessary to use every centimeter with benefit and correctly use the peculiarity of the apartment layout.
Small studio apartment
A studio apartment is housing, the main difference of which is the absence of walls and partitions between the kitchen and other rooms. Moreover, it has the full functionality of an ordinary apartment. This layout is ideal for young, modern people who love experiments and fashion trends.
The main mistake in decorating a studio apartment with a small footage, oddly enough, is not a lack of space at all, but the incorrect organization of filling this space.
Artistic skills, natural materials, functional furniture, as well as properly selected decor will help to organize chic apartments for family living from a compact apartment.
Small apartment color schemes
What is the role of the color palette and the combination of shades in the interior? Probably the main, if not decisive. It is not for nothing that they say that shades of color can affect the same room in different ways.
The correct choice of color palette for interior decoration will help to achieve many of the tasks, for example: light and bed shades can visually expand the space and boundaries of the room, bright and juicy - will give warmth and good mood, but with a dark color you need to be extremely careful, its overabundance can lead to neurosis and fatigue.
Dark walls look spectacular and stylish, but only in large and spacious rooms, in our case they will be gloomy and sad, moreover, dark shades can hide the space we are already missing.
The main color in the interior of a studio apartment is determined by its square meters, that is, the smaller the area of ​​your apartment, the lighter it should be.
The best option for a color scheme will be neutral and calm shades of white, beige or gray, but 10-15% of the walls can be given for the design of a bright accent and attracting visual attention.
Secrets of the correct zoning of an apartment
To begin with, you need to clearly decide what exactly you need: divide one room into several zones and clearly define the boundaries, or smoothly connect them into one whole.
There are no clear principles and methods for zoning an apartment, it all depends on what you want to achieve in the final version. Many people prefer an exceptionally free layout, space and freedom in everything, without walls, partitions and various structures.
Council number 1. If you have chosen the layout of an apartment without walls and partitions, light is your main assistant in dividing the space into zones! Lighting plays an important role in interior design, the basic rule for this layout is separate lighting devices for each area of ​​the room.
You can hang a low pendant lamp above the dining table, this option will clearly indicate the dining area, and it also looks harmonious with the rest of the interior items.

You should also take into account the size of the table, if the table is rectangular and large, one lamp may not be enough, in which case several pendant lamps or one volumetric chandelier should be told at once.
When planning the organization of dividing an apartment into zones, it should be borne in mind that all pieces of furniture and interior design should create comfortable living conditions.
It is necessary to foresee and take into account everything to the smallest detail, for example, make sure that the noise of household appliances does not interfere with a quiet rest, and that interior items and accessories do not block the space and do not create "obstacles".
Council number 2. Stylishly and practically, you can demarcate the space of a studio apartment with the help of carpets. Such products can be of various shapes, textures and materials - it all depends on what exactly you want to emphasize or highlight in your interior.
Decorative accessories and paintings on the walls will help to sharpen the attention and thereby outline the conditional boundaries of the interior.
An arch, a rack, a screen, a curtain, a sliding partition or a podium will clearly separate the boundaries and indicate the beginning of a new zone.
In this way, it is best to separate the children's corner from the adult bedroom or the sleeping place from the living area. The main task of such zoning is to add functional pieces of furniture, which will play a major role in dividing the space, but will only be a useful bonus in the room.
Nowadays, the need for a large room for a bedroom with massive wardrobes and other interior items has already disappeared, people began to pay more attention to compact furniture that carries the same functionality, but takes up a minimum of space.
Council number 3. It is possible to build a separate room in a studio apartment with a small footage without losing visual space using glass panels. The ideal option for such a room would be a bedroom or a kitchen work area.
For an open-plan apartment, this method can be an excellent opportunity for privacy, as well as get rid of extraneous noise or smells of cooking food.
Small studio apartments are deprived of the possibility of installing full-fledged walls. But for them there is an alternative, installing a glass wall or partition - you will get an equally secluded corner for privacy.
Transparent walls are a unique solution for decorating apartments in a modern style, however, with the help of the right decorating accessories, they can be successfully applied in other directions, for example - an air partition made of glass will emphasize the sophistication of the Scandinavian interior, add special luxury to the classics, become the central accent of the art style -deco.
The advantage of glass partitions is obvious, they preserve the space and integrity of the room, create a modern and fashionable style, and save free space.
Design of a small studio apartment with one window
The first thing to remember is that the area of ​​a studio apartment is usually not large at all. Therefore, before starting the repair, you need to think over everything to the smallest detail. Immediately determine the zones that will be needed.
In most cases, a typical studio apartment is a small room with one window, which lacks all partitions except for the bathroom. No less common are large rooms, where they are even provided. In some cases, there are apartments with high enough ceilings, thanks to which a second tier can be created.
Effective arrangement of a small space
As previously stated, it is of paramount importance to decide on the zoning of the room. That is, choose the zone into which it will be divided. Indeed, someone prefers to give preference to a spacious and bright living area, while someone wants to place several functional areas in it at once.
For example, there are owners who prefer to work from home, so they cannot do without a comfortable office. You also need to decide on how many square meters the kitchen will be located, and how much space to give for the sleeping area.
The following features can be distinguished that will affect its layout:
total living space;

the number of family members who will live in it;

the number of window and door openings;

the shape of the room;

the presence of a loggia or balcony;
How to visually enlarge a room
Correctly selected and arranged furniture, the presence of a large number of mirrors in tandem with good lighting and light shades of the walls will help to visually increase the space.
It is imperative to take into account that furniture in small apartments should not be bulky, try to pick up a small, cozy set in calm and soft shades.
If you are not confident in your abilities, then it is better to hand the design of a studio apartment into the hands of professionals who can easily turn the room into a comfortable and cozy home.
The advantages of an open plan apartment
The battle for space and square meters in small apartments is not uncommon. The desire to improve your home, to make it not only comfortable, but also stylish, modern is very hard and painstaking work.
Individual and unique studio apartment projects take advantage of conventional redevelopments where load-bearing walls or other factors restrict freedom of action.
Positive sides of a studio apartment
An excellent budget option for a first home.

Perfect for both bachelor and family life.

Creative people choose a free layout.

Freedom in both action and movement.

The space without walls and partitions makes it possible to use every meter of the apartment in full.

In studio apartments there is no concept - a small kitchen - here the whole space is used as a whole.

The spacious room of the studio apartment is perfect for receiving a large company.

The interior of the apartment is created in the same style, but at the same time there is a clear separation of the different zones.
Disadvantages of housing without partitions
Despite all the positive aspects and attractiveness of a studio apartment, it will be fair to consider its disadvantages, which should be taken into account:
Lack of personal space and space for privacy in cases of cohabitation.

The smell of cooking food will spread throughout the apartment.

There is no place to store things in the apartment - you will have to be content with the most necessary and necessary.
The history of the appearance of studio apartments is a thing of the past. In such a short time, they have gained popularity among different target audiences. Small apartments have become a great option for young couples, creative people, single bachelors and even large families.
What will be the style of the interior of your apartment - it's up to you. When creating a beautiful design of a studio apartment, be able to properly use its features. In other words, when choosing your style, focus solely on your personal preferences.