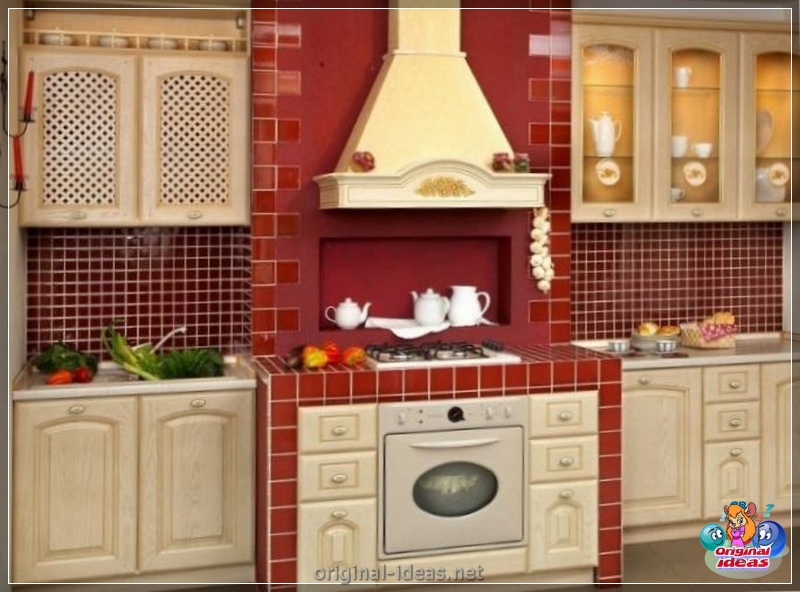 Country kitchen design 2023
The design of the country's style of 2023 is suitable not only for the design of a village house, but also for a city apartment. At the same time, you can use different national flavor in the interior - like a Scandinavian dwelling or an American ranch.
Features of the country style in interior design
In order to understand what the peculiarity of the country style, you just need to imagine a real village house. So, there should not be any glossy surfaces, exquisite decor and pretentiousness in the interior of the kitchen. District style is simple, naturalness, proximity to nature and home comfort.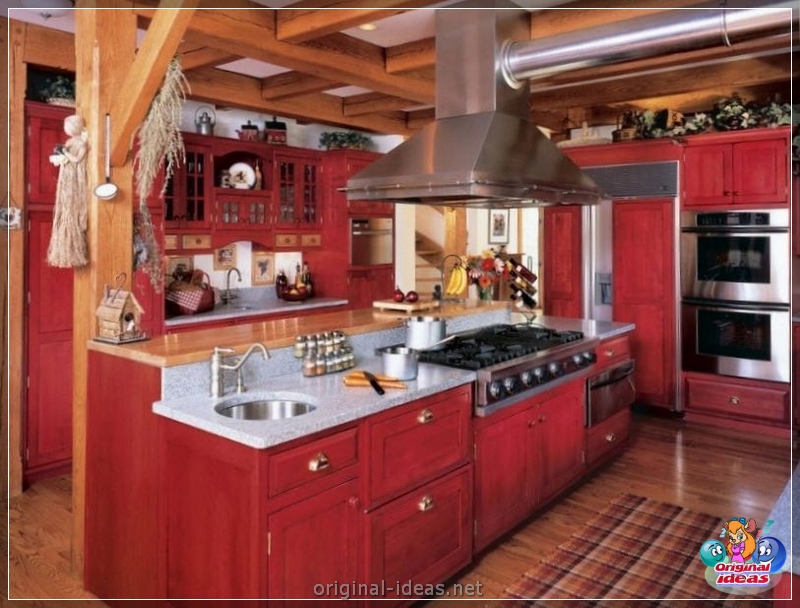 The main components of such a direction in design are natural materials, but plastic, glass and metal elements for such a style are not acceptable. And another sign of country is an abundance of textiles from natural materials. Tablecloth, curtains, napkins, embroidery and all that will make the kitchen cozy.
When designing a country kitchen, you should also not forget that every country has its own characteristics in a village interior. For example, if this is a Russian village, then it is difficult to imagine the kitchen without samovars and embroidery, and if it is an American ranch, then cowboy motifs should be present in the interior.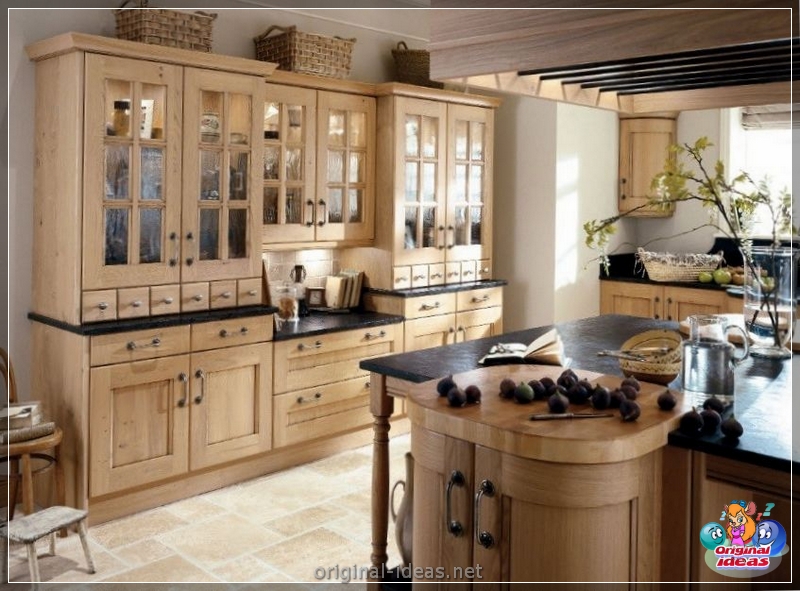 A country -style kitchen in a country house or apartment should be practical, but let's say a light mess. Devices, baskets with products, spices can be in sight. The things created by the hands of the masters are also welcome.
On a note! Vintage objects - jugs and pots of ceramics, copper boilers will perfectly fit into the country style.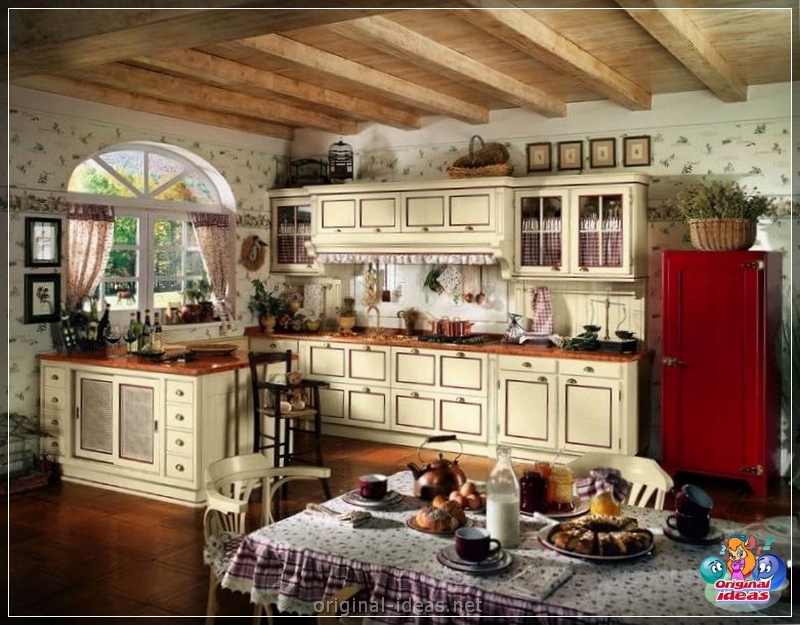 The choice of color scheme
The color scheme in a country style should create a relaxing and warm atmosphere in the kitchen, so bright contrasts should be avoided, and use plants and flowers, textiles, dishes as an accent. The main elements of the palette of village cuisine are matte and pastel paints, as well as muted natural shades.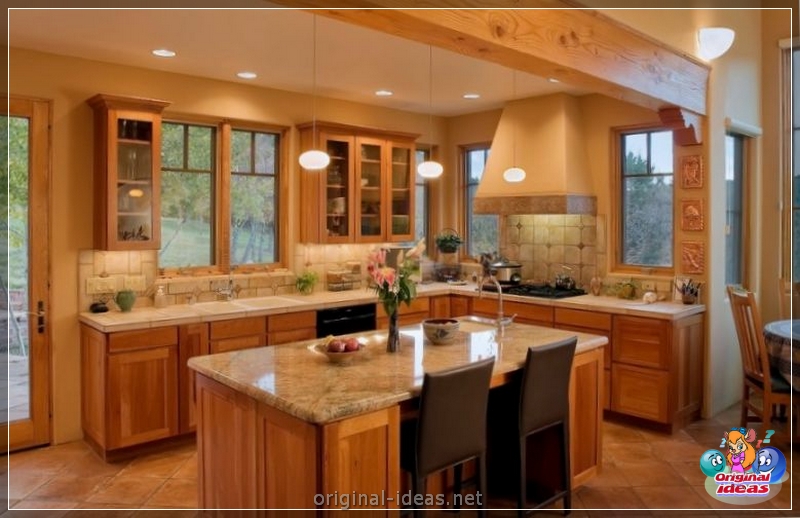 Brown
Country style is dominated by the brown gamut of shades, natural wood, with the exception of red tree, for a simple village interior, this is a luxury. If the room is large, then you can use only brown finishes, with it the kitchen will become more comfortable. If the kitchen is small, then it is worth considering a combination of brown color with other shades.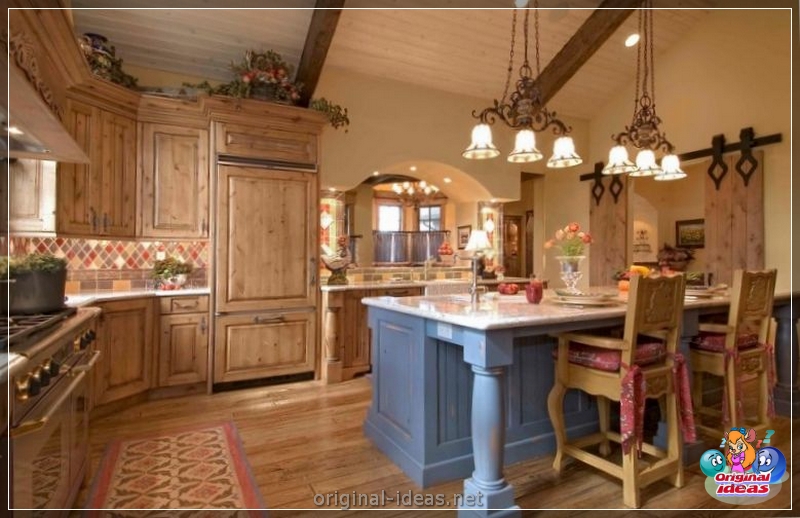 White
The village style uses white, which is especially suitable for small rooms, with it the kitchen will seem more spacious. But many designers consider purely white for country too sharp and not comfortable. Therefore, they use the shades of beige - vanilla, the color of the egg shell or ivory, milk. In addition, such a palette goes well with such rich, but not with catchy flowers as terracotta and chocolate.
Green
Green color also fits into the country style, however, its bright shades should be present only in plant stalks, and muffled mint, olive and other faded tones are suitable for design. Such colors are perfectly combined with shades of brown, white color. They also visually increase the space, make the room cozy, but at the same time original.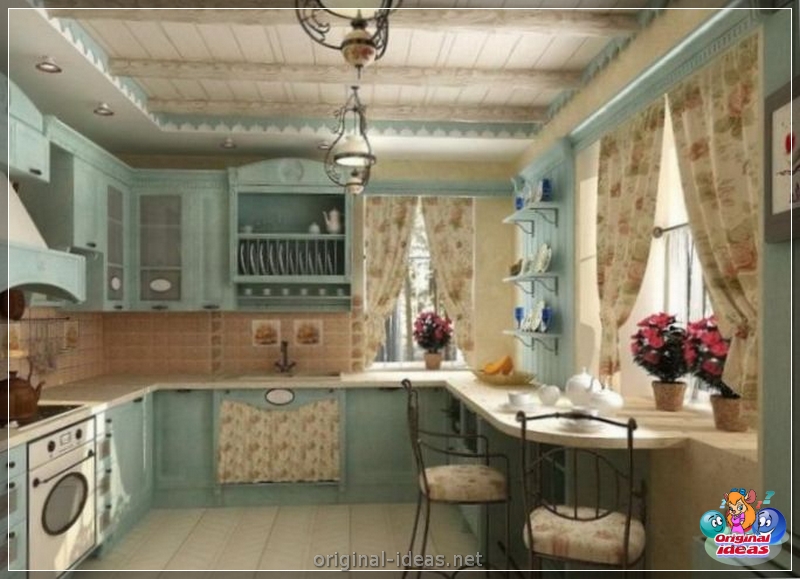 On a note! Country style is appropriate and red, but only faded and matte variations. Especially such colors are suitable for the kitchen, the windows of which are west and north. Country kitchen combined with the living room
Country can be called a democratic style that is suitable for the kitchen, regardless of its size. Of course, in a spacious room you can experiment with the number of objects of the kitchen set, with textures, lighting and textiles. But from a small kitchen you can make a cozy room, the main thing is not to use colorful colors in the design, but to give preference to a lighter palette of natural shades.
To design a kitchen combined with the living room, as a rule, they choose one style, and zones are distinguished using color, furniture or lighting. But if you want to separate parts of the room with different styles, but you need to choose one that will be as close as possible to the village interior.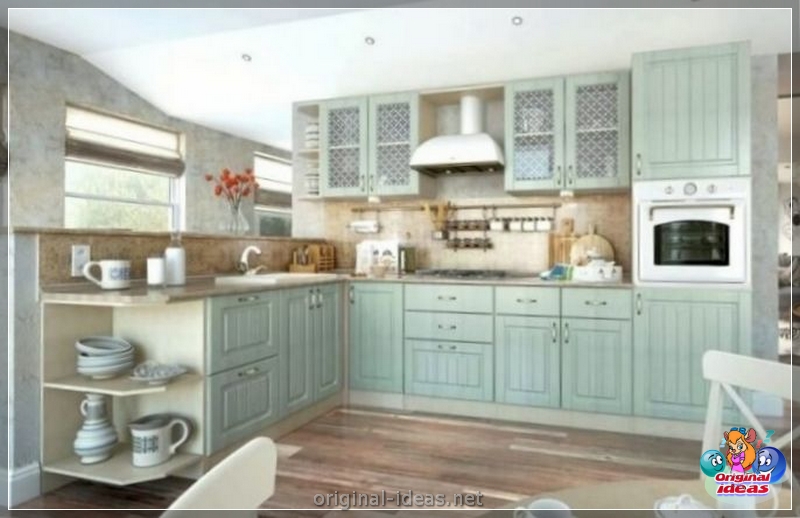 So the country kitchen will look great with the living room in the Scandinavian style, as well as in the style of Provence and retro. You can also consider eco-style and boho. It should be borne in mind that there should not be a clear border between the kitchen and the living room, but two styles should be fused. Therefore, no matter how much loft or minimalism is like, they do not combine with rural cuisine.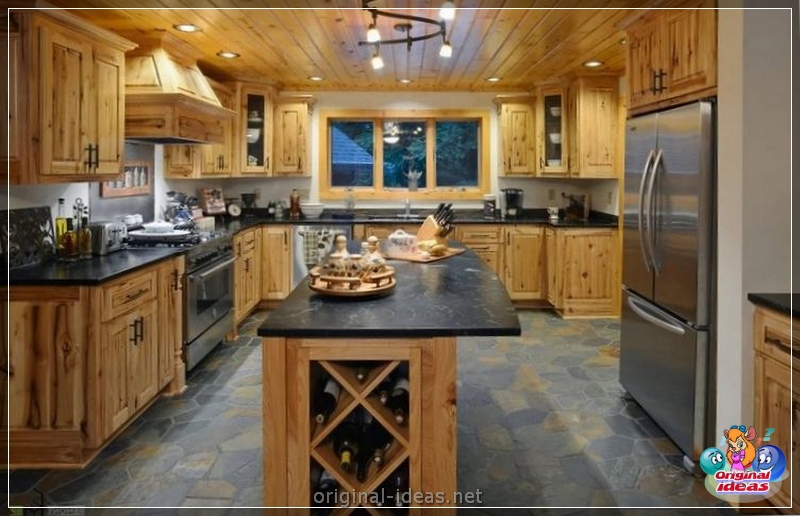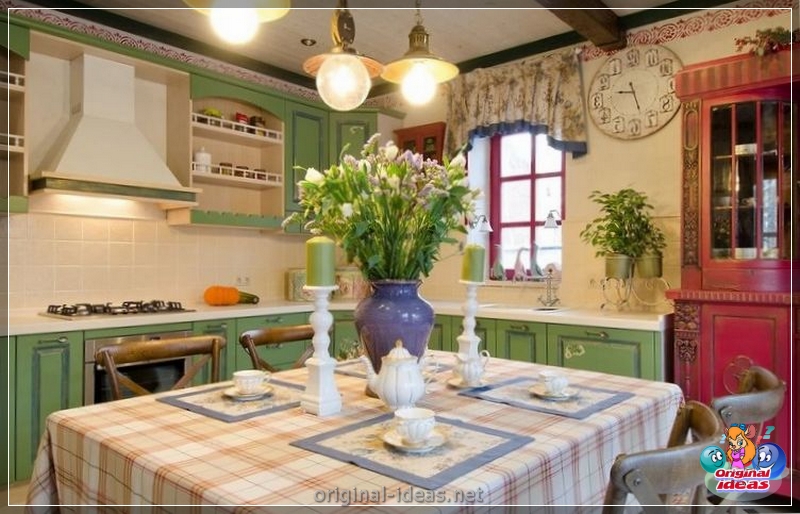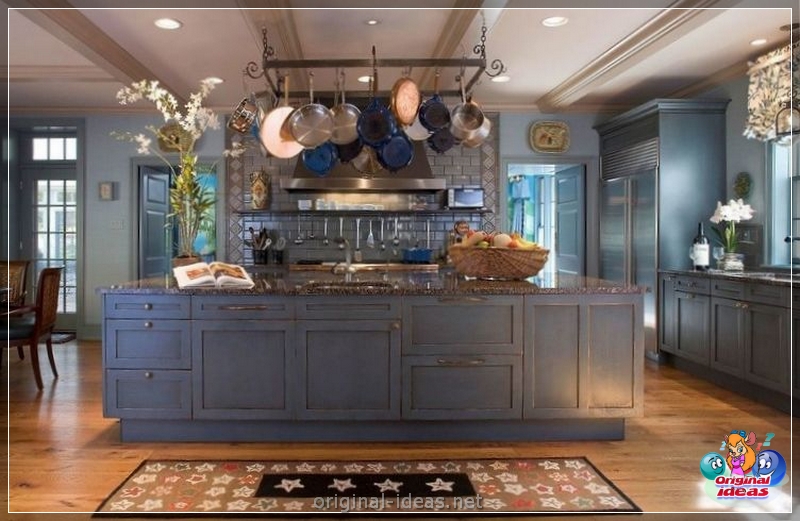 How to choose a kitchen in a country style kitchen
It is not difficult to guess that a country -style kitchen should be made of natural wood. But not everyone can afford to buy an expensive set of ash or oak, so furniture from chipboard and MDF will be a good substitution.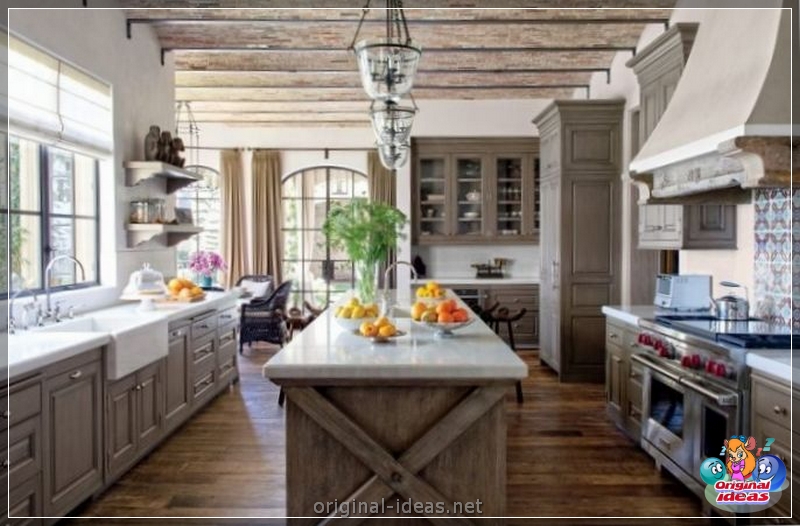 When choosing furniture, it should be borne in mind that it should not look expensive, new and luxurious. Do not forget that the village style is simple, modesty, aged coarse surface and carving.
By choosing a color, a kitchen set can be dark, bright or combined. In a spacious kitchen, a dark-olive or dark brown set will look. Furniture, pale blue or pale green in color will harmoniously fit into the small room.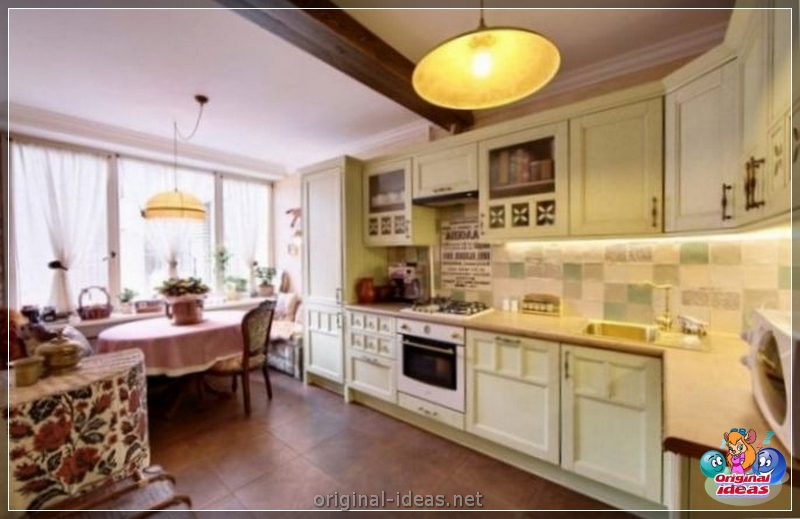 Accessories should not be catchy, as the facades should be even. You can choose a headset with open shelves, this will not only increase its functionality, but also allow you to decorate the room with service, clay dishes and glasses.
A wooden table and chairs are also chosen for the dining area. You can consider such options as rattan furniture and wicker furniture, most importantly, no modern designs. And also no glass and plastic, such furniture will only destroy the feeling of comfort.
Advice! Country style interior can be diversified with old and vintage items, for example, a buffet or a sideboard for dishes, shelves, chairs.
Curtains and textiles
An important place in the rustic style is textile. For curtains and curtains of the best, fabrics of light shades are suitable for the best. But the use of textured textiles will enhance the impression of a village house. Len, dense cotton, burlap - all these materials will perfectly fit into the interior.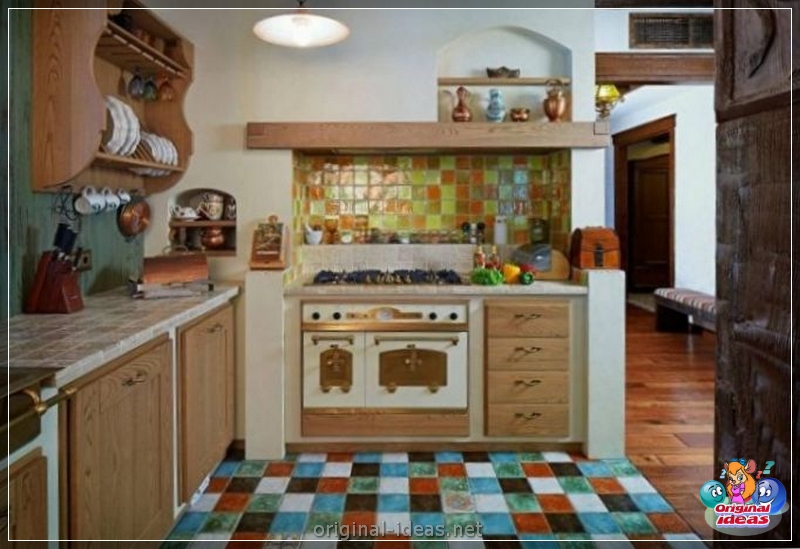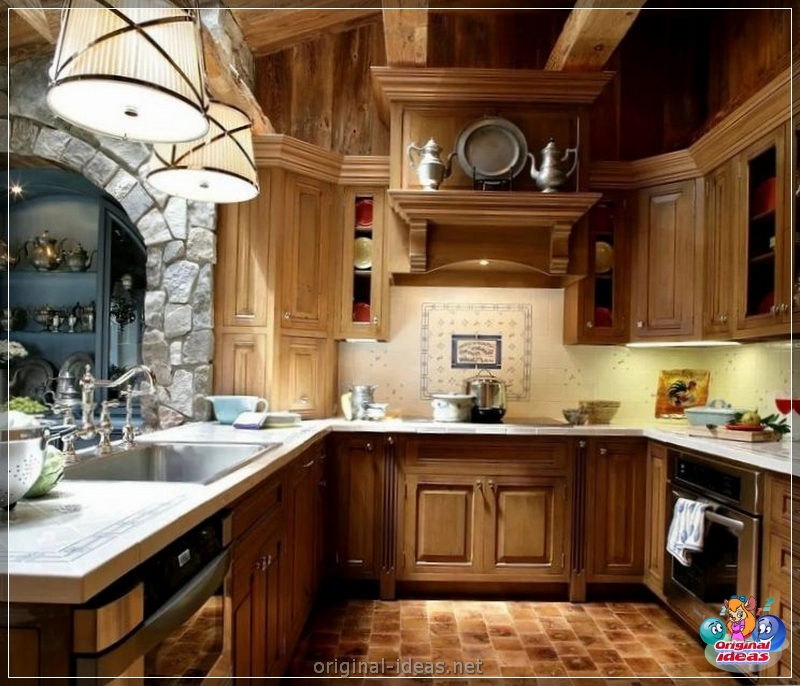 Prints are also allowed on the fabrics, the main thing is that they are uncomplicated, for example, a strip, a cell, patterns of colors and vegetation.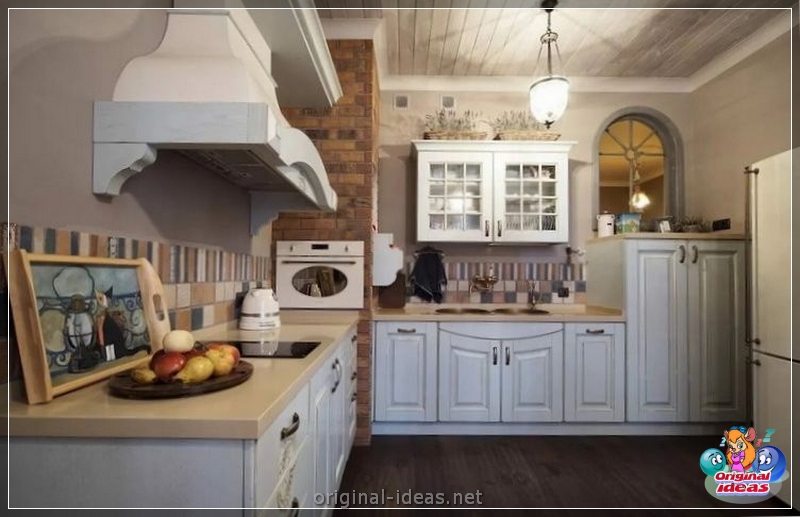 When choosing textiles, it is important to remember that the materials should only be natural, no synthetics. And especially in the rustic style, handmade products are valued. It can be a tablecloth with napkins or a patchwork rug.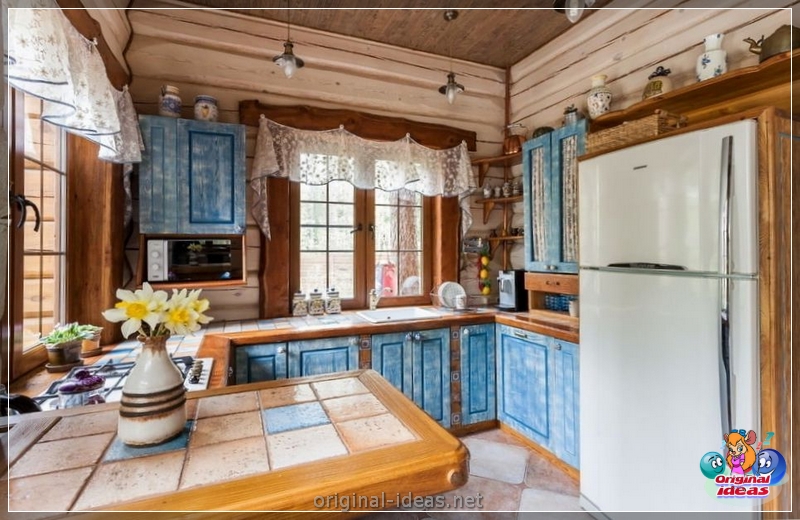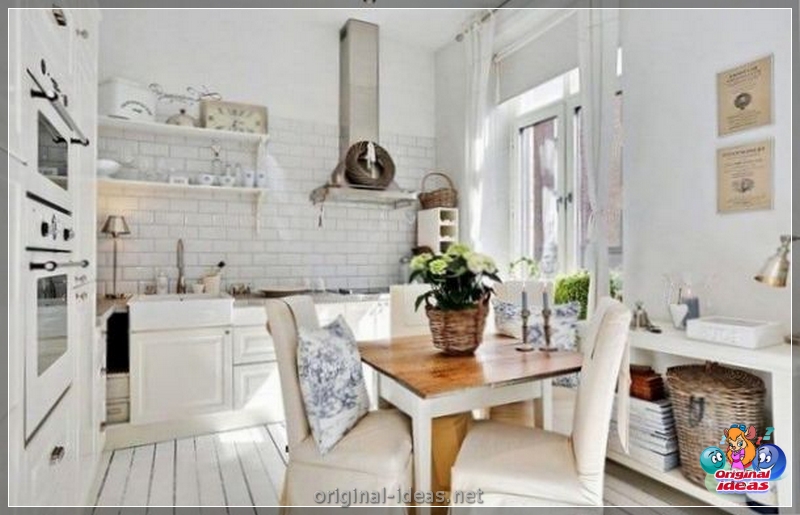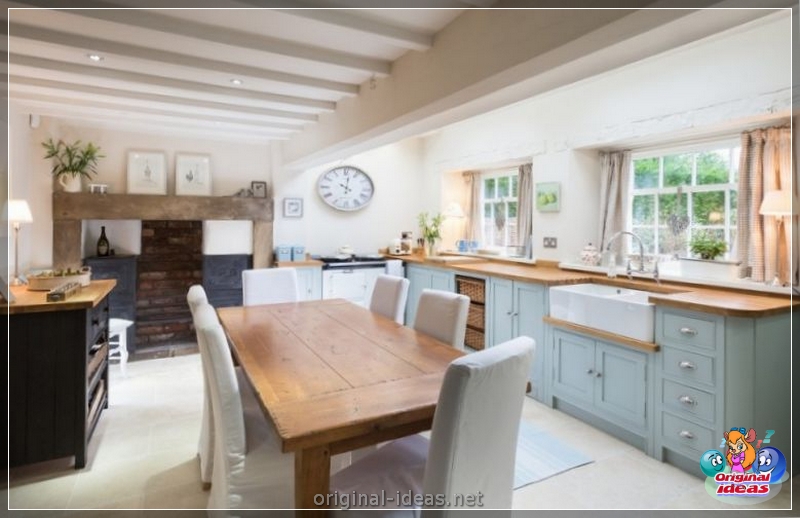 Decor
If you look at the photo of the kitchen in the country style of 2023, then you can make sure that in some special decor it does not need.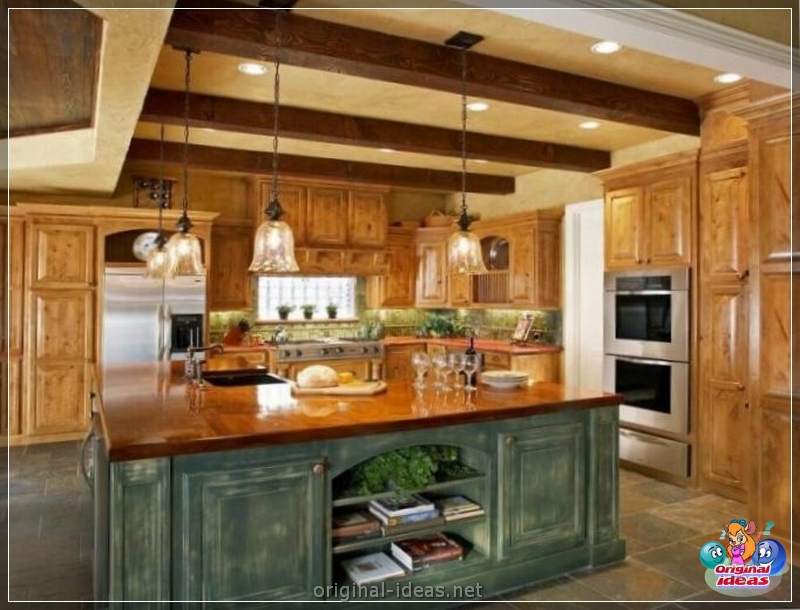 Different objects can be used to decorate the kitchen, but items with history and handmade things are of particular value: paths with ornaments, mat; decorative pillows with embroidery; curtains and capes on macram, openwork tablecloths and napkins; woven baskets; live and dried plants; Family photos in a simple wood frame.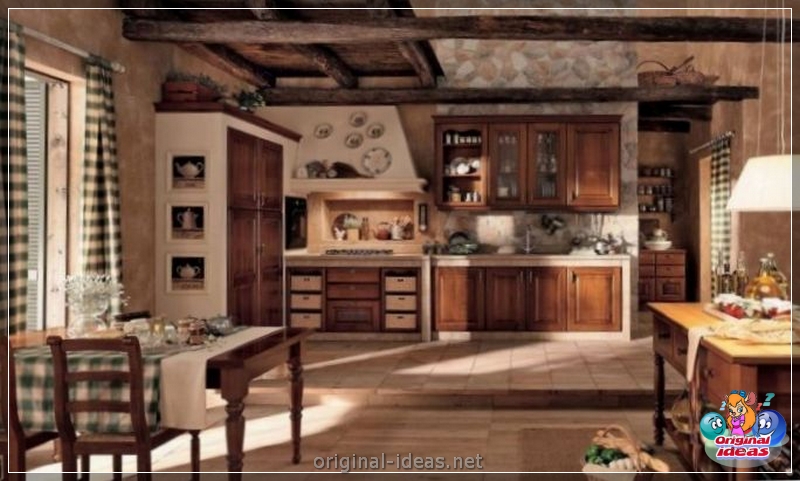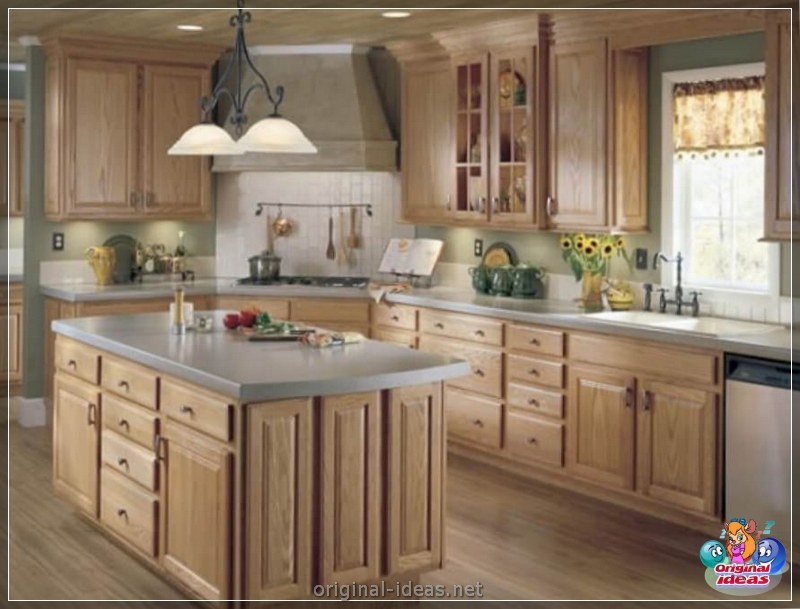 Crystal dishes for the village interior are not suitable, but ancient dishes look very harmonious. Another compulsory decoration is a vase with flowers, while the vase should be simple of glass or ceramics. Dried flowers can be put in a wooden or wicker vase.
For reference! In the country style, all household appliances should be hidden from the eyes, that's what can be in sight, is jars with winter blanks.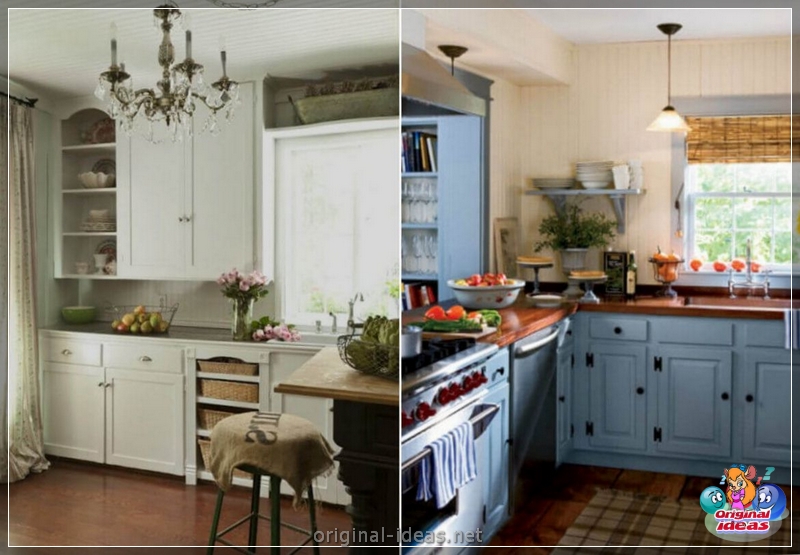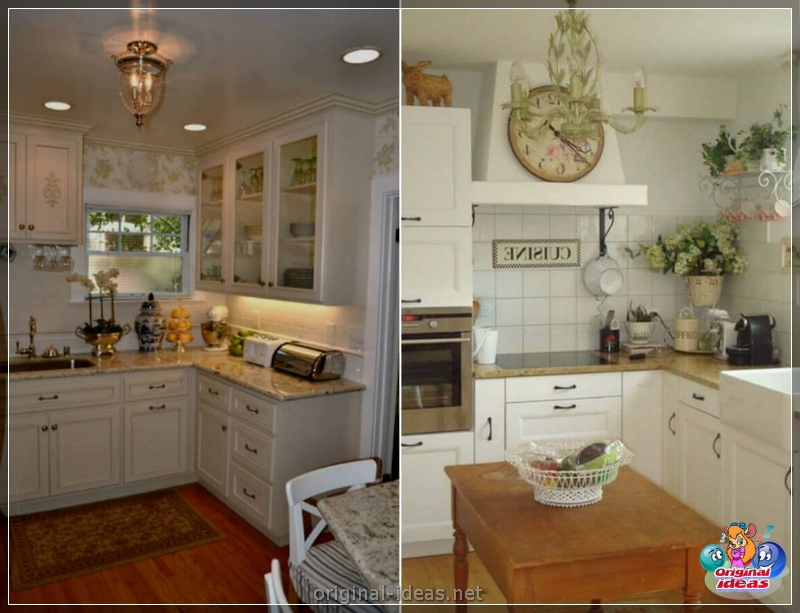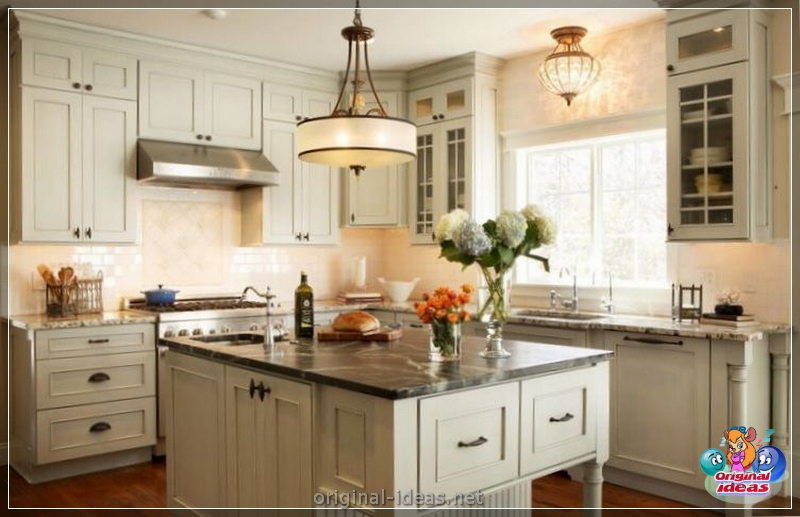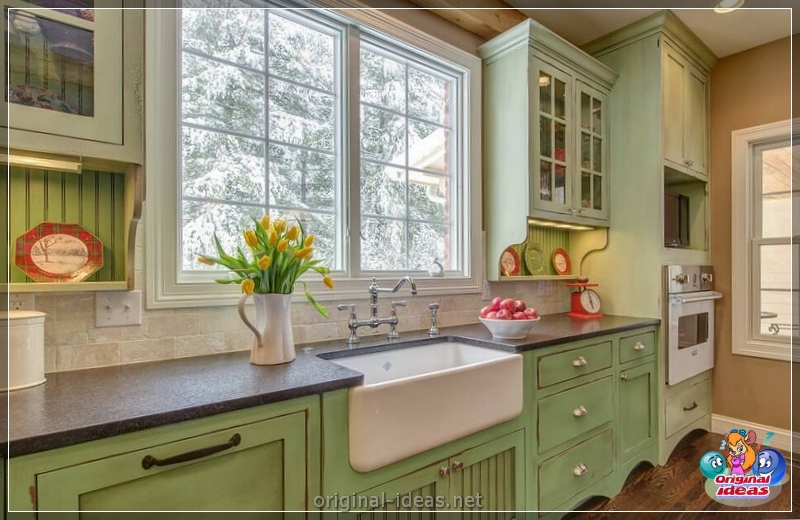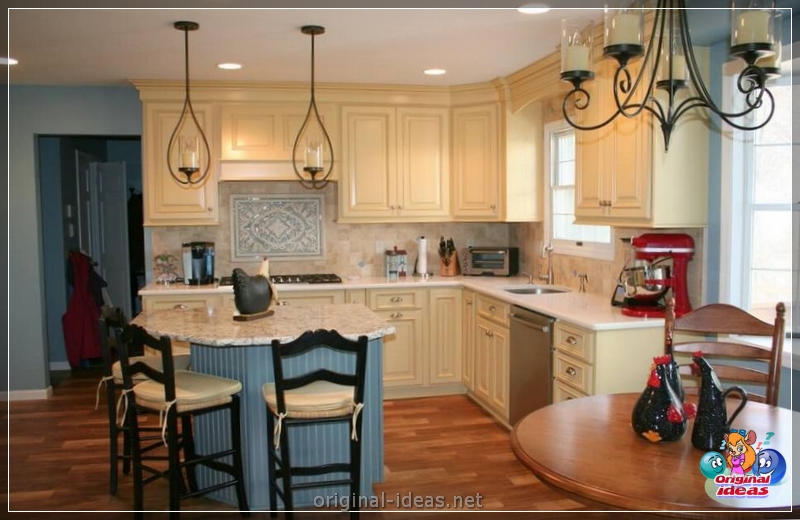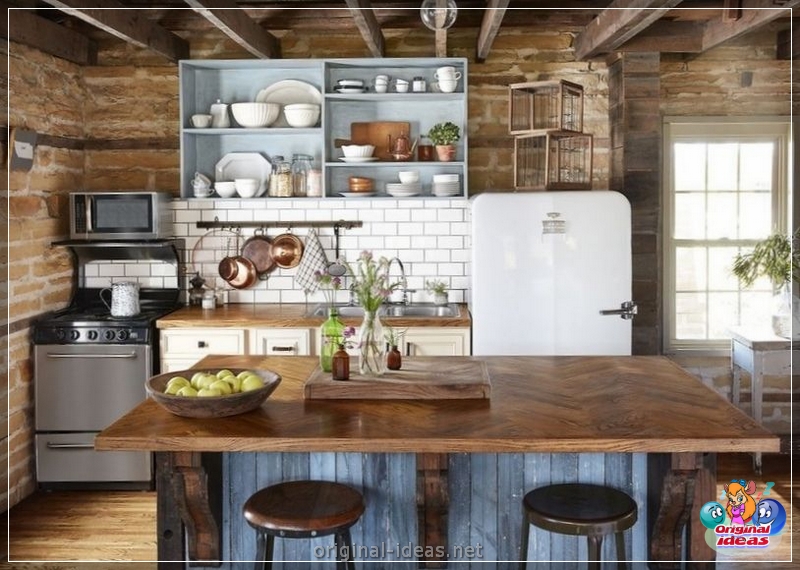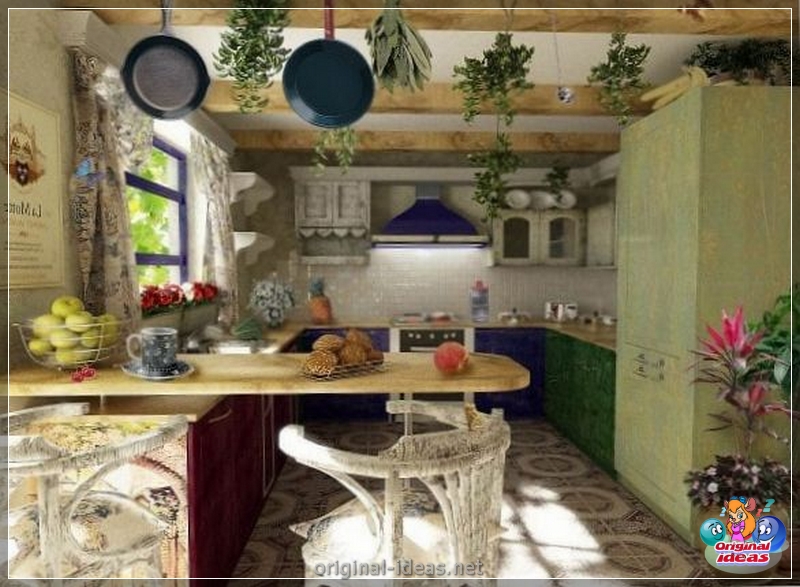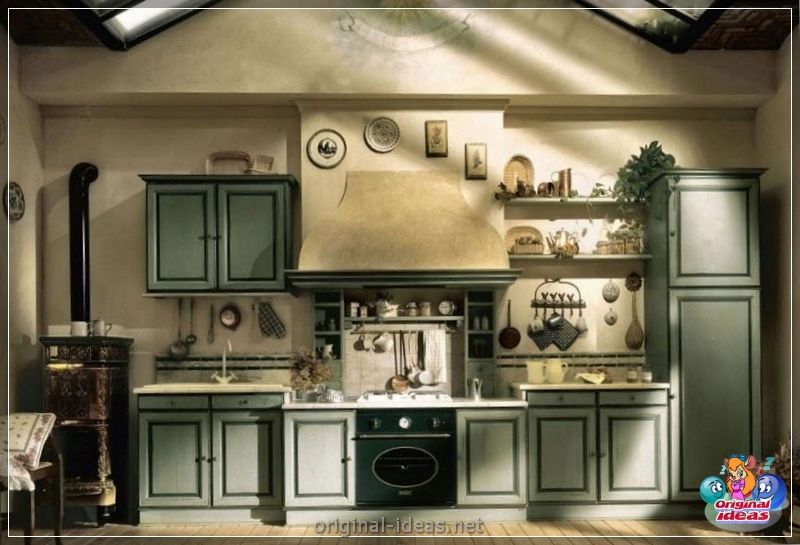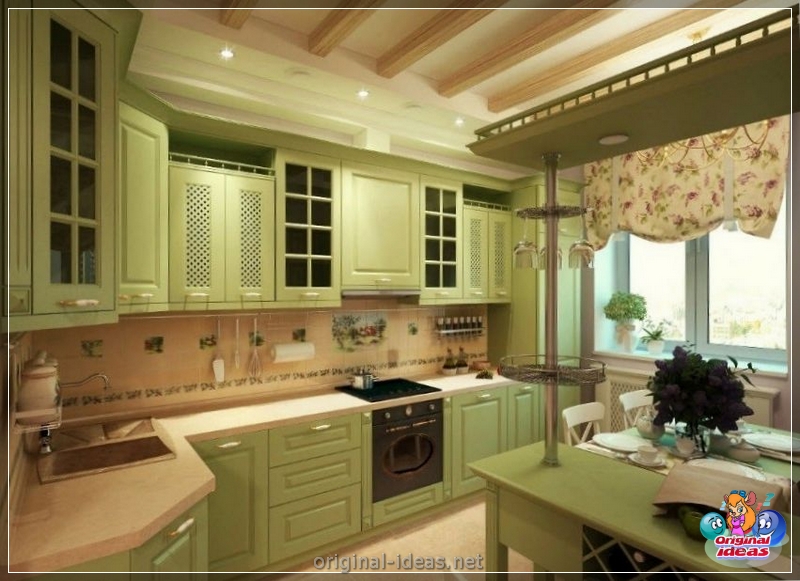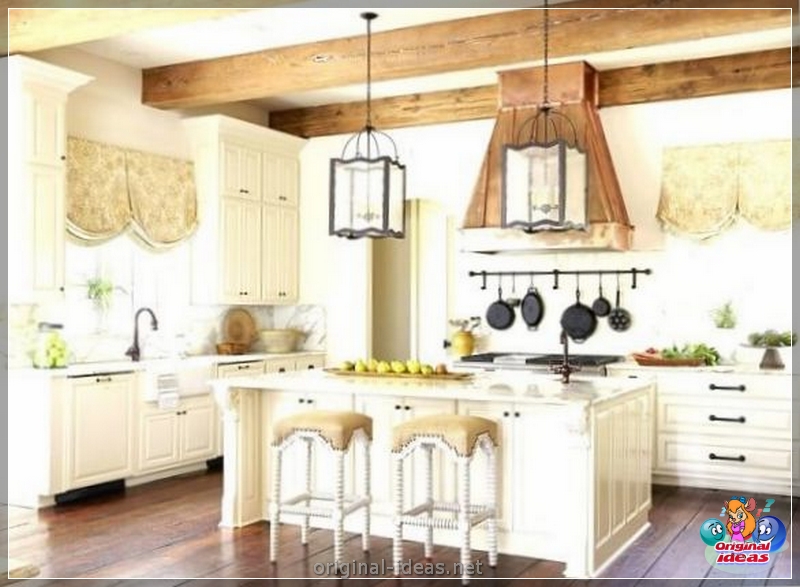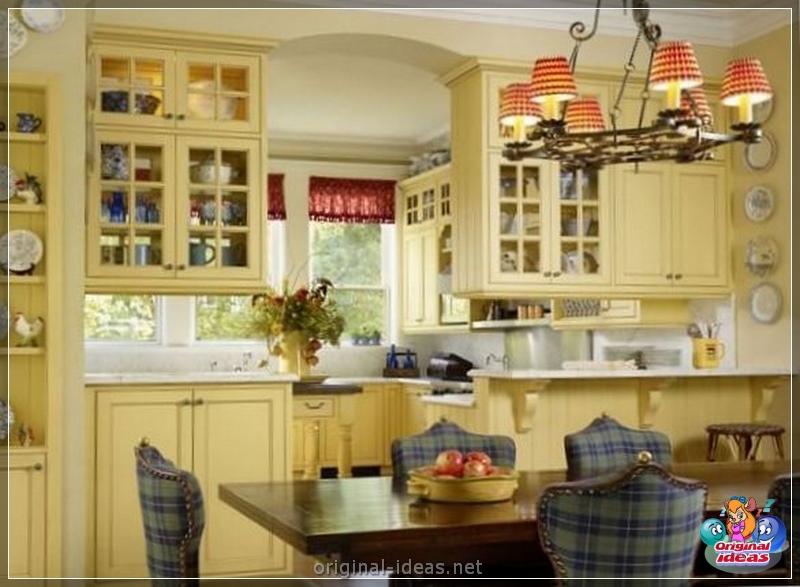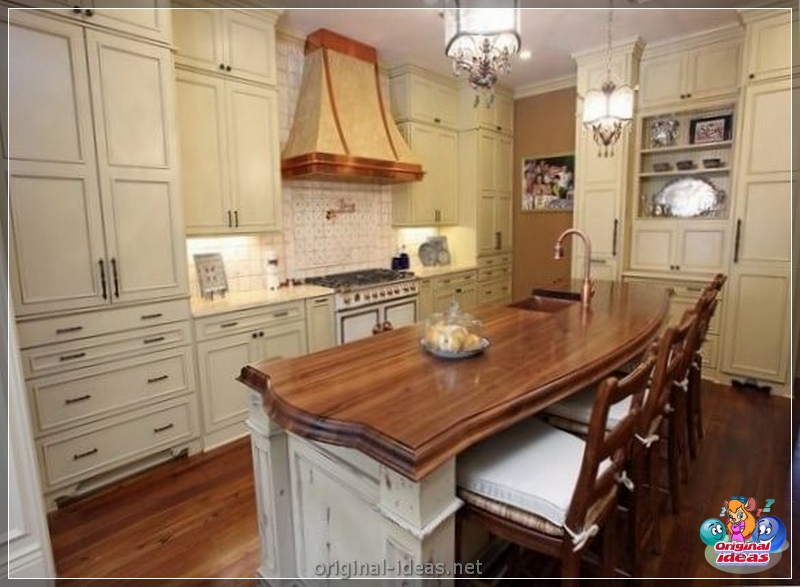 Lighting
The main function of lighting in country style is to create a feeling of comfort, warmth and comfort. In the afternoon there should be as much natural light as possible, and in the evening it should be soft, slightly muffled, but not dull. Therefore, bright light is not suitable, the croppions should be matte, and the light with yellowish warm, but not white cold.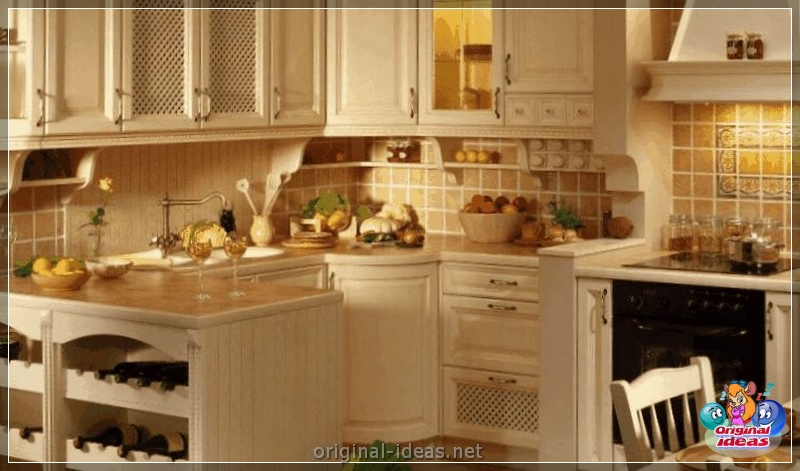 In the lighting when designing such a style, additional illumination plays a large role, and not the main light, that is, the ceiling lamp in the middle. With lighting devices on the walls and floor, you can divide the room into zones, as well as create the feeling that this is a real rural house.
For example, on the working area you can place spotlights with good lighting. Hang a lamp from improvised materials, from buckets or glass bottles above the dining area. Rounded wall lamps with stained glass elements, place around the perimeter.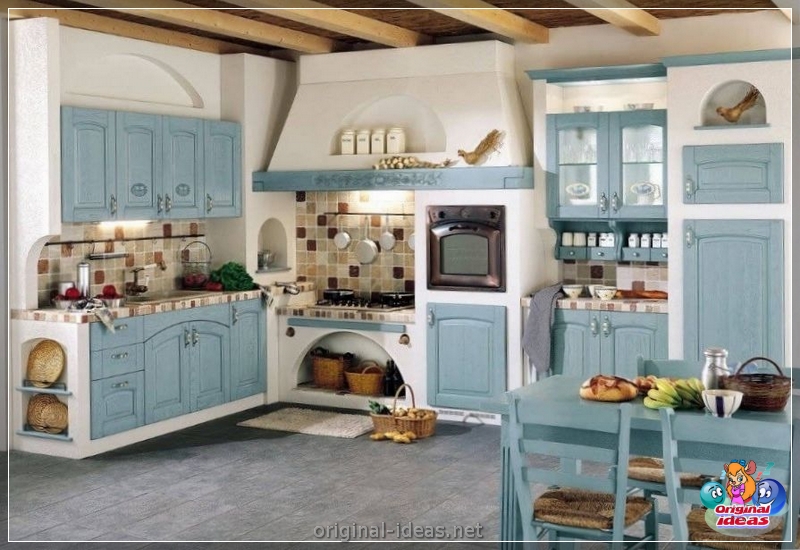 Vintage lamps and lamps in retro-style are ideal for a rustic style. Plaipers made of bottles, a lamp from the wheel, a chandelier made of buckets also look unusual.
For country, you can not use lighting devices made of plastic and any other synthetic material. The presence of brilliant metal and chrome parts is also not allowed. Only wood, glass, textiles, forged elements with manual painting, copper, brass with a patina and a wicker decor.
Advice! When choosing a color, we also choose natural tones that should not be too bright. For example, brown, sand, yellow, the color of the sky or foliage.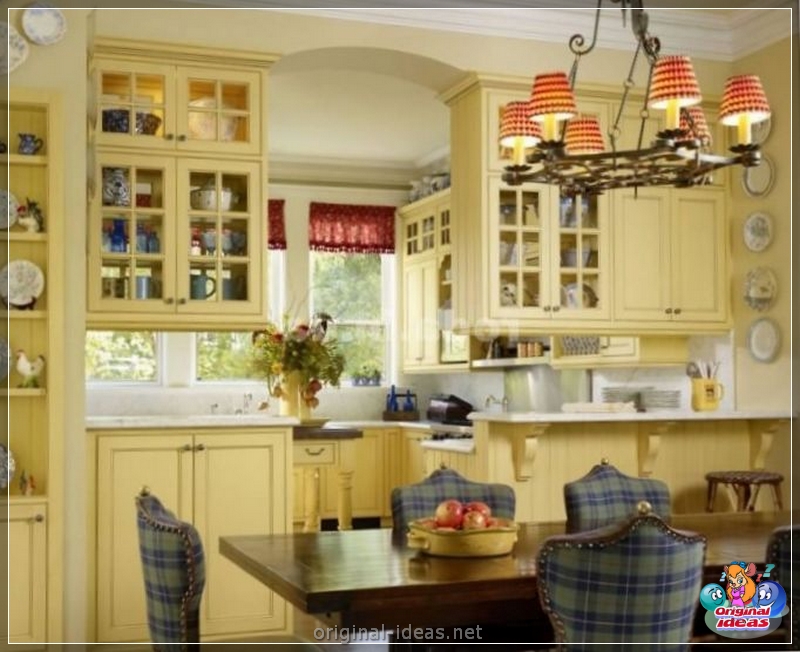 Country - style with centuries -old history. He is original, autistic, but at the same time cozy and simple. Natural materials are used in the design, carefully selected colors for decoration and kitchen set. We offer to see the real photos of 2023 design of the country of country style in different countries - in the apartment and in the country house.