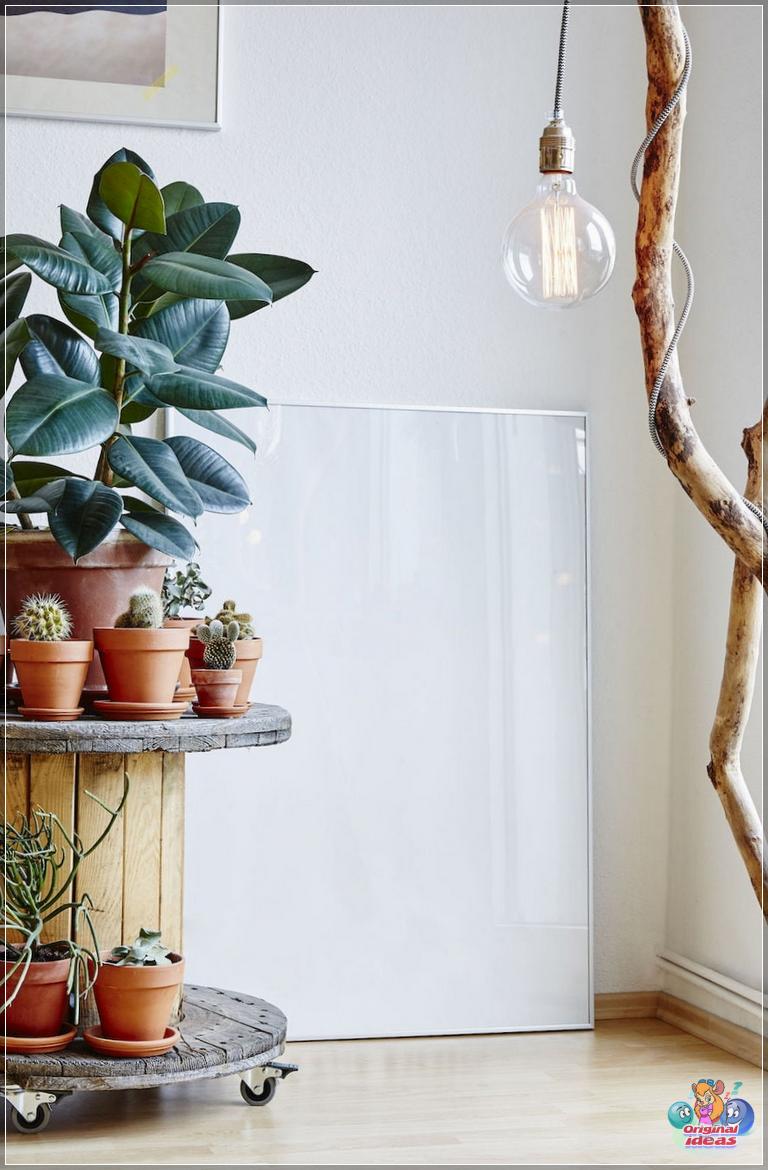 Well-placed indoor flowers and plants in the interior allow you to create an atmosphere filled with freshness and comfort. The created compositions serve as an accent helping to solve various functional tasks.
When selecting varieties of flowering crops, the peculiarities of their cultivation are taken into account.
Selection of indoor plants for the interior (ideas, photos)
The popularity of various types of indoor ornamental crops is determined by several criteria. Among them, they note unpretentiousness, easy care, endurance, quick adaptation to new conditions, abundant flowering.
They must take into account the need for lighting in order to ensure the high-quality development of flowering crops, united by this indicator into two broad groups.
require good lighting
The vast majority of indoor plants are varieties that require good lighting. Placing them in the chosen place, they must provide protection from the burning midday sun on the windowsills oriented to the south.
Among the light-loving indoor plants with decorative foliage, begonias, croton, and monstera are popular. Calathea, dracaena, syngonium, various palms, succulents are often grown. From blooming light-loving indoor crops, gloxinia, anthurium, spathiphyllum, balsam are used to decorate the interior. Hippeastrum, saintpaulia, orchids will fill the space with tinted splendor.
Shade-loving
For rooms with north-facing windows, it is recommended to select plants that easily adapt to shading. They are also placed in rooms with a lack of lighting.
This group of plants cultivated at home includes ivy, tradescantia, epipremnum. It is recommended to grow aspidistra, peperomia, cissus. Chlorophytum crested grows well in the shade, creeping callis, rhombic roicissus. Refers to the list of shade-tolerant crops green-leaved syngonium, aglaonema changeable, scindapsus.
Exotic
Taking into account the peculiarities of growth, bright exotic plants are successfully cultivated in a green indoor corner.
An example is brownish magnolia, desert rose, bashful mimosa. Decorate the interior with takka, plun, home banana. They cultivate guernia, curly bovie, titanopsis.
Placing flowers in the house and apartment
Planning for creating a certain atmosphere in the room with the help of greenery begins with the development of a sketch. This will allow you to determine the required size and select a specific type of decorative culture. Placing indoor flowers and plants in the interior, they are guided not only by their features, but also take into account the general rules:
Do not install the planter next to heating devices.

Exclude cold air currents from getting on the plants when airing;

Photophilous crops are placed closer to natural light sources.

If necessary, provide for the equipment of additional lamps.

They organize systematic care based on the knowledge of the characteristics of each individual plant.




When distributing plants in space, it is important to create a harmonious environment.

For climbing plant varieties, fixing of vertical supports is provided.

And also they are hung in special pots on the walls or in window openings.
The backdrop for greenery is most often furniture facades or wall surfaces. Large-leaved indoor plants are recommended to be installed in rooms in which the walls are decorated with wallpaper with a small pattern. Small-leaved plants look great against a background of solid pastel surfaces.
Advice! For the logical completion of the overall composition, textiles and decorative details are selected, taking into account the color of the plants placed in the room.
A combination of plants of various heights looks advantageous. You can make an elegant composition of indoor flowers with foliage of various shapes, sizes, colors.
Pay attention to the appearance of flower pots, flowerpots, pots. They must correspond in size to the plants planted in them. The color and texture of the containers are selected in accordance with the style solution of the interior, as well as taking into account its color scheme. Original accents can be brought into the atmosphere of the home by using pots with a colorful design or an unusual shape.
On a note! It is important to show a sense of proportion so that the room does not turn into a greenhouse or a museum of plant forms.
Flowers and plants on the windowsill
It is not recommended to place tall flowers on the windowsill , which will reduce the light intensity in the room. Pay attention to compact varieties, an example of which are violets, fittonia, balsam.
To create a harmonious composition, pots with low plants are selected in a single color scheme. They are placed on the windowsill in a rhythmic pattern, without cluttering the limited area. Crops requiring identical care are placed in a common, beautifully shaped container, creating an orderly, neat atmosphere.
On a note! You can perform the composition in several levels if you place a low table under the windowsill for higher flowering crops.
Flowers on a stand
Flowers with a lush, spreading aerial part and many buds look more effective in solitude. Crops with tall stems and large leaves should be placed on low-height floor stands. You can place flowerpots directly on the floor.
Interesting options for the inclusion of plants with leaves and petals of different shapes and colors are obtained when the pots are installed on forged, wooden, elegant plastic stands. The number of levels is selected depending on the area of ​​the room.
Vertical gardening
The trend of modern apartment design is vertical gardening of premises in various options:
green partitions and walls;

ceiling installations;

traveling compositions of greenery;

phyto paintings;

suspended spatial compositions;

plant modules.
Plants stretching vertically upward, with visual perception, raise the ceiling. Ivy and lianas look expressive against the pastel background of the walls. An interesting effect is created by tradescantia, cissus.
Near walls decorated in a dark color, crops with bright buds, light or variegated foliage should be installed. Vertical stripes on wall planes will acquire dynamism in the vicinity of sprawling openwork plants.
Using a variety of devices, it is possible to create vertical green compositions from plants that saturate the atmosphere with beneficial compounds that lift mood and improve sleep. Their list includes begonias, valerian, lavender. Citrus fruits, geraniums, and myrtle also have a calming effect. Cultures such as laurel, rosemary, gardenia help relieve anxiety and provide comfort.
Live zoning
Using correctly indoor flowers and plants in the interior , it is possible to distinguish various functional zones in one room, provided that the varieties of indoor crops are correctly selected, taking into account the area and the prevailing microclimate.
Not only flowering plants, but also representatives of flora with decorative leaves are used in the compositional solution of space. Easy to care for, unpretentious cacti, delicate ferns, elegant palm trees, majestic ficuses, graceful curly ivy elegantly fit into the interior.
Different methods are used to highlight individual zones:
Open shelving

.

Climbing and small-leaved indoor crops are placed on shelving shelves that are open on both sides.

Over time, an openwork screen is formed from them.

To create a living septum, a crosswalk, pilea, cissus, saltium, heder, tiny ficus, etc. are used.

Outdoor flowerpot

.

Tall plants are planted in floor pots, as well as varieties with large decorative leaves.

Such green compositions are mobile.

They are easy to move to another place if you need to highlight a specific functional area.

Ficus, anthurium, philodendron perfectly play the role of the border.

They often use monstera, dieffenbachia, alocasia.

Containers for floor plants must be stable and sturdy.

Zoning from above

.

Cascades of openwork leaves and curly stems that descend from ceiling mounts in the form of hooks or shelves look impressive.

It is advisable to plant ampelous decorative crops for the upper zoning, for example, chlorophytum, scindapsus, escinantus, asparagus, columnea, hoya.

Green wall

.

With a sufficiently dense arrangement of climbing plants on a partition or network plane, an original composition is obtained.

The cache-pot is often fixed on a special lattice or hooks are mounted in a certain rhythm.

Vegetable border

.

Having established along the line, visually highlighting one of the zones in the room, cultures blooming at different times get an elegant border.

You can use plants that differ in stem height, flower buds and foliage.
Indoor plants in the interior - ideas for placement in different rooms (photo)
Decorative indoor flowers and plants in the interior are designed to decorate the space, as well as improve the quality of the air. They absorb carbon dioxide, oxygenating the atmosphere. The selection of specific varieties and their arrangement is carried out depending on the main functionality of the premises.
Flowers and plants in the living room (photo)
For a fairly spacious living room, plants of different sizes are used. The area allows light-loving crops to be placed near windows, and shade-tolerant varieties can be installed near doors, behind cabinets, in corners.
Coffee, olive, citrus fruit-bearing trees become a bright accent in the living room. Large-leaved indoor crops fit into the interior of any style (from noble classics to dynamic high-tech). Palms, ficus, dracaena, hibiscus, oleander are more often chosen for spacious living rooms.
A small-sized living room is easy to decorate with climbing flowering plants hanging in an openwork cascade from shelves, hanging pots and even ceiling mounts. Looks good saxifrage, exotic hoya, eschinanthus. If you wish, you can pick up plants that have a light pleasant aroma, uplifting, relieving irritation.
It is advisable to place plants in the living room that purify the air well, since they have antimicrobial characteristics. It can be begonia, oleander, lemon, as well as geranium, ficus. Beautifully blooming magnificent roses, graceful azalea, colorful cyclamen, elegant orchids bring a feeling of comfort and coziness.
To create flower arrangements in the home interior, the prevailing color gamut is taken into account, pots that are different in texture and shades are used. Provide for the placement in a certain order of racks, racks, stands, whatnots. Wickerwork has an interesting decor.
Flowers and plants in the kitchen (photo)
The limited area of ​​the kitchen does not usually allow the use of voluminous floor pots. Most often, compact plants are placed in this room, which can be in hanging pots, on light wall shelves or decorate a window sill.
They select varieties of unpretentious indoor plants that can easily adapt in conditions of high humidity and temperature fluctuations. It is recommended to use ivy, tradescantia, cissus and asparagus for placement on wall shelves. The windowsill will be decorated with violets, hirita, orchids, chlorophytum, but it is important to provide these crops with protection from direct sunlight.
Thermophilic plants such as dieffenbachia, begonia, allamanda, anthurium are also grown in the kitchen. It is advisable to place aglaonema, clivia, aspidistra in shaded corners. Plants should not be placed near the stove, sink, refrigerator. Often the role of a green kitchen corner is played by garden crops, for example, parsley, dill, hot peppers, and onions.
Flowers and plants in the bedroom (photo)
For the bedroom, flowers should be selected very carefully. Cultures with a strong aroma, which can provoke insomnia, irritation, and headache, are not used.
Suitable for a room designed to provide comfort and relaxation, Kalanchoe, aloe, spathiphyllum, chlorophytum. Elegant miniature roses, delicate uzambar violets, delicate miniature ferns will perfectly decorate the interior. You can put a small bush of lavender.
Flowers and plants in the children's room (photo)
The main criterion for selecting plants for placement in a nursery is safety. It is enough to place 1-3 pots here so that they do not cause injuries to the child.
Any plant forms with a pungent aroma, thorns and needles, containing poisonous and toxic elements in the juice are excluded. The pots are selected from shatterproof material. You can plant chlorophytum, Kalanchoe, Tradescantia, Decembrist, violets, begonia.
Flowers and plants in the bathroom (photo)
Due to insufficient lighting in the bathroom, if desired, only shade-tolerant crops, such as ivy, can be placed. From time to time, the pot needs to be taken out into the light.
In conditions of high humidity, the heart-shaped philodendron feels good. It will perfectly decorate the walls when placed in an elegant hanging basket. A lily that prefers a watering method such as irrigating the leaves regularly can also grow in the bathroom. Aloe vera adapts well to artificial lighting.
Bamboo will feel comfortable without bright sunlight, for which moistened pebbles can act as a soil substrate. Chlorophytum adapts well to a variety of conditions.
Considering that the fern does not like excessive lighting and prefers regular spraying, it can also be used to decorate the bathroom. Other shade-tolerant crops are also suitable for these conditions, for example, cyperus, stromant, as well as aglaonema, arrowroot.
Equipment in the bathroom is provided for phytolamps, which will provide an optimal degree of illumination. Planters and flowerpots are selected from unbreakable material. They must be not only strong, but also securely fastened to prevent injury in confined spaces.
Flowers and plants in the hallway (photo)
In a fairly spacious hallway, there is always a place to place floor pots with spectacular large plants. Dracaena, yucca, bottle tree look great here.
If the area is small and dark, then unpretentious shade-loving specimens are preferred. For example, aspidistra, which has very beautiful large leaves, asplenium fern captivating with carved greenery, sansevieria, which adorns the space with luxurious elongated leaf blades, will fit well. On the walls, decorative ivy forms an elegant frame around a mirror or painting.
A variety of indoor flowers and plants in the interior, placed for a specific purpose in rooms of different functionality, create an enchanting comfortable environment.