In houses built during the country's existence, a small bathroom is found in almost every apartment. Today, few people agree to harsh Soviet minimalism, trying to turn a tiny room into a practical functional area.
Although it can be very difficult to do this - square meters in such bathrooms can be counted on the fingers of one hand, and they are almost half occupied by plumbing. Even moving in such cramped conditions is problematic. However, it is quite possible to find suitable small bathroom interiors. This does not always require a radical redevelopment with the demolition of the walls and the addition of another room.
Bathroom design in light colors visually enlarges the space
It is enough to apply the correct visual techniques for expanding the space and choose the right plumbing equipment and furniture that will not clutter up the room. And if this is implemented correctly, then the bathroom will become a real pride of the house, and it will become comfortable and pleasant to carry out water procedures in it.
Simple and charming small bathroom design
We start with a project
Old plain tiles, a bathtub flush with the washbasin, a tiny cabinet on the wall, oil-painted pipes, a dull tap spout ... A familiar picture? Is this a cozy bathroom?? Of course, a good owner will want to change all this, apply design fantasies and the best modern technologies.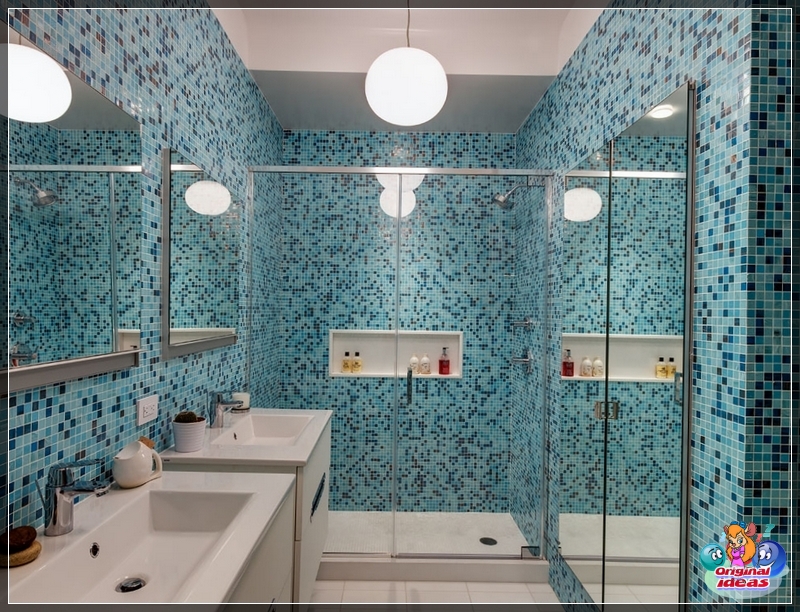 Bathroom with combined toilet and shower
And although at first glance 3-4 m2 leave little room for an original solution, designers believe that this is a great opportunity to prove your ingenuity and create something unique.
Small bathroom layout project
Many colorful photos of small bathroom interiors prove them right. Glossy magazines dedicated to the interior love to post such photos, because only a true master of his craft is able to turn a tiny room into a masterpiece. Therefore, the most reasonable way to develop a project would be to resort to the advice of a professional, then the owner will only have to purchase the necessary materials and equipment. No redevelopment is required, accompanied by long and difficult approvals. This method is the simplest, but also the most expensive at the same time.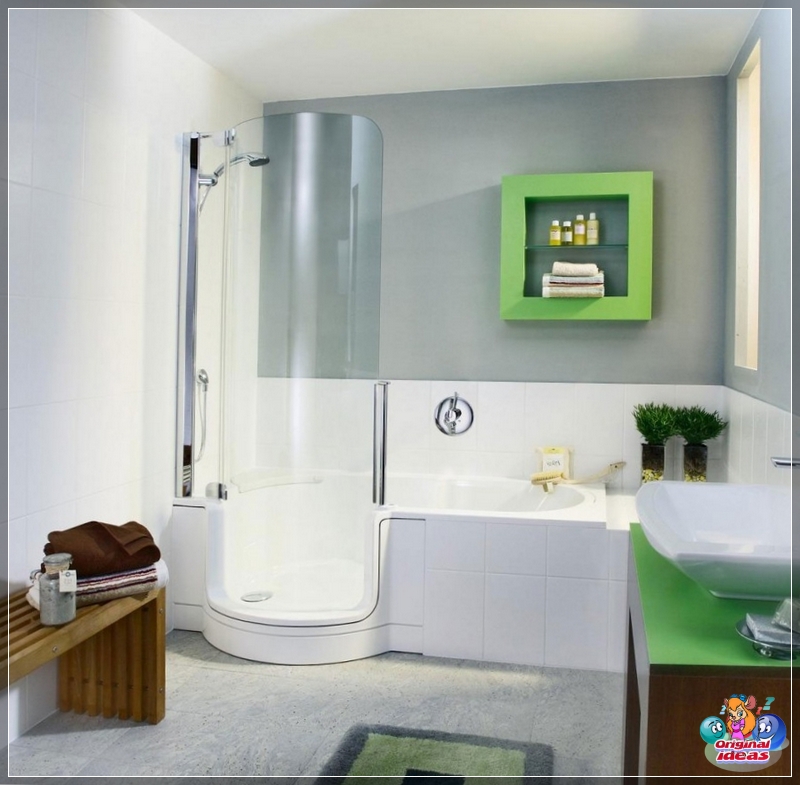 A true master of his craft is able to turn a tiny bathroom into a masterpiece
The second method does not require such a significant investment, but it is not suitable for every owner. It consists of combining a toilet and a bathroom. Without changing the location of the equipment, but choosing more compact options, you can significantly expand the bathroom, fit in a washing machine and even a cabinet for towels. This is a great option for a young family where there are no children yet, or for single people. But if the family is rather large, it will be inconvenient.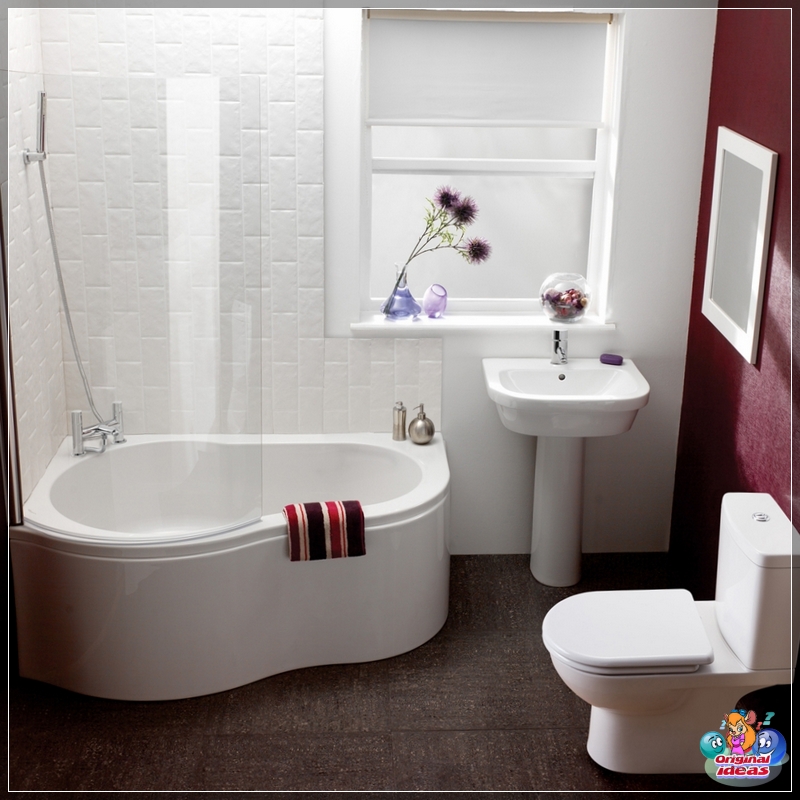 For walls and ceilings in a small bathroom, it is important to choose the right color palette
So if there is no desire to turn a separate bathroom into a combined one, or there are not enough funds to attract a super-designer, you will have to go for the third option: find a team of professionals, discuss with them the possibilities of changing your bathroom, calculate an estimate and start making your wildest dreams come true.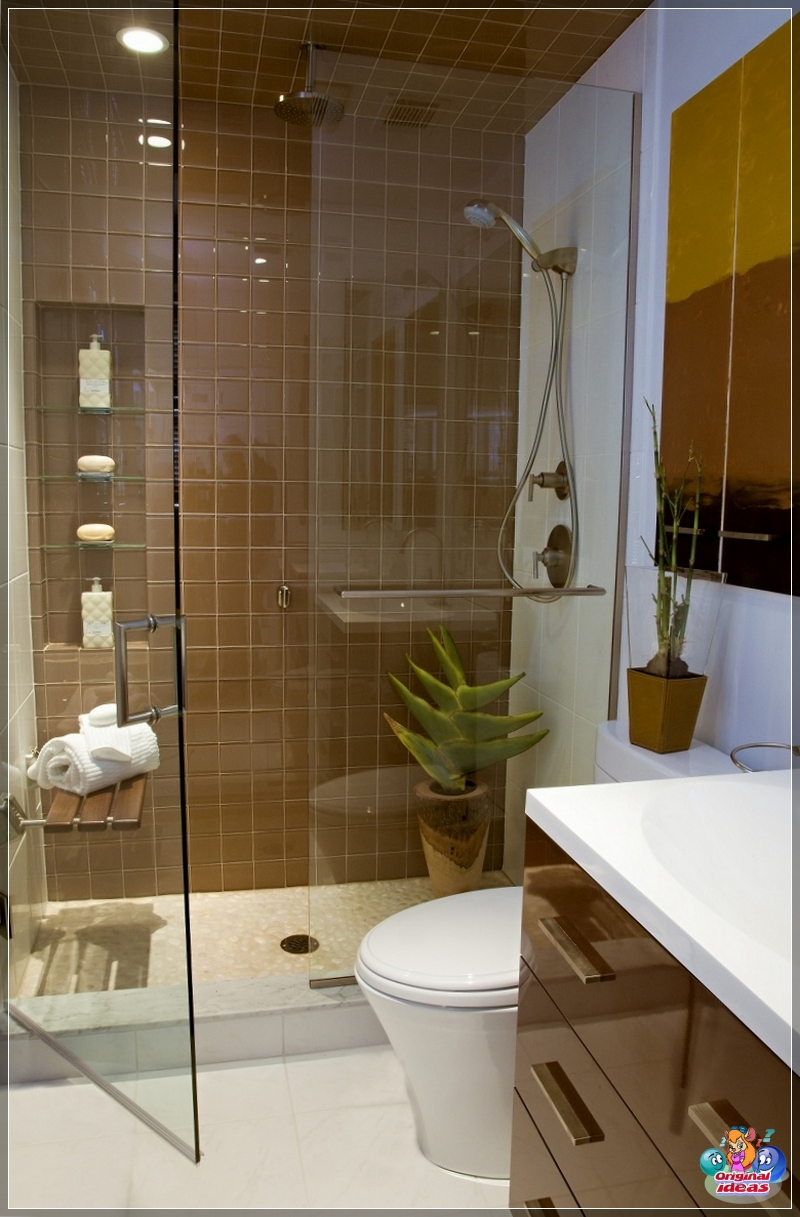 Pay attention to hanging furniture and plumbing when setting up
If you got a combined bathroom
In typical Soviet apartments, even a combined bathroom cannot boast of a large size.
Water supply wiring diagram
This means that it is necessary to select such a small bathroom interior with a toilet so that:
visually expand the space;
use every square centimeter;
equip the bathroom with everything you need.
Since rearrangement of the bathroom and toilet is not possible, they work with the shape of the equipment, with the walls and ceiling.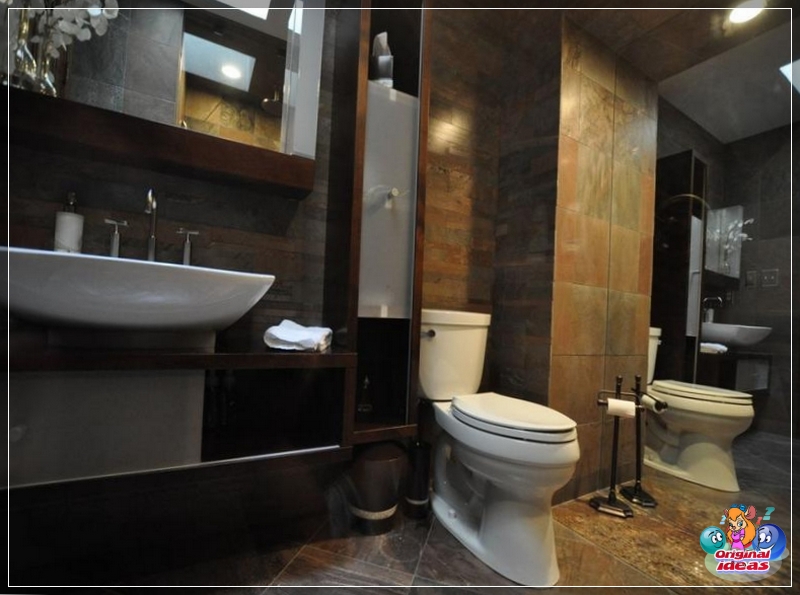 A mirror will help to visually enlarge the size of a small bathroom
Replacing the bathtub with a shower stall wins a decent amount of space. The toilet bowl and sink are selected in a square shape, it is better to take a sink with a long countertop that will smoothly connect to the bathroom. This is a good alternative to a shelf, if you also place a large mirror above it. You can fit a washing machine under the tabletop. It is better to choose a toilet with a wall mount. From furniture, a bedside table or a narrow pencil case located in the corner will be enough.
Replacing the bathtub with a shower stall wins a decent amount of space
Tile is no longer the only desirable option for wall cladding. Small bathroom interiors are now offered with wall cladding, decorative plaster, marble, mosaic and mirror panels. From this list, the most successful will be the use of mirrors located around the perimeter and creating the effect of space. It is very original if the shape of the mirror will work for the overall style of the bathroom, for example, emphasizing the Greek or nautical style. Minus mirrors - the need for constant care.
Mosaic has proven itself. After all, a small room should not be decorated with large tiles, this will narrow the space. But a well-chosen mosaic of light colors will successfully support the idea of ​​its visual expansion.
Mosaic is great for a small bathroom
The ceiling in a small bathroom requires special attention. He does not tolerate dark colors and multi-level solutions. Therefore, they use light shades, work with lighting, use rack and stretch ceilings. The main requirement is that the material must be moisture resistant, durable, withstand temperature extremes.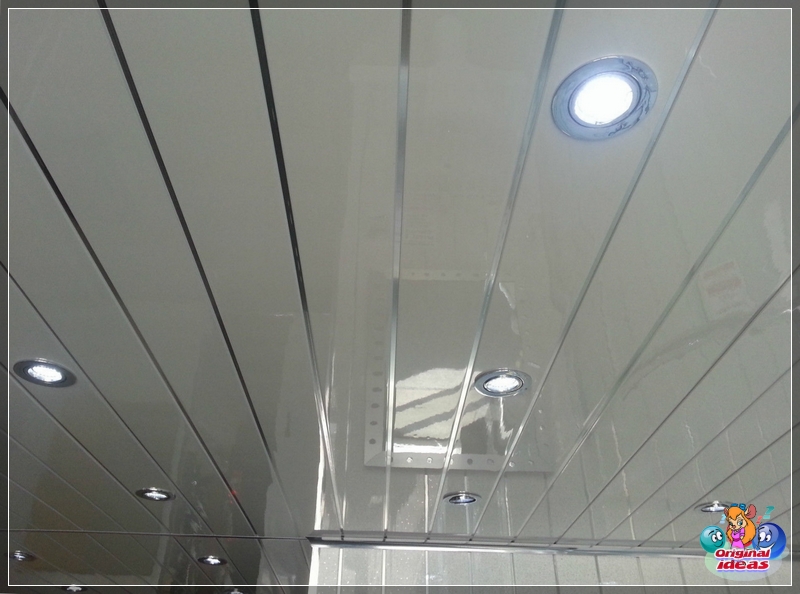 Rack ceilings are used to increase the space
Small bathroom and large space for imagination
It would seem that a very tiny bathroom without a toilet completely does not allow the designer to turn around.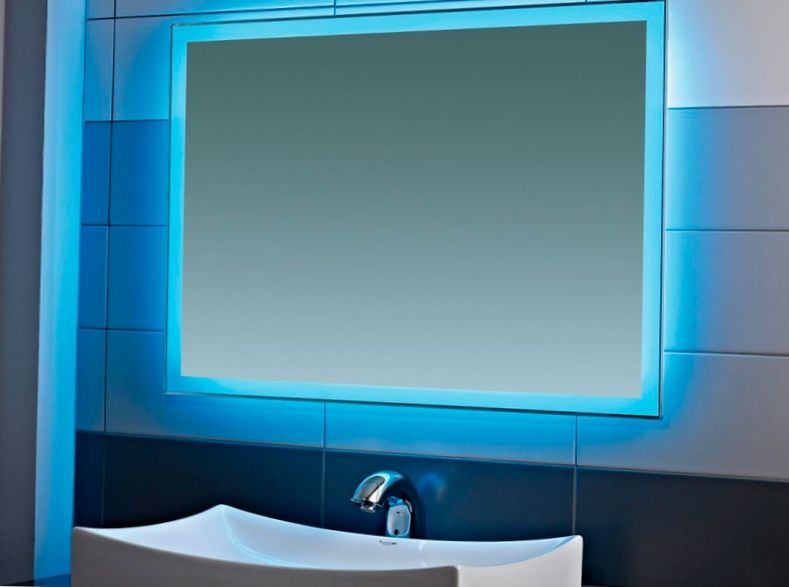 Illuminated mirror effective solution for a small bathroom
But, developing the interiors of a small bathroom, they skillfully operate with simple and very effective techniques:
constructing a glossy stretch ceiling, equipping it with spotlights;
limited to a minimum of furniture.
A shower panel is a great option to save space
But more often than not, getting rid of the bathroom is suggested. It is necessary if there are small children. But even then you can find other options for bathing them. A small bathroom interior without a toilet will only benefit if you replace a bulky bathtub with a shower stall. Moreover, today you can completely abandon the cabin, limiting yourself to a shower panel, a glass partition and making a drain right in the floor.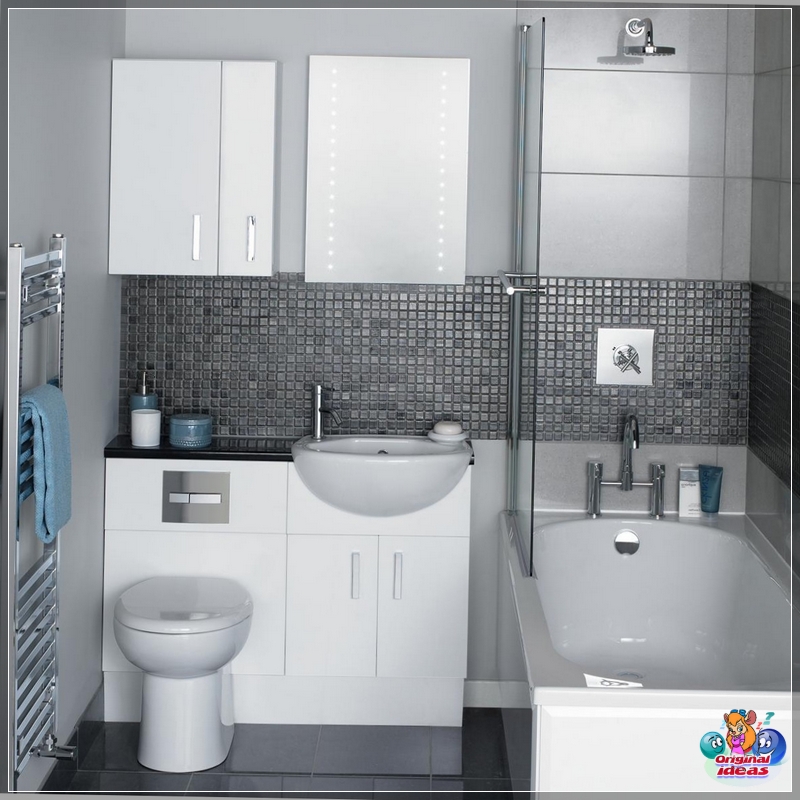 Furniture should not clutter up the bathroom
The main rule is a minimum of items. Furniture should not clutter up the bathroom. Ideally, it should be angular, have streamlined corners. You can place it on the top of a wall with a door. The sink and washing machine blend in with the furniture, repeating its outlines and colors. The bath or cabin must exactly match the main color, completely dissolving in it.
Corner furniture is what you need for a small bathroom
To expand the space, use color. Bright spots of the solar spectrum will warm and liven up the interior. But contrast in a small space is inappropriate, especially on one surface. Banned large drawings.
Glass mosaic looks stylish and fashionable
Colored mosaic is a great way out. Moreover, the smaller the room size, the smaller the mosaic elements should be. Glass or mirror mosaics look stylish and fashionable, creating the effect of sunbeams and airiness.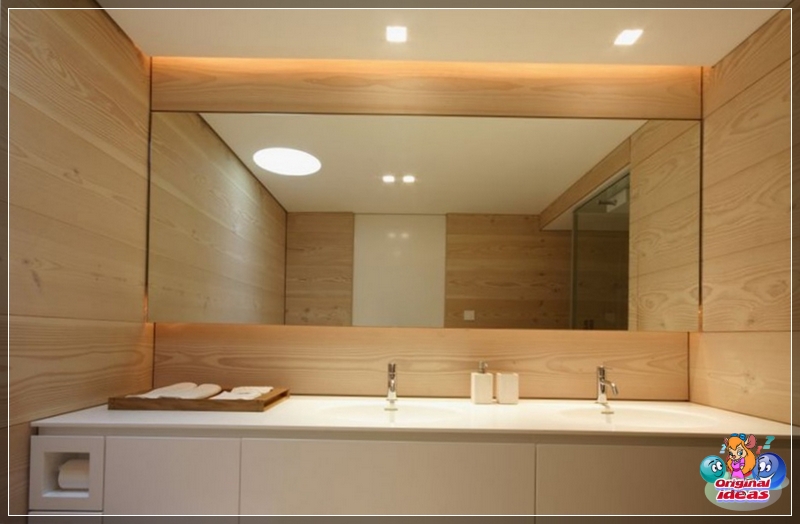 A large mirror will further "expand" the space
A large mirror will further "expand" the space. Behind it you can hide a small rack for small items or towels.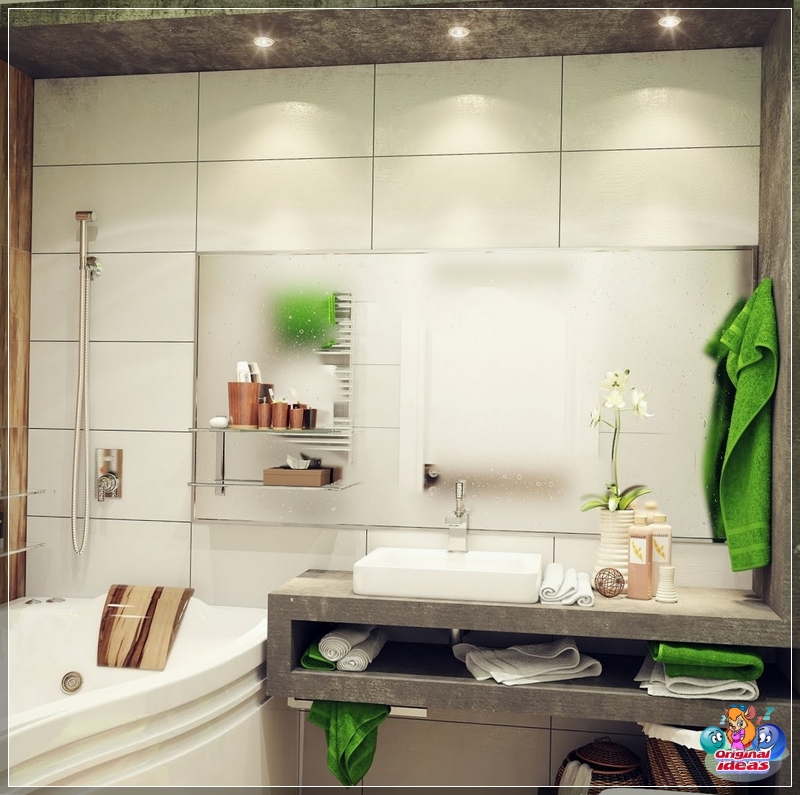 A small storage rack is essential in a small bathroom
There are enough options for competent and stylish design of a small space. A specific color scheme, unusual and technological equipment, a practical approach to furniture and a talent for not cluttering the room with unnecessary items allow you to create magnificent interiors of a small bathroom.
Modest design for a small bathroom
Even very modest, almost Spartan sizes will allow you to perform water procedures with maximum comfort.