A place where people spend almost half of their lives a bedroom, because sleep is essential for everyone. Therefore, it is very important to arrange it so that it is comfortable and convenient for rest and sleep. Feng Shui masters give various tips to help you understand which color affects what, and which tones should be avoided.
What color to paint the walls in the bedroom photo of one of the options you can choose.
How important is color?
Aggressive stylish design with vintage touches
The characteristics of the color that you choose will determine how vigorous you wake up, and in what mood you will walk during the day. The color of walls, curtains, furniture must be in harmony with each other, so as not to create dissonance, which will then affect your well-being.
The interior of the bedroom is executed in dark wood combined with light walls
Psychologists say that in rooms with a lack of uniform tone and style, people feel uneasy, it is difficult for them to collect their thoughts and concentrate on something. Therefore, when registering
bedrooms, like any other room, must adhere to certain standards. Blue in the bedroom
A bedroom done in orange can have a dual impact, but designers avoid its abundance, as it creates a kind of unpleasant feeling of squeezing walls. But some people like this optimistic color, and they do not feel any discomfort in rooms with predominantly orange tones.
Bedroom option in exclusively white colors
Blue color in the bedroom is a guarantee of tranquility. Entering such a room, a person will feel how all nervous tension disappears somewhere. But do not forget about additional heating, because blue is a color from the group of cold.
Unusual bedroom decor with interesting photomurals
A bedroom in green tones can calm a person who is exhausted by mental activity. In it you can do homework, write a report or solve complex math problems.
Bedroom design in light colors with shades of beige
When designing a bedroom, purple and red colors should be avoided, otherwise you will be haunted by a feeling of fear and discomfort, tormenting insomnia.
The soft pink color gives the bedroom interior a romantic touch
The feeling of security, comfort and coziness can give yellow color.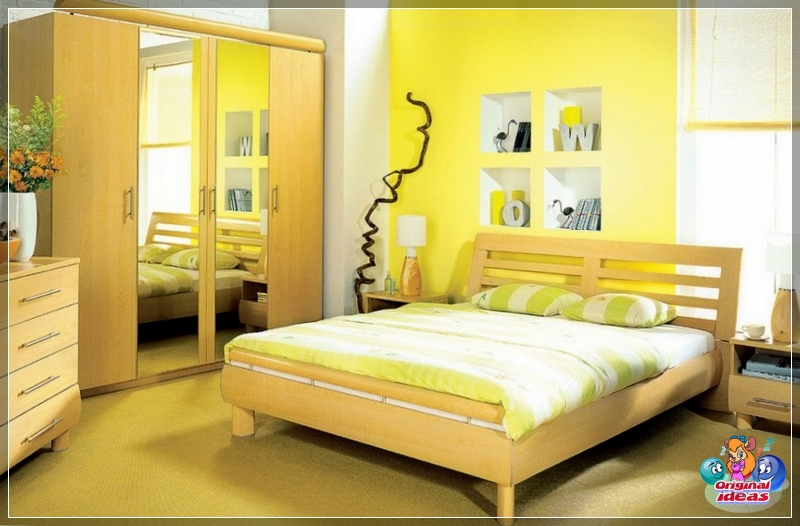 Yellow in the bedroom
And yet, despite the fact that designers note some of the above shades unsuitable for use in the bedroom, this only applies to those cases when they fill the entire space (walls, curtains, floor, ceiling and furniture combined).
The bedroom interior in light orange colors looks very cozy
Remember that a moderate distribution of even purple and red is fine if placed in the right amount in the room.
Lighting is an integral part of the bedroom design
Feng Shui masters assure that the most comfortable bedroom decoration will be the owner's favorite color, only in a pastel shade. But correctly placed decor items (paintings, flowers, other accessories) will help create accents in such a way that they will not allow the interior to merge into one pale spot.
Ideal for a bedroom design with a vibrant, dynamic yellow color
But even the recommended colors can create a depressing effect if the shade is not chosen correctly. Take green as an example.
Green color in the interior of the bedroom in combination with nature photomurals
Bright green or its cool variations can have an opposite effect.
Bedroom with wood finishing and furniture
What color to paint the walls in the bedroom, the photo will help you decide on the tone of the selected color.
A bedroom in soothing colors disposes of relaxation and inner balance
Colors have an amazing effect not only on our well-being and mental state, but they can also expand the space of a too small bedroom.
A striking bed design for your bedroom
Visually, it will increase in size, and it is more pleasant to be in a large room.
A room whose walls are painted in
light and warm colors, it becomes more. Delicate combination of colors in the interior of the female bedroom
Also, to visually increase the space of the room, it is recommended to glue wallpaper with horizontal stripes, as well as with a very small pattern (for contrast, wallpaper with large and massive images, on the contrary, makes the room smaller and has a pressing effect).
Exclusive furniture design combined with gold paint is an interesting choice for the bedroom
If the owner of the room is not against the photo wallpaper, you can achieve visual expansion as follows: stick on one of the walls an image of a park path or a road in the mountains that goes into the distance. Such a cunning move will also create the illusion of approaching nature, which will improve the mood of the person in the room.
Cozy design option for a bedroom
What color to paint the bedroom in photos of the most successfully completed design projects.
What color is better to paint the walls in the nursery?
An excellent design solution in soft purple color for a girl's bedroom
Many parents ask themselves this question, because the place where the child is located should be as comfortable as possible. It is important here to listen to the child's opinion, but at the same time to understand whether his idea is really good, and how to tell him that his design project will not benefit his psyche.
The color of the walls in the nursery
V
the so-called zoning of the territory is often performed in the children's room: it is advisable to arrange a place for sleeping in gentle pastel colors, but decorate the area for games and entertainment with bright colors. Bright, juicy colors are suitable for the interior of a children's bedroom
Various ladders, home swings, horizontal bars should also be bright (if they are in your child's room or you are going to purchase them). What color to paint the bedroom photo ideas.
Juicy light green color in the children's bedroom
Gray as an idea for painting walls in your bedroom
Calm light gray scale is simplicity and harmony in your bedroom
The last few years, gray has been very popular among designers. Minimalism is the name of a simple and unpretentious interior design. They also give preference to him because he is combined with almost all colors, and the probability of making a mistake when choosing, for example, a sofa, is minimized.
Bedroom in dark colors and minimalist design
Gray color has always been loved by aristocrats, as it is an excellent background for any interior items.
Combination of gray
But now talk about this simple and universal color boils down to the fact that its overabundance can have a bad effect. A person who is in an entirely light (gray, pastel-colored) room has a feeling of emptiness, insecurity.
Ascetic room design in gray tones
See what color to paint the bedroom in a photo of a gray interior to see if it suits you.
If you are following feng shui ideas, check out the basic tips from feng shui experts:
Luxurious bedroom in dark colors
if you hang pictures on the walls, then the images on them should be gentle and picturesque, no flashy elements and abstractionism;
the bedspread should be chosen in a bright color with romantic details and patterns;
the walls of an ideal feng shui bedroom are painted in warm colors: from pastel yellow to pastel brown;
so that positive energy does not leak out of the bedroom, it is worth hanging curtains in dark colors on the windows.
the presence of any incense is welcome, it can be an ordinary scented candle, bought in a store or a set brought from eastern countries;
on the nightstand or dresser, you can put the typical Feng Shui figurines of monkeys, rabbits and owls, promising good luck and prosperity.
the presence of carpets, the designers say, is a must, you should not walk on a cold floor, but on a soft warm carpet. This will create an even greater sense of coziness.
Austere bedroom in gray tones
What color to paint the bedroom in photos of beautiful bedrooms decorated using the Feng Shui technique.