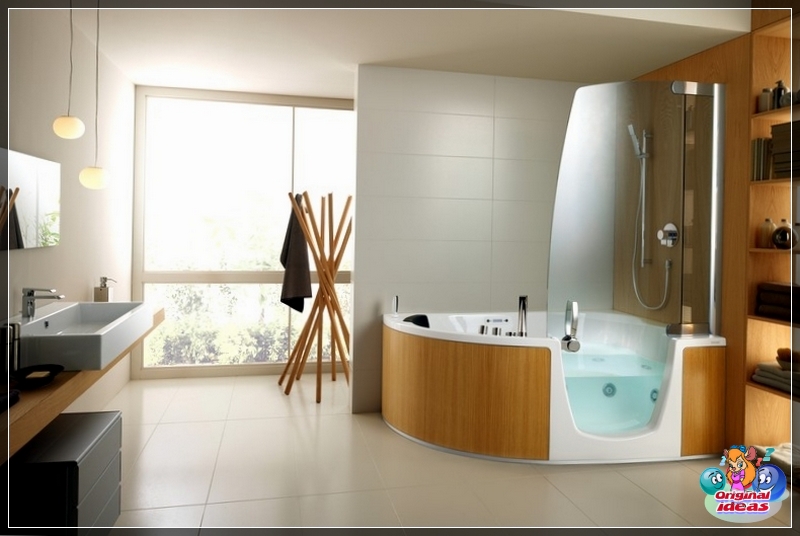 Today, more and more often the design of the bathroom with a corner bath is used. This is not surprising - such a bathroom looks unusual and impressive! The corner bath in itself attracts attention, with its non-standard look, and if you add stylish accessories to the room, you can get an incredibly stunning interior.
Bathroom in light colors
Types of plumbing
The corner bath looks unusual: its two sides are located at an angle of 90 0. As for the third party, it can be of any shape. Initially, a similar project was created in order to save space. This was very important for small apartments with a miniature bathroom.
Bathroom
The shape of the bath was an equilateral triangle. The designers really liked this idea, and they began to create various types of such plumbing. Now you can see a wide range of corner baths designed for almost any interior. The design of a bathroom with a corner bathtub can be thought over to the smallest detail.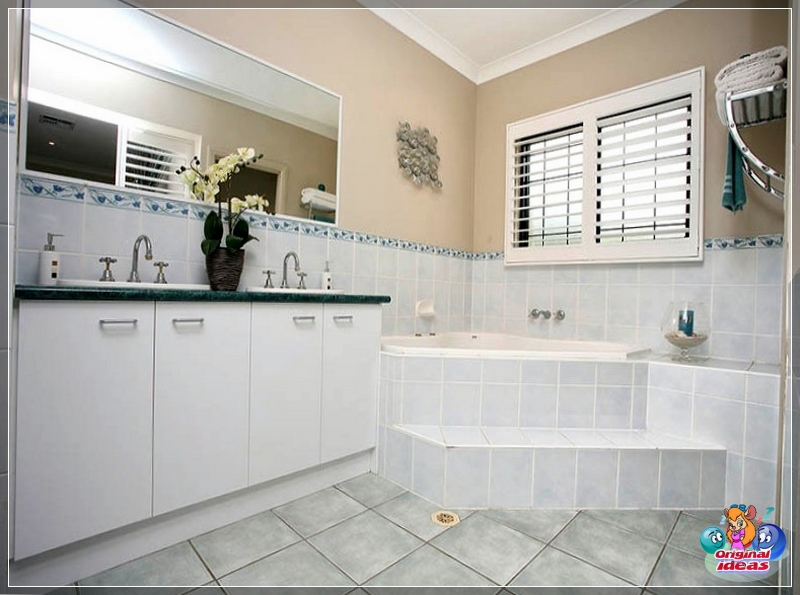 Modern bathroom
Material
Corner baths are made from different materials. Due to this, plumbing has its pros or cons. The most popular metals are steel and cast iron.
Luxurious corner bathroom
The steel bathtub is generally simple in shape and light in weight. Installation is not difficult, even one master can handle it. The main feature is that it heats up quickly, but does not retain heat. Also, of the minuses, it is worth noting the low service life, which is no more than 10 years. After that, repair or replacement of plumbing will be required.
Bathroom with corner jacuzzi
Cast iron, on the contrary, heats up for a long time, but at the same time it keeps heat for quite a long time. Durability is considered a big plus. But there are also enough cons. First of all, this is a high price and huge weight, due to which it is not realistic for one person to carry out the installation. Also, the disadvantages include poor-quality enamel bath coating.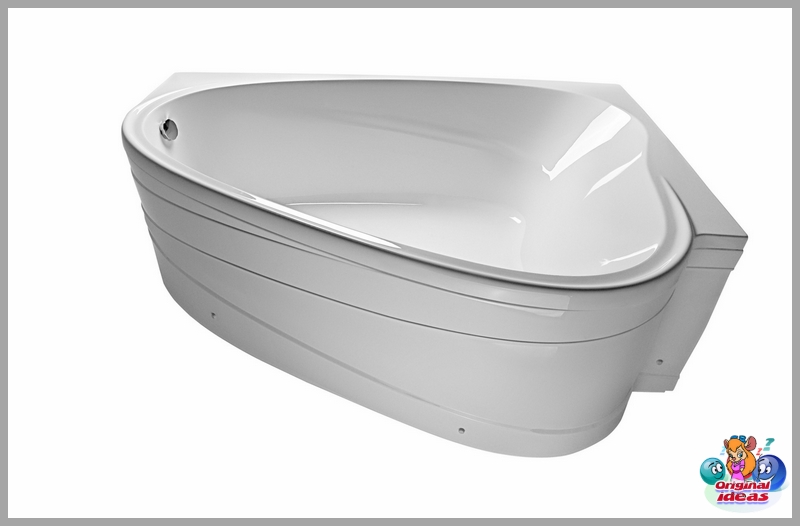 Steel bath
If we talk about the lowest prices, then here the first place is occupied by plastic. Plumbing made from this material is quite diverse in shape and lightweight. But all these advantages are covered by a big drawback - quality. At high heat and load, the plastic undergoes deformation, so it will not serve the owners for long. Plastic bathtubs are ideal for giving.
Bathroom design option
Recently, acrylic bathtubs have gained popularity. They have a variety of designs, light weight, reasonable price. Such fonts look stylish, their installation does not cause problems. Photo
bathroom designs with acrylic corner bathtubs always look beautiful and impressive. Bathroom design with corner bath
The form
Corner baths are usually divided into symmetrical models and asymmetric. Symmetrical bathtubs have two sides that are adjacent to the wall are equal.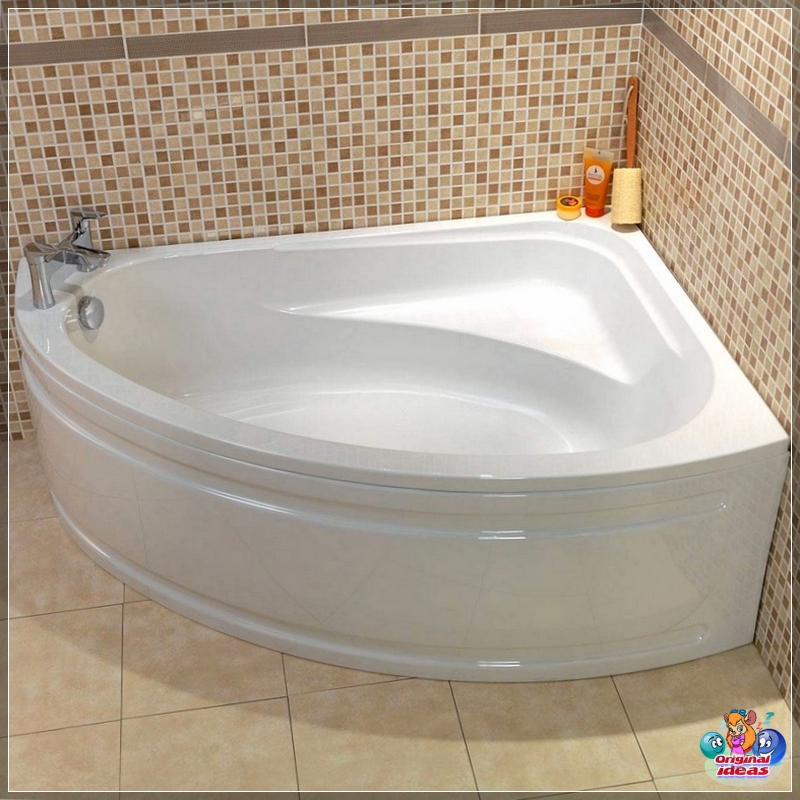 corner bath
For asymmetrical models, these two sides are different in length. The front side can have various shapes: convex, trapezoidal, embossed, fan-shaped or petal.
Bathtub sizes vary from small to large. The most common options have an average length of 160 cm. As a rule, the purpose of installing a small corner bath is to save space. Large models are intended for large bathrooms, they look chic and give a certain style to the interior.
Small corner bath
Decor
Some bathtubs can have a complex shape of the container: headrests, corner shelves, special protrusions for hands, etc. This usually applies to acrylic models. In addition, bathtubs are decorated with additional panels made of powder-coated steel or plastic. Overhead strips are often used for decoration. Recently, bathtubs with glass rates in the front panel have become very relevant. In addition to this, the LED backlight looks perfect.
Unusual bathroom design
Choice
When choosing a model, first of all, you need to take into account the size of the room, as well as its shape.
Luxury bathroom
For example,
the design of a rectangular bathroom with a corner bath suggests its own individual characteristics. In this case, a model with an asymmetric shape, installed on the side of a short wall, is well suited.  There will be enough space in the room in which you can arrange everything else: a sink, a toilet, a washing machine, etc.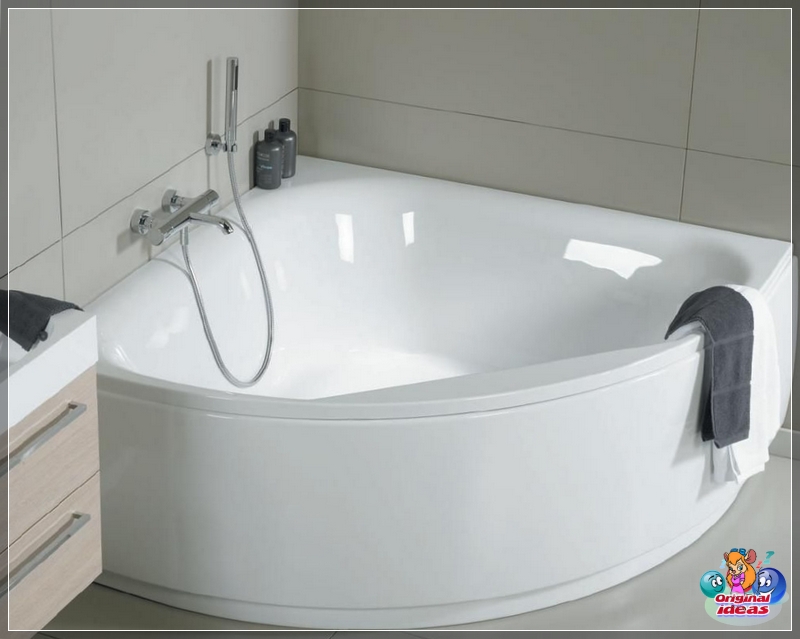 Asymmetric corner bath
The next important factor when choosing is the appearance of the bath. The model must be beautiful and match the personal taste of the buyer. In addition, it is necessary not to forget about the combination with other decor items, so that the style of the interior is not violated.
Modern bathroom solution
Price also matters a lot when buying a bathtub. It is advisable initially, even before going to the home appliance store, to decide how much you need to count on and what to give preference to economy or quality.
Stylish bathroom design
Bathroom design style with corner bathtub
When purchasing a bath, you should take into account the interior of the bathroom. It should perfectly complement the design of the room. For example, for a techno bathroom design with a corner bath, a tank with transparent inserts is perfect, and for minimalism or avant-garde, an asymmetric model would be an excellent solution.
Corner bathtub on the podium
The font located on the podium looks very impressive. This design is great for Empire or Classics. Japanese style provides for hot springs. It is quite possible to create this unusual design - to install a semicircular jacuzzi on the podium.
Corner bathtub of unusual shape
Eco style implies simplicity and lightness. For him, you can choose a drop-shaped bath. To complement the interior, it is advisable to sheathe it with wood. And if the size of the room allows, you can instead install a wooden podium under it. Plants in ceramic pots are ideal for this design.
Corner bath with shower combo
Whatever the style of the interior, you need not forget about the general rules. If the room is small he needs
light shades as well as mirror surfaces. This simple technique will always visually increase the space of the room. In large bathrooms, it is quite possible to use bright colors, they will give the room a joyful mood, add style and luxury.
Bathroom in beige colors
To date, the stores provide a large selection of colored acrylic bathtubs. However, many designers recommend using all plumbing fixtures in one specific color. Therefore, when purchasing a colored bathtub, it is advisable to take into account the possibility of buying a sink or toilet bowl of a similar color.
Corner bathroom in the interior of the bathroom