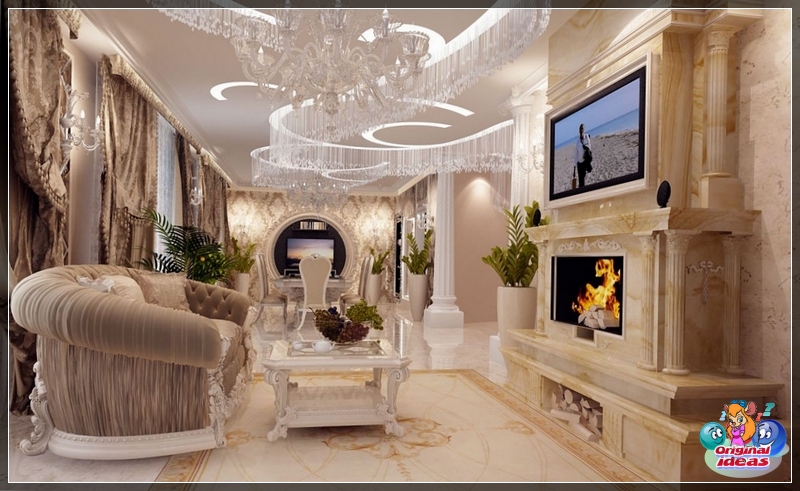 Historical styles are an inexhaustible source for creating interesting and expressive interiors. The living room in the Rococo style is one of the examples of the bright and rich design of the space of the room, which combines the luxury of a palace and graceful sophistication.
Characteristic features of the Rococo style
Light, playful Rococo originated in France under Louis XV and adorned the entire 18th century. Rococo is a departure into the world of fantasies and dreams, intrigue and sensuality, fragility and mannerism.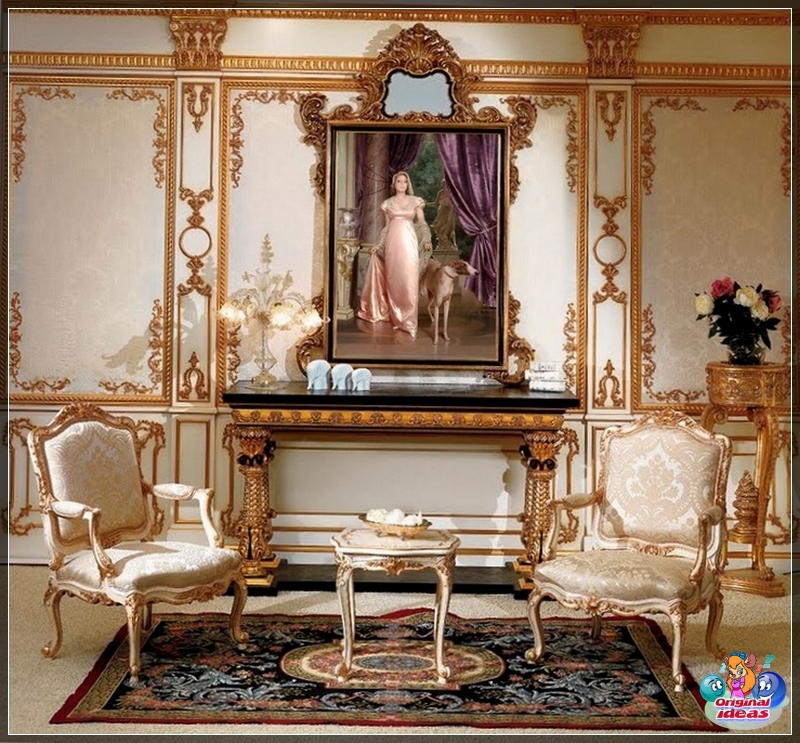 Rococo style is universal and total.
The emotional infectiousness of this style allowed him to subjugate all types of art, penetrate the inner space of the house and even become an expression of a certain way of life.
Unlike the previous pompous and pompous Baroque style, the rocaille style is cheerful and welcoming. It is inherent in:
addiction to exquisite and bizarre forms;
refinement;
gracefulness;
an atmosphere of privacy and sophisticated sensuality;
intimacy;
intricacy;
improvisation;
pastoral;
oriental (Chinese and Japanese) motives;
intimacy.
Rococo characterizes the mood that reigned in the court and aristocratic circles of almost all European countries in the 18th century: capriciousness, intrigue, desire for pleasure and satisfaction of the slightest whims, all-consuming fun.
The 18th century ended rather sadly for the French aristocracy: many of them laid down their heads (and literally) at the foot of the revolutionary guillotine. However, Rococo survived and still pleases with its grace, lightness and playfulness.
Rococo interiors are distinguished by:
quirky and sophisticated lines;
an abundance of decor: elongated and graceful columns, intricate stucco ornament from shells, curls, mascarons, arabesques, flower garlands;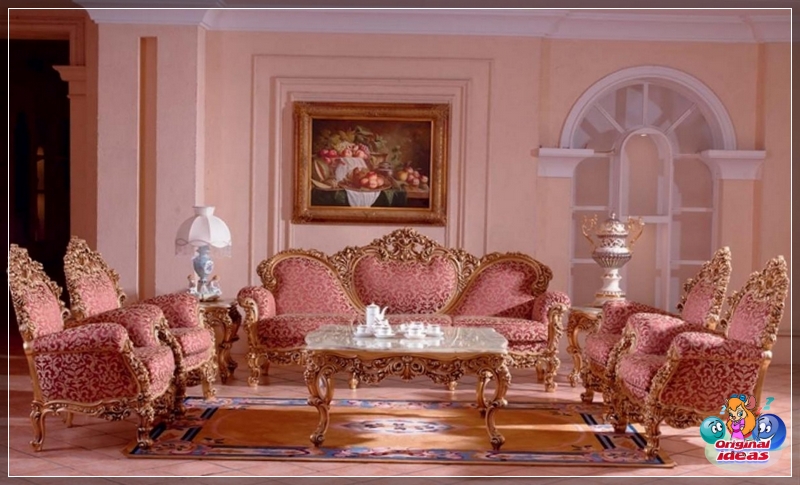 atmosphere of comfort and coziness;
a combination of pastel light colors with snow-white and gilded details;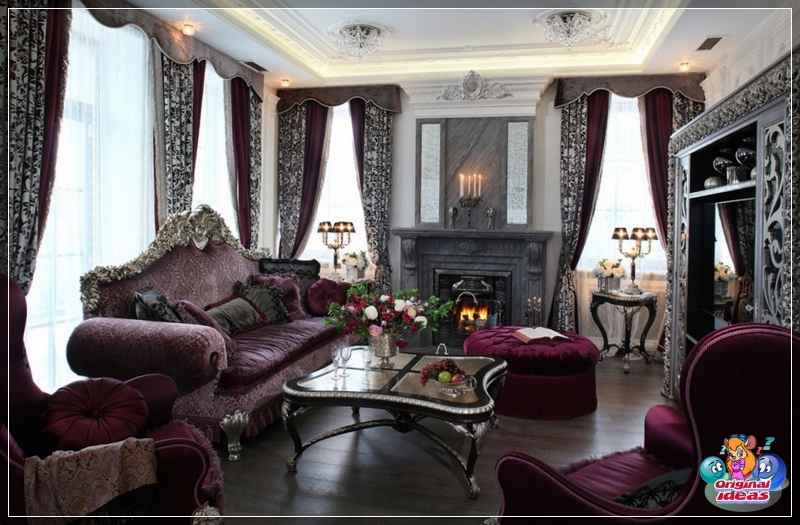 a large number of trinkets and small items;
an abundance of mirrors in magnificent gold frames;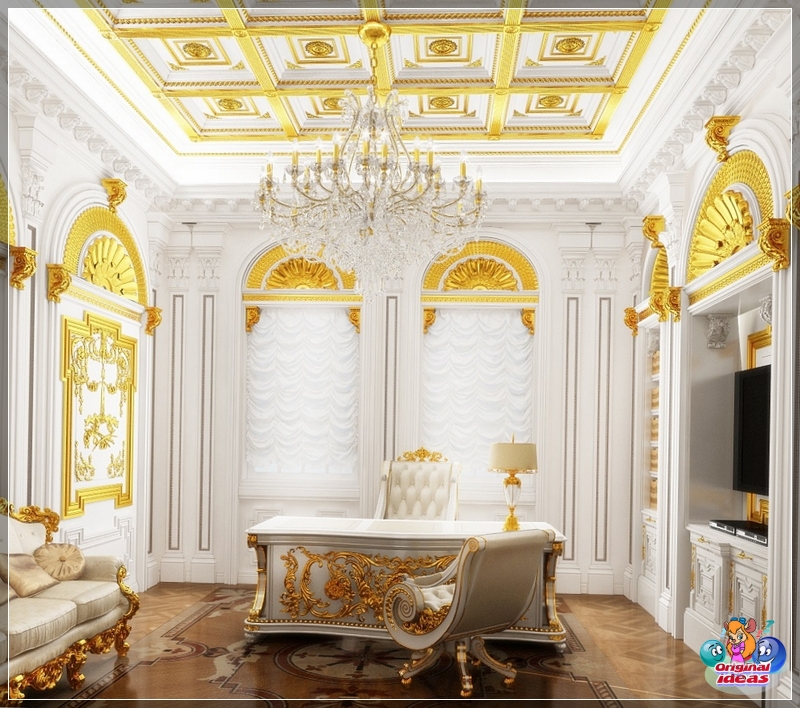 the presence of a richly decorated fireplace, where candelabra, porcelain figurines and other trinkets are installed on the mantelpiece, and a large mirror in a gilded frame is appropriate above the fireplace;
light, light, elegant furniture with curves, rounded corners and gilding, dressing tables with mirrors and many drawers, secretaries and bureaus with secret compartments, canapes, sun loungers, deep armchairs with attached ottomans, couches, upholstered furniture disposes to bliss and pleasant relaxation.
The Rococo interior demonstrates luxury and richness of decoration, but at the same time it is cozy and comfortable.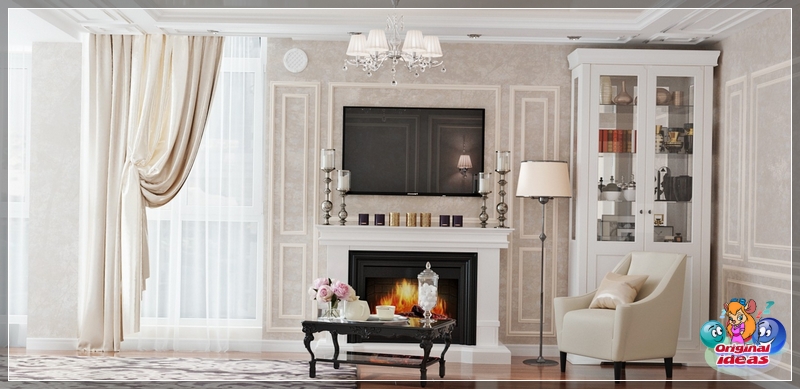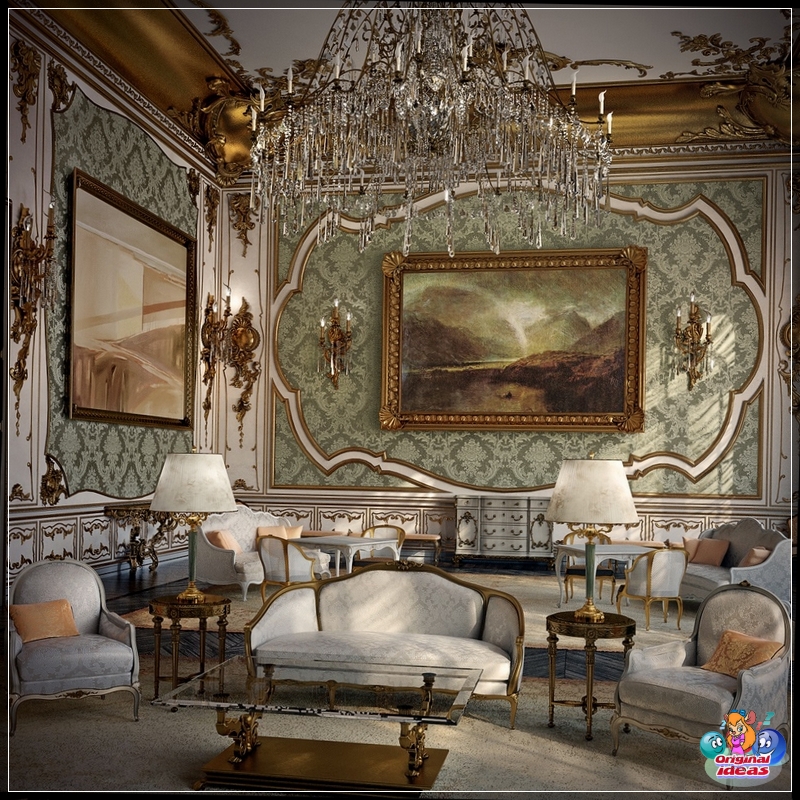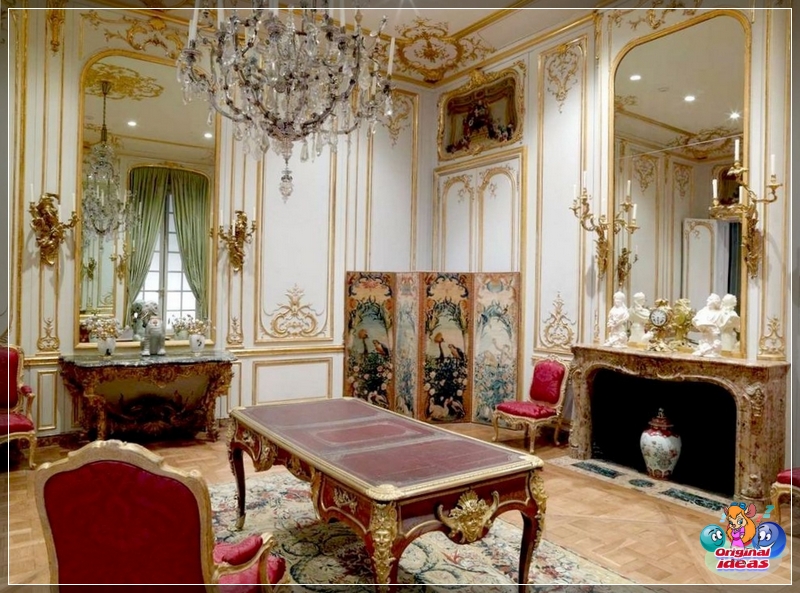 Rococo style living room interior
The living room in the Rococo style is designed for small talk in a confidential atmosphere, a pleasant pastime with close relatives and friends.
The entire interior of the room should be conducive to frankness, create conditions for close, private communication. Correctly positioned furniture plays a big role in this.
Important! Furniture in the living room should be placed in small groups in different parts of the room and create a kind of centers of attraction.
These groups include a table, sofa, canapes, armchairs or chairs. Together they make up a single composition. Thus, several comfortable places for close communication can be organized in the living room. But such an arrangement of furniture is possible only in a spacious room.
Color scheme and finishing
The rococo style living room should be light and airy.
In the color palette, you should give preference to pastel light tones and colors:
white;
pink;
light green;
blue;
mother-of-pearl;
pearl;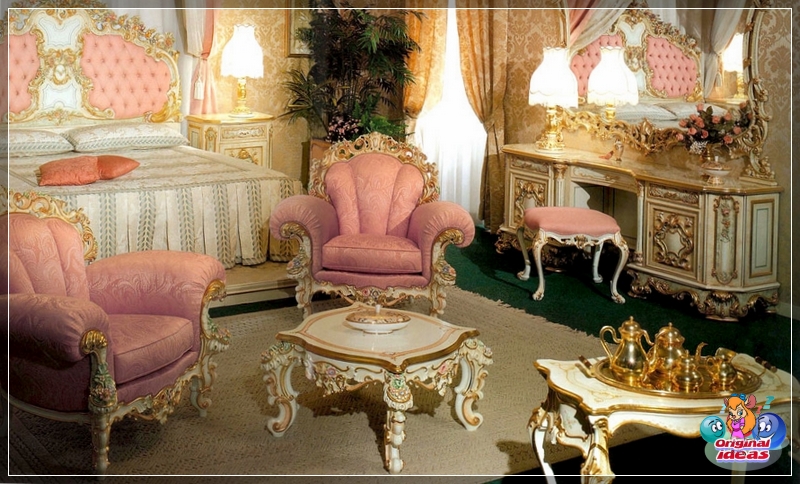 pale lilac;
lavender;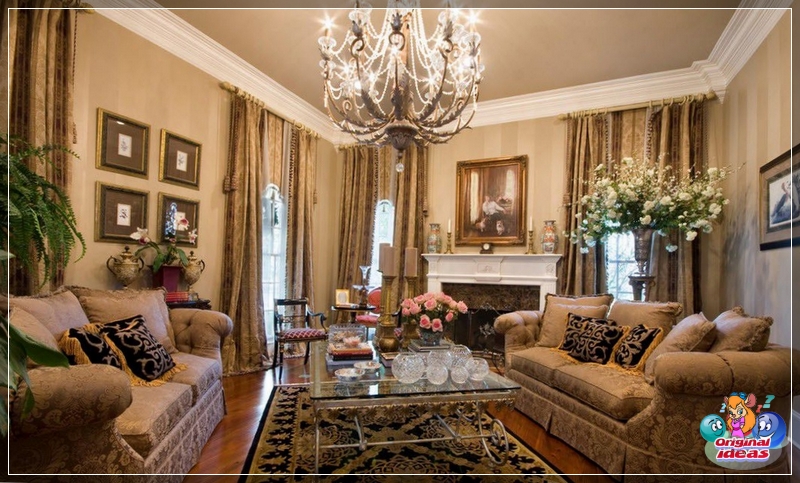 light purple;
golden yellow;
cream;
coffee;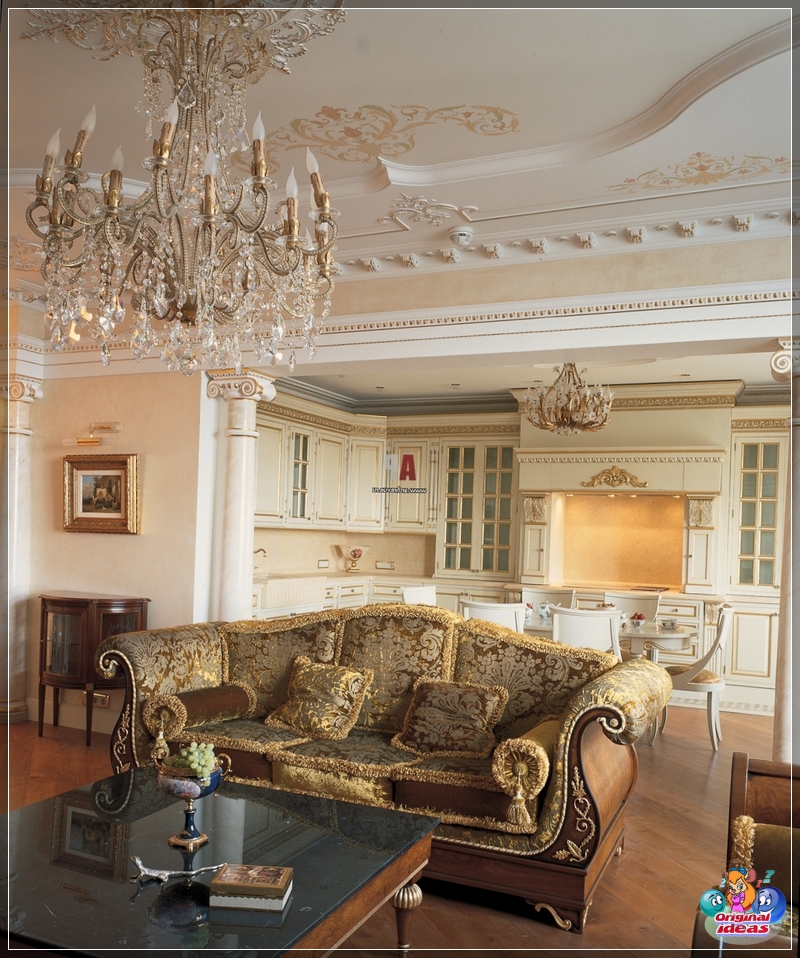 pistachio.
Gilding plays a huge role in the decorative expressiveness of the Rococo style. It is present in almost all decoration elements.
Tip: remember that although the Rococo is luxurious and magnificent, you should be careful not to turn the living room into a museum.
Both plaster and paper wallpaper are used for wall decoration. The most expensive option is to upholster the walls with a luxurious fabric, such as silk. A good solution for the living room would be to create separate niches in the walls. With their help, the space of the room is divided, interesting accents are formed, additional volume is created. Niches can be shaded with stucco or upholstery in a different color.
Very often, the walls are decorated with carved panels, relief ornaments, tapestries, paintings and frescoes on mythological and pastoral subjects.
Stucco molding, hand-painted antique or genre themes are used to decorate the ceiling. An elegant chandelier with candle-shaped lamps is appropriate in the middle of the ceiling.
When finishing the floor, the best option is parquet made of precious wood. Ceramic tiles are also possible.
Important! The living room should be well lit, with large windows.
For these purposes, chandeliers, table lamps with large shades, wall sconces, candelabra with candles are used in a modern interior.
Rococo style living room windows are decorated with intricately draped curtains. However, curtains should not be heavy and massive, blocking the light.
Interior and decor items
Rococo - sophisticated, sophisticated and festive style. When creating interiors in this style, it is necessary to take into account the slightest nuances and use the most sophisticated techniques. A living room in the Rococo style should give the impression of a plastic unity of all forms and parts of the room, where each object takes its place and is in harmonious relationship with other things.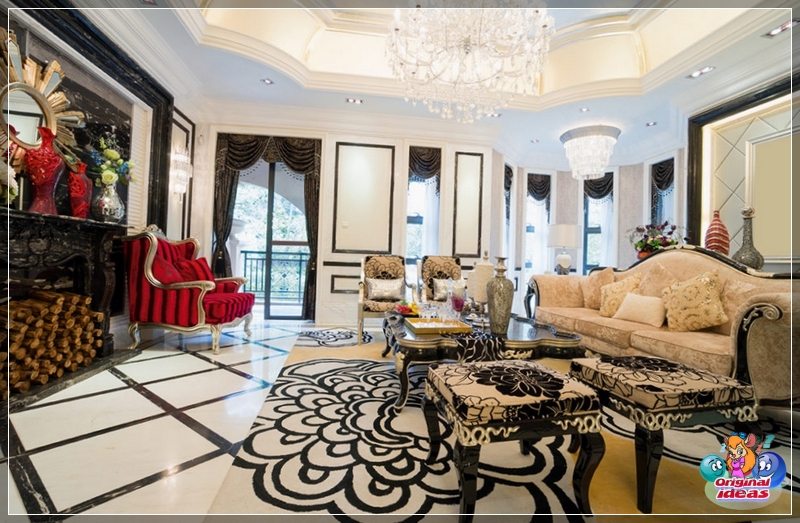 The key element of the living room is a small fireplace, finished with natural stone. The mantelpiece displays figurines, vases, clocks and other decorative items.
Another expressive sign of the Rococo style is a large number of heterogeneous things and details that make up a single whole. Among the interior items and decor in the living room in the Rococo style, there must be:
paintings;
porcelain;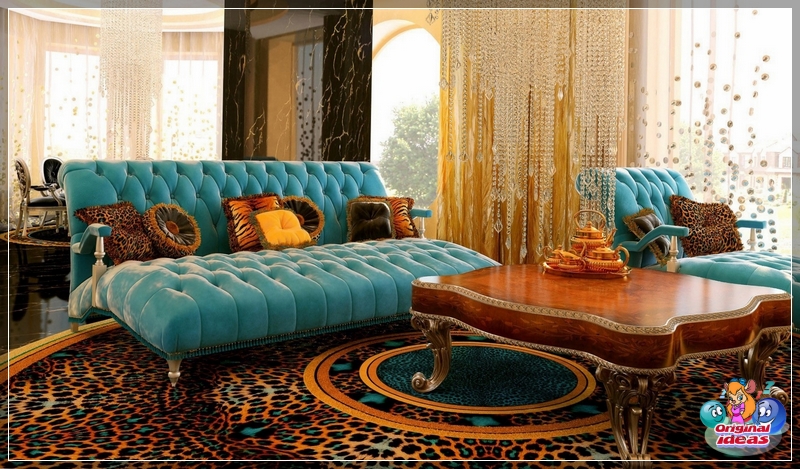 vases with flowers;
caskets and other items stylized for the Rococo era;
large mirrors in gilded carved frames;
an abundance of candles;
luxurious textiles;
fancy screens;
items in oriental style.
A special emphasis in the design of the living room in the Rococo style lies on the furniture. It should be light, light and graceful, with curved thin legs.
On a note! Authentic furniture was made of precious woods, finished with expensive fabrics - silk, brocade.
It was decorated with carvings and gilding, bronze overlays. Rococo furniture is exemplified by the renowned master craftsman Thomas Chippendale. It is distinguished by a combination of elements of French and English Rococo with motives borrowed from China.
Among the obligatory furnishings of a living room in a rocaille style, there should be small sofas, canapes, couches, armchairs, small tables.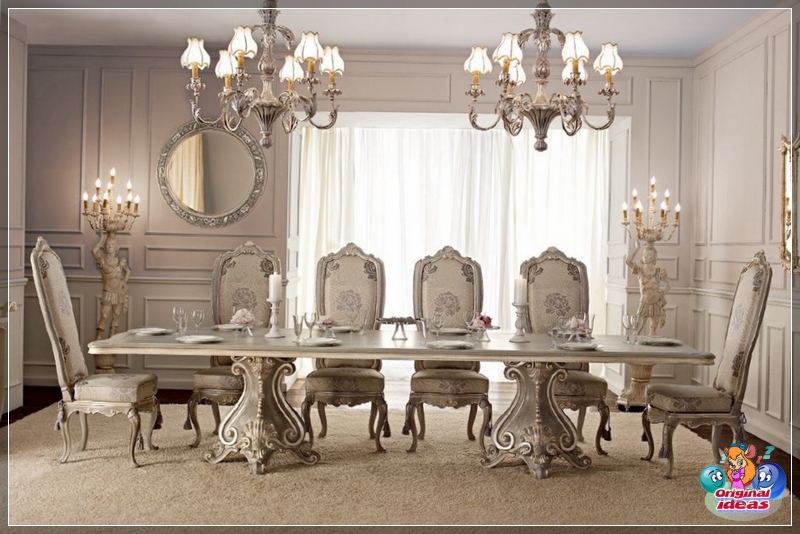 Rococo style interiors require a lot of effort and significant financial investment. Most often, living rooms in mansions and large country houses are created in this style.