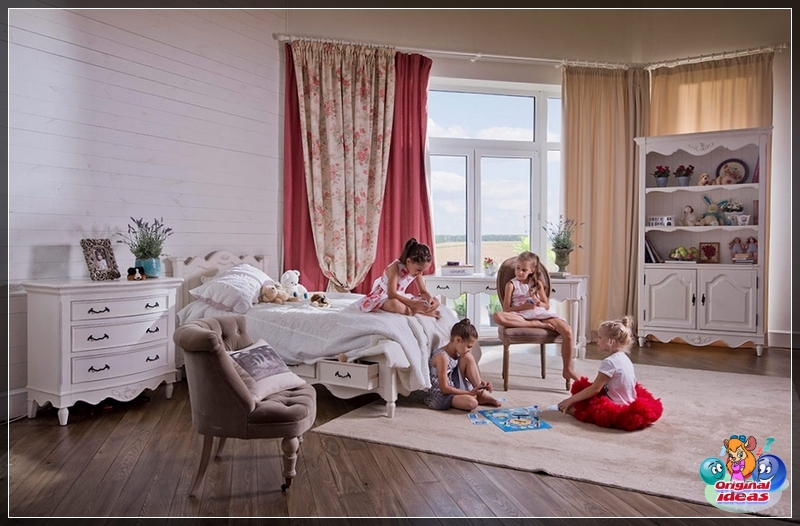 The dense blue of the sky and the hot sun over the French province of Provence, as well as the luxurious greenery of vineyards and olive groves, in the shade of which there have been solid estates for centuries - all these factors gave rise to the unique design style of Provence. Children's room or living room, kitchen, dining room - the design of any room in this style looks organic, pleasing the eye with colors and textures. There is nothing far-fetched, deliberate or pretentiously beautiful in Provence interiors, the charm of the style lies in closeness to nature and a reliable sense of the continuity of generations.
Provence-style children's rooms are a gentle airy atmosphere combined with the comfort and convenience of the room
Important! In the style of the French province, not only a spacious children's room looks great, but also a small or attic. To decorate a nursery in Provence style, no serious construction work is required.
Provence style in the interior of a children's room: features
Delicate elegant Provence is great for a girl of any age, both a preschooler and an adult girl. In such an atmosphere, it is good to dream, relax, play and learn. A cozy, high-quality environment has a calming effect on the child's psyche.
Provence style is great for decorating a girl's room
A Provence-style children's room is, first of all, the right choice of colors. For wall decoration, flooring, selection of textiles, it is worth stopping at 2-3 suggested shades:
the background is more often neutral - ivory, cream, vanilla, milk;
lavender, lilac - style favorites;
olive, salad;
warm range of yellow - sand, beige, wheat;
blue, cornflower blue, heavenly;
coral, burnt orange, terracotta.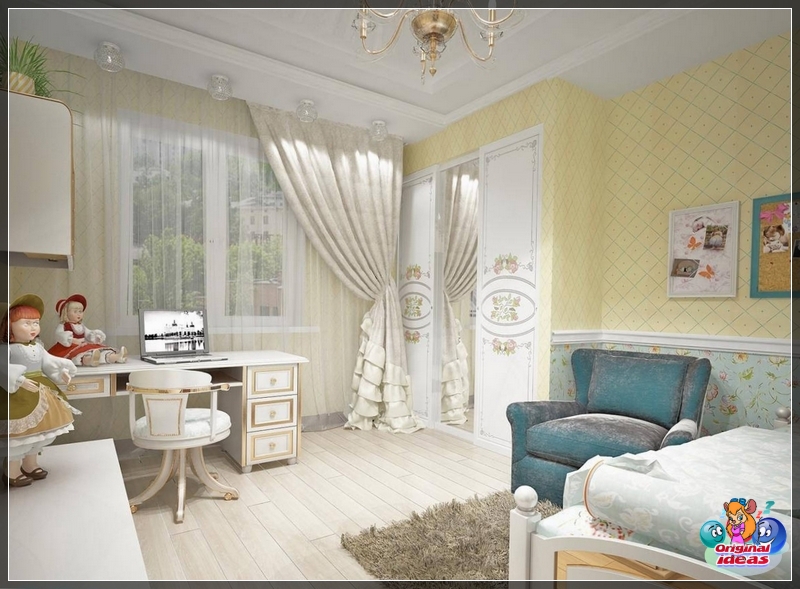 A neutral light background in a Provence style nursery can be complemented with delicate floral elements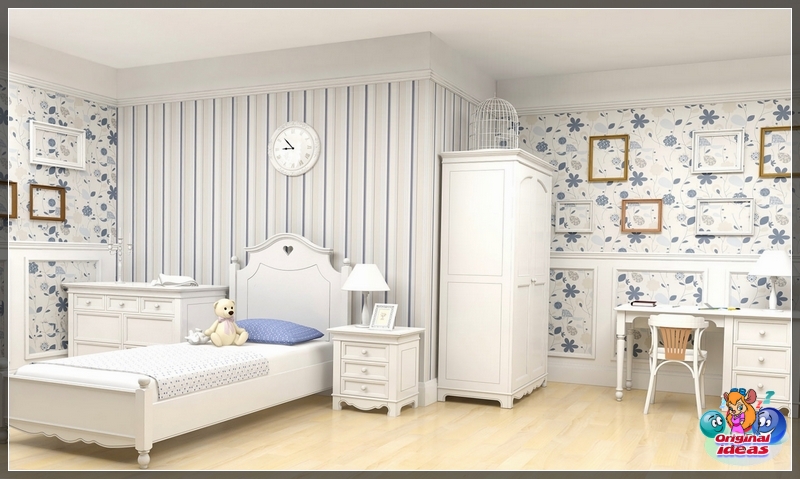 Provence style nursery in delicate green colors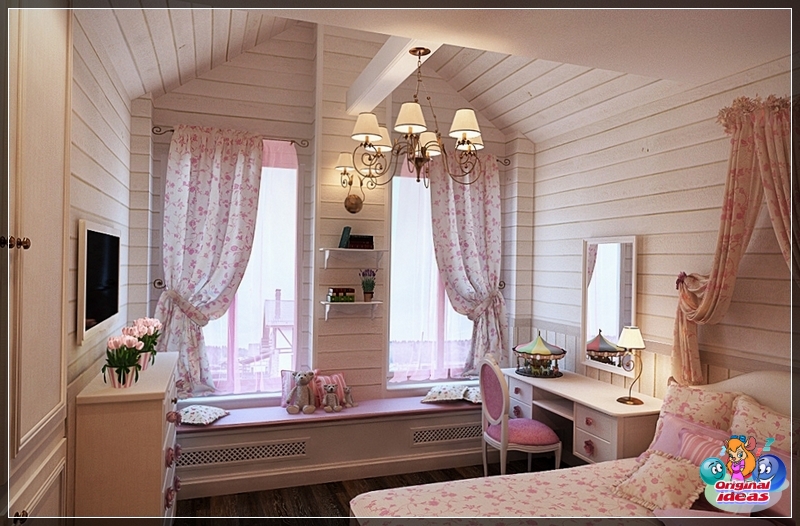 In a nursery in the style of Provence, it is given to soft and delicate shades and colors
When choosing colors, one must remember: the Provence style corresponds to shades that are dim, as if faded. This makes them look even softer and more elegant.
To maintain the style of the French province, you need to choose the right finishing materials for the walls, floor and ceiling.
Important! Renovation of a room in the Provence style will not require significant financial investments, you can do it yourself.
The Provence style nursery combines sophistication and simplicity
On the proposed photos, children's Provence is made out as follows:
Wall coverings should visually enlarge the space, filling it with space and air. Therefore, the color of the coatings is chosen light, light, pastel. Are used:
non-shine non-woven or paper wallpaper;
painting;
art painting.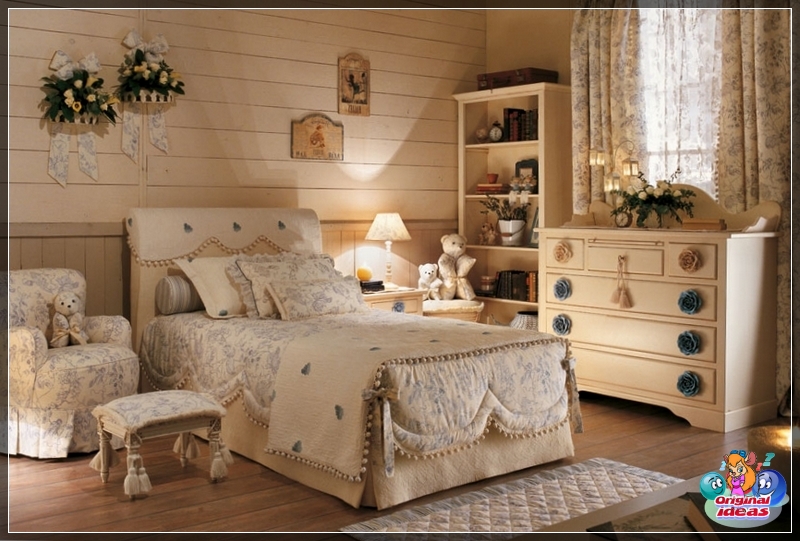 The easiest way to decorate the walls in a Provence style nursery is to paint it in any suitable color
Provence wallpaper in the nursery lends the rural charm of the French countryside
The painting of the walls in the nursery in the Provence style looks very beautiful and magical
Wallpaper can be plain or with pictures:
small and large flowers, often roses;
bouquets of garden and wild flowers;
vertical wide strip.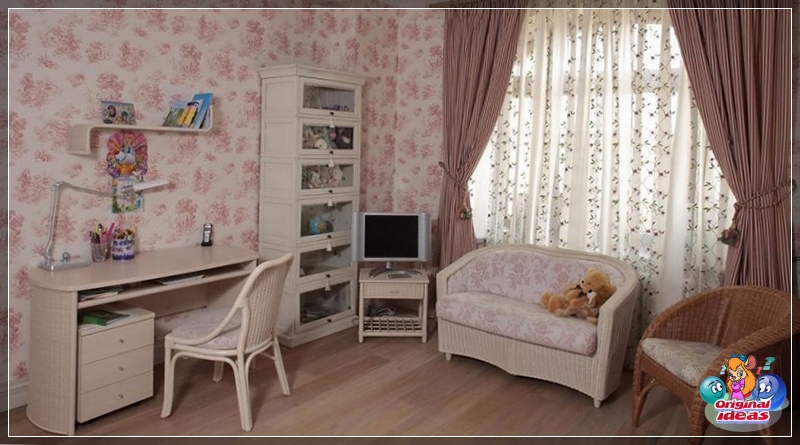 Very often, Provence-style walls are decorated with floral wallpaper
Wallpaper in a vertical wide strip in the nursery in the style of Provence
The plastered surfaces are painted with water-based paints, while the slightly uneven roughness of the wall should remain.
The combined method looks beautiful, but it should be used only in spacious rooms:
the lower third of the wall is covered with light wooden panels, the upper third - with wallpaper or painted;
wallpapers with different patterns are used at the same time, but in the same color scheme;
three walls are painted or covered with wallpaper, one is hand-painted.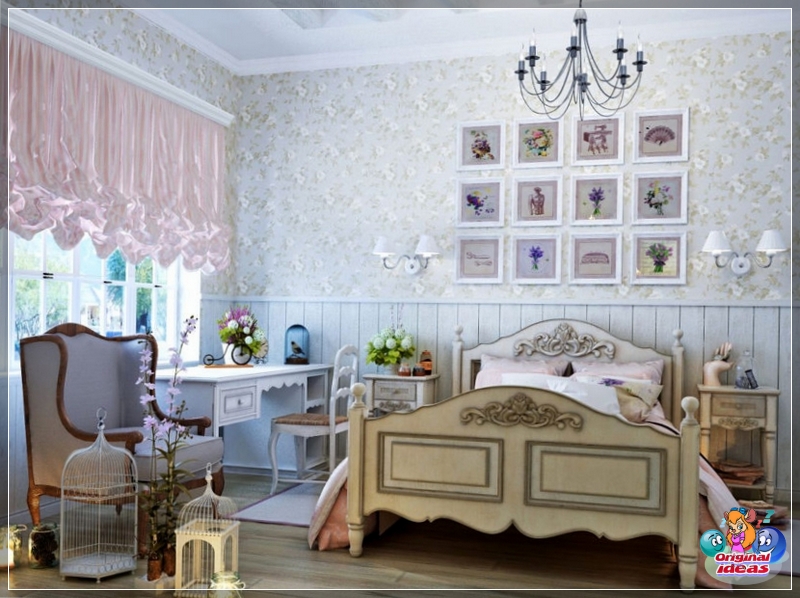 In a nursery in the Provence style, a combination of wallpaper and wood panels looks great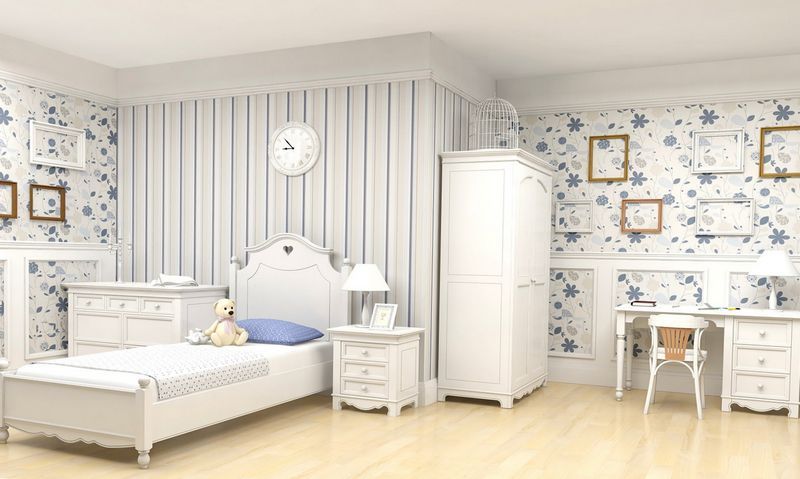 Combining Provence-style wallpaper in the nursery
Antique hand-painted looks adorable. On the walls, an image of a garden or a rural landscape, the Eiffel Tower or old streets look good. You can use stencils and apply a floral ornament under the ceiling. For painting, you need to take acrylic paints - they do not smell and are safe for children.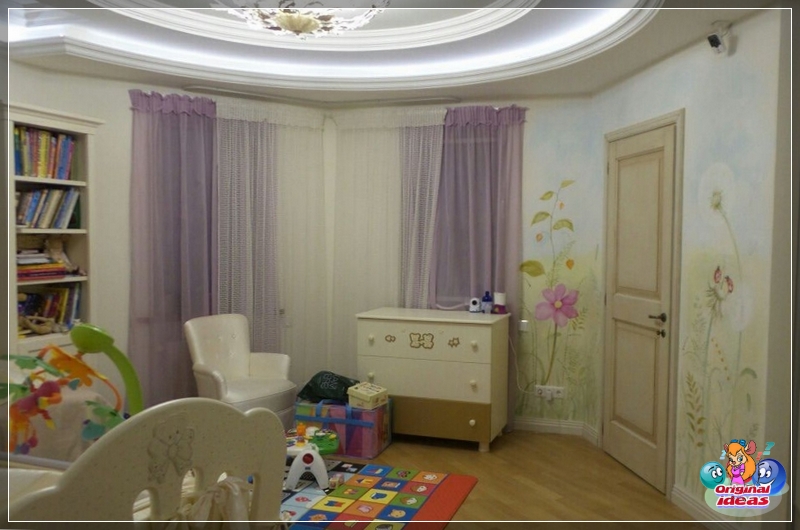 Painting the walls in the nursery in the Provence style is also best done in calm and gentle colors
A Provence-style nursery will look good if laid on the floor:
laminate;
parquet.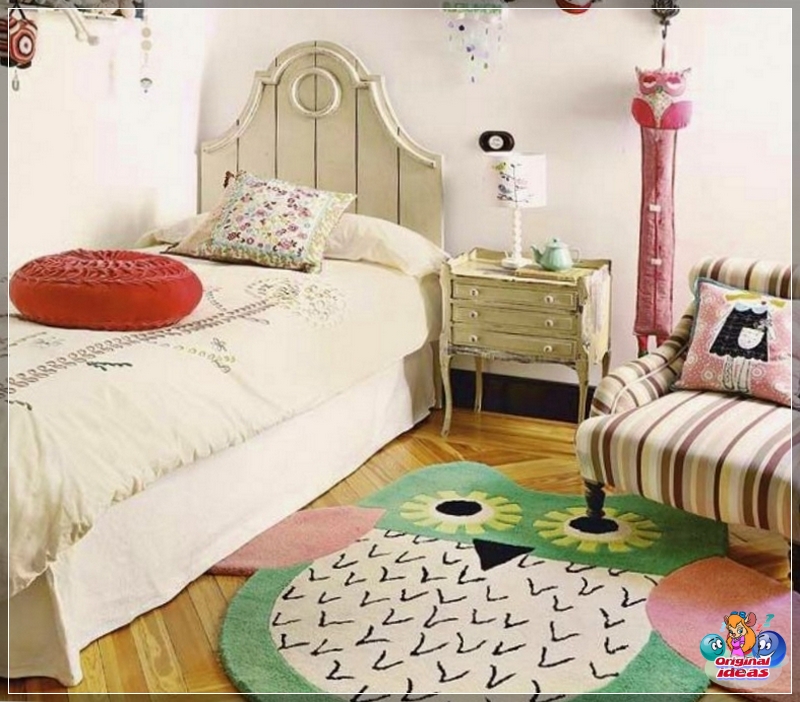 On the floor in a nursery in the Provence style, a laminate looks good, which can be supplemented with interesting rugs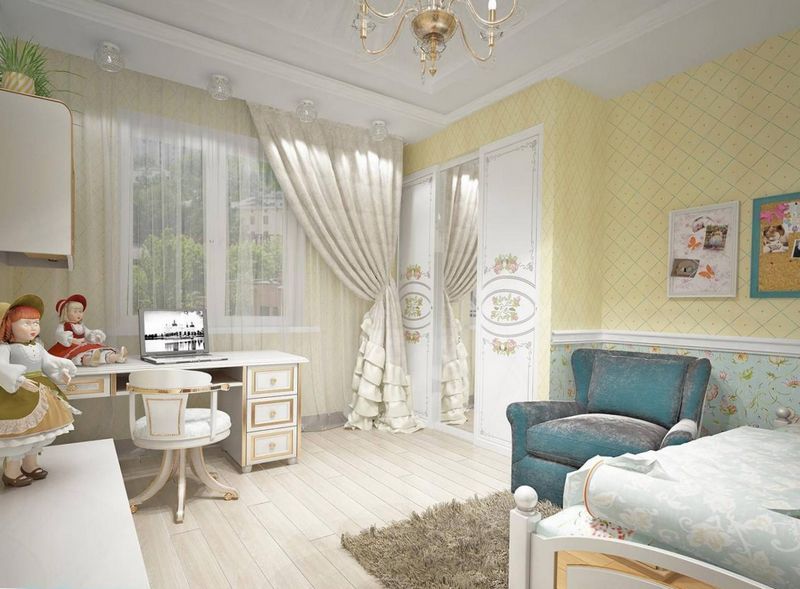 Light shades of wood are suitable for flooring in a Provence style nursery
Suitable color - light: bleached light gray or light brown, shades of white. The Provencal style is also characterized by the use of ceramic tiles as flooring, but this is inappropriate in a children's room. It is better to refuse linoleum too.
The ceiling does not require special costs, it can be:
painted white over plaster;
tension glossy;
drywall;
wooden smooth boards in white.
Most often, the Provence-style ceiling is painted white to create a feeling of airiness
Provencal-style interior does not require the construction of multi-level ceiling structures. If the children's room is spacious, at least 20 sq. m, then the design can be complicated: decorative elements from dark ceiling beams or slats look good on a white ceiling.
On the photos proposed in the article, the Provence-style room looks harmonious thanks to the choice of window frames. It is desirable that the windows are fitted with metal-plastic frames of light wood color. It is even better if the frames are natural wood, and the fittings are made of brass or forged.
When doing repairs in a children's room, one must not forget about the doors and doorway. A light door leaf is ideal. Doors can be decorated with glass inserts, floral designs or carvings if the door is made of natural wood. Door handles in brass or forged with patina.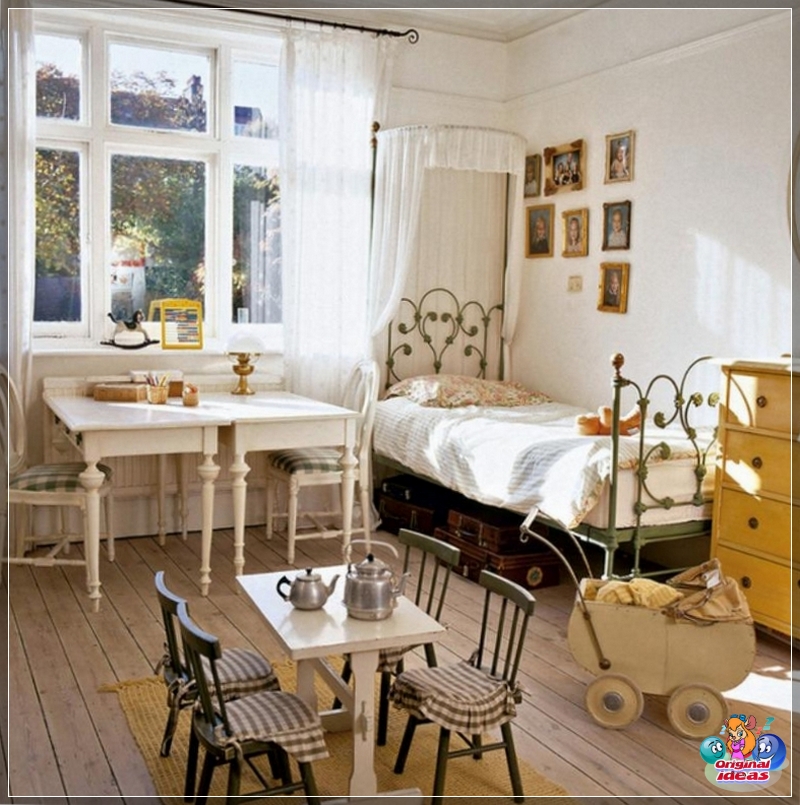 In the Provence style in the nursery, light window frames are used
Lighting
The photo shows the best design developments, however, you can decorate a children's room based on your ideas about the Provencal style. The main thing is not to forget that the room for the child needs proper lighting.
For a children's room you will need:
overhead lighting;
wall sconces;
table lamp.
Soft warm lighting is welcome in a Provence-style nursery
Distinctive features of lamps made in Provence style:
shape - smooth, harmoniously curved, without sharp corners;
the design is dominated by floral, floral motifs;
natural colors, the effect of aging, wear is possible;
chandeliers can be hung on thin wrought iron chains.
Lighting devices are made from the following materials:
porcelain;
wood;
forged metal;
brass;
plastic imitating all of the above materials.
Lighting in the nursery in the Provence style should complement the interior of the child's room
A wrought iron chandelier with fabric lampshades will come in handy for a nursery in Provence style
A Provence-style children's room for girls will look good if you choose a traditional six-arm porcelain chandelier decorated with pendants with crystal beads for overhead lighting. A metal chandelier made in the form of a frame and decorated with wrought iron leaves and flowers is suitable. For a nursery, it is better to choose chandeliers covered with white paint. Every day, the young housewives of the room will be delighted with an amazing chandelier made in the form of a thin white cage, where a bird, candlestick or flower is placed.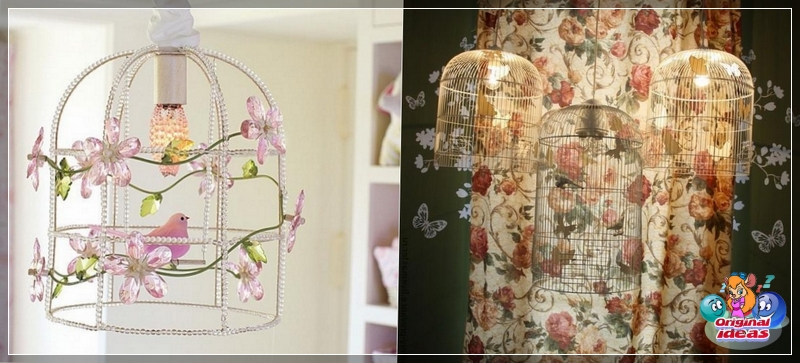 In a Provence style nursery, an interesting idea would be to use a birdcage as a lampshade
You can put a lamp on the table with a classic truncated cone lampshade made of linen. Fabric in delicate shades of white will provide eye-pleasing light. Lamps are usually decorated with figures of hares, birds, flowers, artificial resin photo frames.
Furniture selection
In the Provencal interior, the style of the children's room is necessarily supported by the correct furnishings. The compulsory subjects in the room should be:
bed;
work table and chair;
wardrobe;
wardrobe or rack for textbooks, books, toys.
Elegant furniture will look good in a Provence style nursery
It's good if the room for the girl, the photo is presented in the article, is spacious enough, and there is a place in it for a dressing table and a mirror, a chest of drawers, a bedside table, an armchair or a sofa for guests. However, do not force the entire area of ​​\ u200b \ u200bthe nursery with furniture items.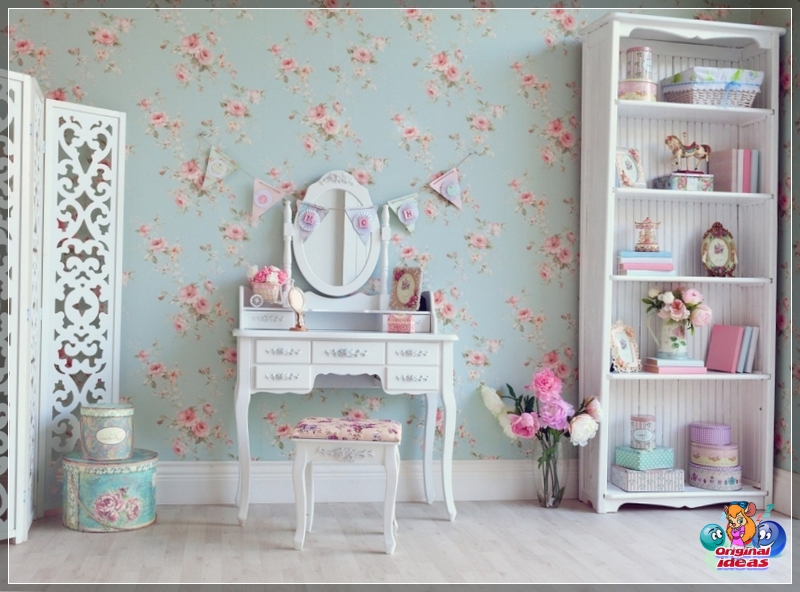 A Provence-style dressing table will perfectly complement a girl's room
Provence style sofa in the nursery
When choosing furniture, it is worth stopping at light (pale blue, lilac, pink) or white products of simple geometric shapes, but with smooth rounded edges. Facades are decorated with moldings, painting, carving, panels. A distinctive feature of Provence style furniture - low curved legs.
The bed can be:
wooden;
forged.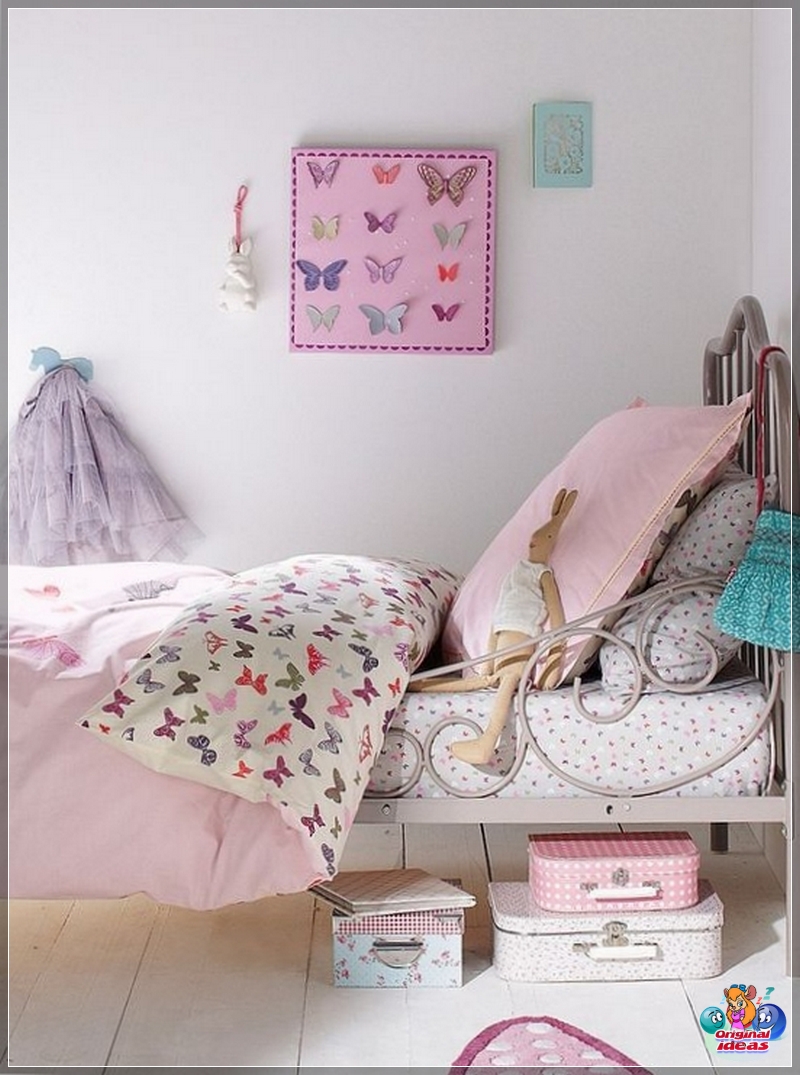 A wrought-iron bed in a nursery in the Provence style looks elegant and beautiful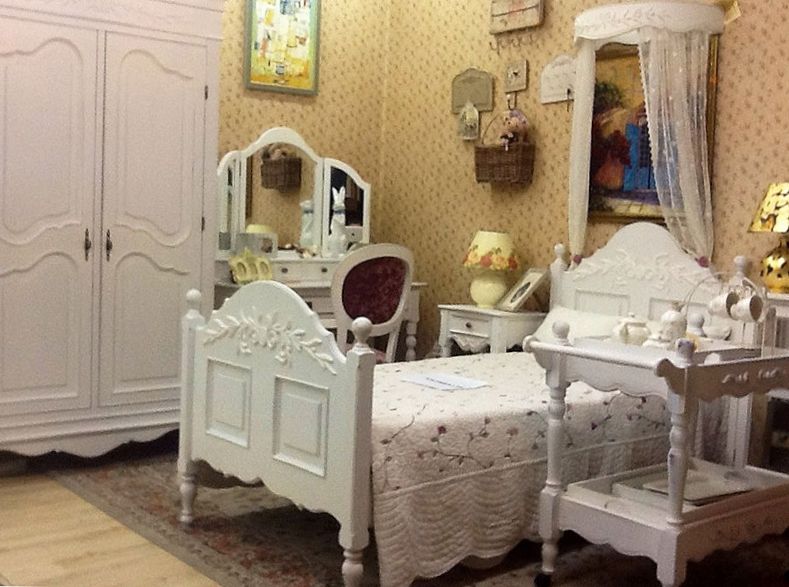 Carved wood bed in a Provence style nursery painted white gives the room a rustic French charm
In any case, a round or semicircular canopy made of transparent tulle, lace, silk threads or light organza will be an excellent addition to the bed.
Air canopies will beautifully complement Provence-style beds
If the room is for two girls, you can separate the two beds with a bedside table by placing a small lamp on it. An interesting solution is to use a bunk bed. In this case, it is better to order it from forged metal, equipped with a light ladder.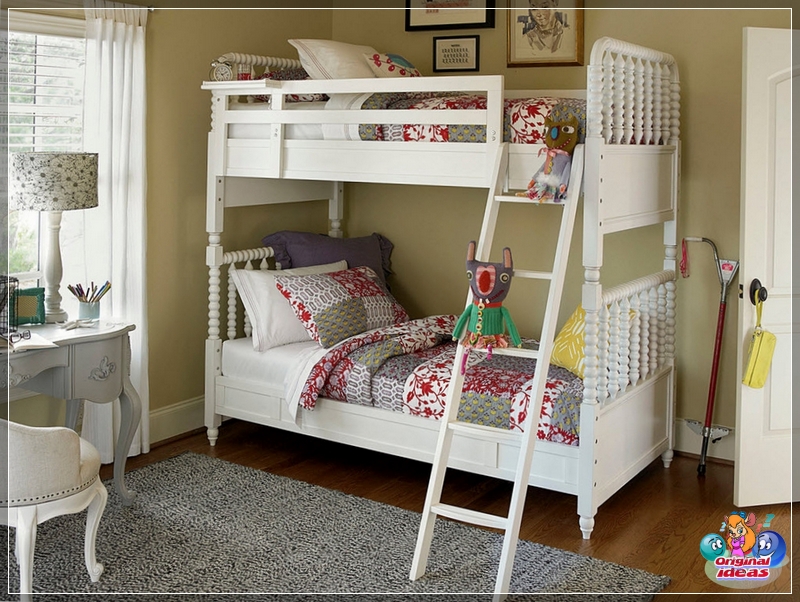 A Provence style bunk bed in a nursery is perfect for a small room for two girls
Openwork forged elements fit perfectly into the style of the French province. Forged metal covered with patina can be used for table or chair legs, cabinet or chest handles. A wrought-iron dressing table painted in white looks beautiful.
Several wooden shelves can be fixed on the wall by covering them with woven curtains.
For decoration and zoning in the nursery in the Provence style, curtains and curtains are actively used
Advice! It is important that the upholstery on the furniture matches the patterns of the wall coverings.
Furniture in the nursery can be beautifully painted
Provence style nursery for a girl: creating a fairy tale!
The young hostess of the room probably knows herself how she would like to decorate her possessions. However, parents can suggest some great decor options:
Use wicker baskets or boxes for storing small toys. They are roomy and comfortable.
You can put a beautiful vase or a funny pot with a growing flower on the chest of drawers.
Open shelves are filled with soft toys - great if they are sewn by the hands of the mother or the hostess herself.
Jewelry boxes or pretty boxes will become jewelry stores.
Walls can be decorated with paintings depicting rural landscapes. It is appropriate to hang some carved wooden frames in which pictures of family members can be placed.
A room for girls in a Provencal style is necessarily decorated with textiles, while the color and texture of the fabric must match.  They use natural fabrics with plant and floral motifs, with butterflies or birds, as well as polka dots, a cage.
A Provence style room can be decorated with memorable and cute accessories
On the windows, curtains made of thick linen or cotton are appropriate, the curtains are decorated with tassels, pompoms. However, if the windows of the room face north and there is little natural light, it is better to hang translucent tulle or lace curtains with ruffles or frills on looped hooks on the forged cornice.
They put a blanket on the bed. It can be decorated with lace, fluffy folds, embroidery, patchwork. Decorative pillows of different sizes look good on the bed.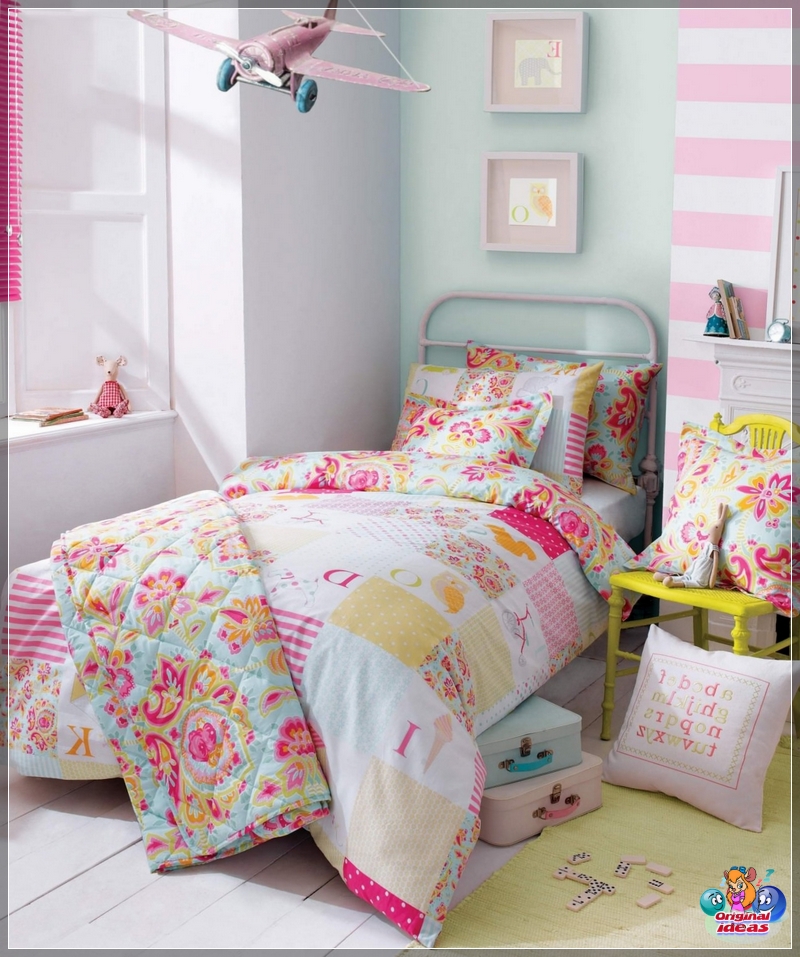 The Provence style bed in the nursery will perfectly complement the patchwork style blanket
A room for girls is unthinkable without a carpet, because it is so convenient to play on! You need to choose a woolen carpet with a low pile or loop weaving to match the walls. The pattern on the carpet repeats the pattern on curtains and other textiles, but a monochromatic dull coating is also suitable.
Floral rugs in the nursery in the style of Provence
Coziness, tranquility, a joyful feeling of daily happiness - such a mood creates a Provence-style children's room, and this is what all parents want to give their child.