The country-style living room has long been a symbol of a cozy and homely atmosphere, an island of tranquility in the hectic and fleeting city life. The fact is that in translation from a foreign country it is a village, and the style of the same name is rustic, borrowed from the inhabitants of the countryside of Great Britain. At the same time, a room decorated in a similar way in a standard city apartment evokes associations with a house in a village or a manor. Which is located in the countryside.
Country style living room creates a cozy rustic atmosphere
For this, the living room in the described style is decorated in pastel, natural colors.
These tones include:
light pink;
beige;
bleached yellow.
A country-style living room is best decorated in pastel colors
Such colors allow you to create the effect of autumn indoors, since the nature of rural England is characterized by the appearance of autumn nature. At the same time, it is desirable that the wall decoration and the color of the furniture placed in the room echo with it. Country style involves the use of colors such as blue, lavender, light yellow, beige and gray. In any case, too bright and unnatural colors should not be used here.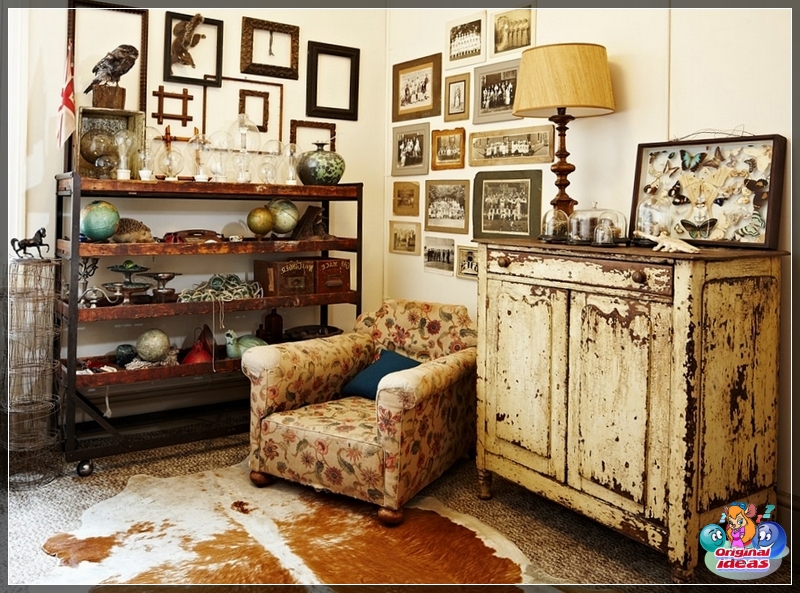 Living room in English country style tends to fall more towards autumn colors
The heart of any English country living room is the fireplace. It is best when it is natural, working, but as a last resort, you can purchase and install an imitation of it or an electrical version of it. At the same time, even next to an artificial fireplace, it is worth placing a cast-iron poker or a "stack of firewood".
The fireplace is the focal point of the country-style living room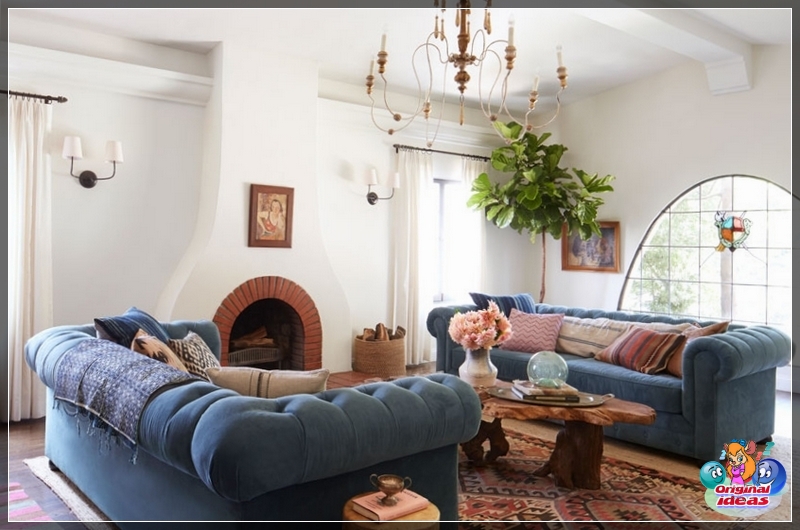 A composition of logs near the fireplace in country style will complement the interior
If it is not possible to install a real fireplace, then you can choose an electric type with a country imitation
Since the country style is a symbol of patriarchy, modern household appliances should not be conspicuous in a living room made in this style, a simple, somewhat naive interior is welcome. It is this atmosphere that can be emphasized by the use of textiles in the interior design of the living room.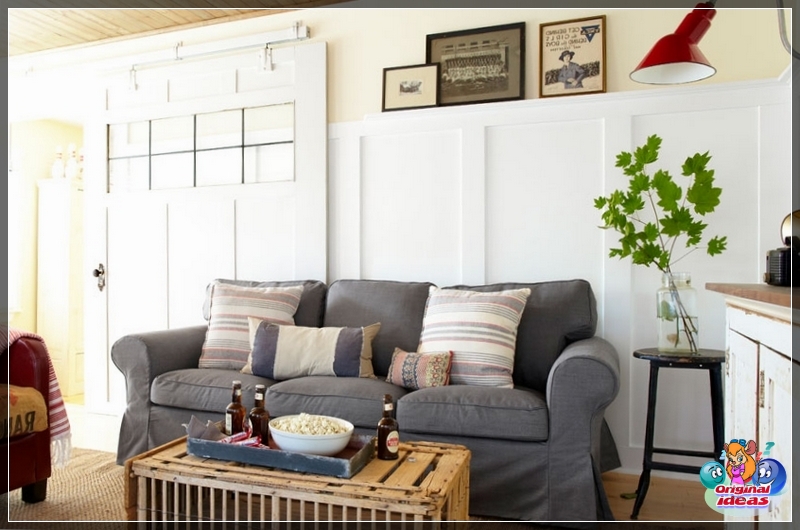 TV in a country-style living room should fit into the interior
The fabric can be widely used in the manufacture of curtains, upholstery, lampshades, curtains, bedspreads and curtains. At the same time, if we talk about the manufacture of curtains for the living room in country style, then it is required that the cornice for them is made of metal, not plastic. You can decorate the curtains with ruffles or ribbons.
Textiles in the interior favorably emphasize the country-style interior
Decor elements such as paintings and porcelain figurines are widely used in the English style of interior design. At the same time, various antiques and antiques will perfectly fit into such a living room. It will be just fine if part of the decoration of the room is presented in the form of handicrafts, typical for the life of rural England. These can be forged candlesticks, carved boxes, chests, clay flower pots.
A variety of rustic accessories create a country-style living room
Country style living room with fireplace
The country living room looks especially advantageous with a fireplace. The fact is that in rural England this is the main type of hearth, so almost the entire interior of the living room is built around it. Naturally, the country-style living room in the photo will look good when the fireplace is installed in a room with a large area. When the living room area is small, you can think about creating an imitation fireplace or purchase a compact electric fireplace. In any case, it must be decorated as real.
If we talk directly about the design of the described room, then from the photo you can see that the country-style living room should be designed with a reference point to the fireplace area.
Advice! In this case, it is worth placing the hearth in a specially designated niche for this. It is around her that it is worth forming a recreation area or fireplace area. It is not intended to be used for other purposes, so you should not put a dining table here or place household appliances.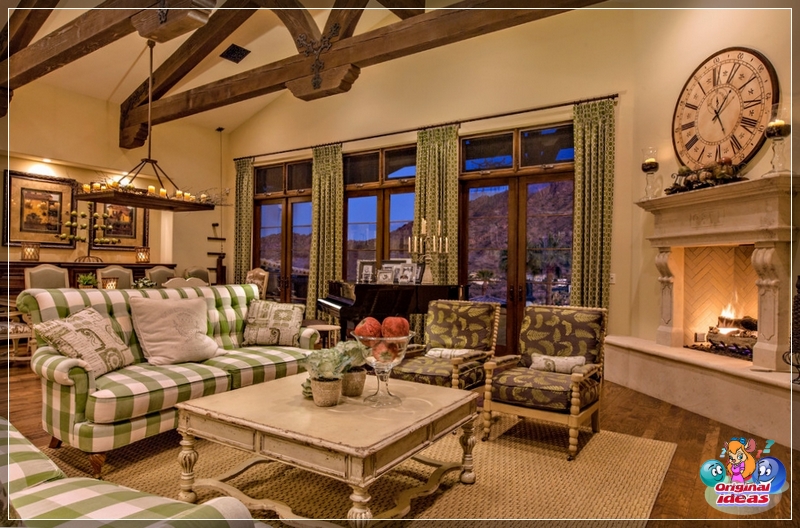 Fireplace area in the living room in country style in the corner of the room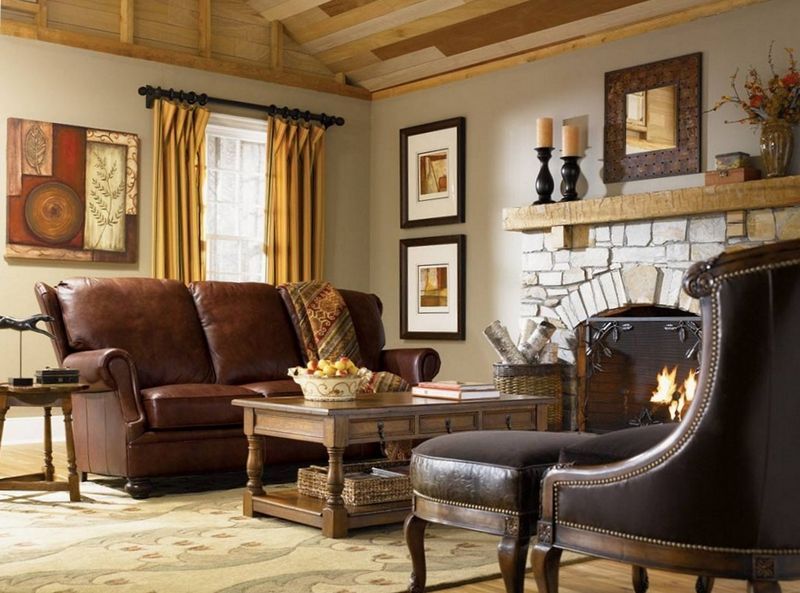 Fireplace in the living room against the wall in country style
As for the direct design of the fireplace, usually its color coincides with the main color shade of the living room or is slightly darker than it. The fireplace usually has a backsplash made of stone or tiles. It is also worth picking up curtains that can be fixed over the fireplace. Their role will be purely decorative, so it makes sense to tie them up with ribbons in the corners.
The fireplace in the living room, made in country style, is decorated with additional decorative elements. These include, for example, a shelf for fireplace accessories or a shelf for dishes. It will be possible to install porcelain figurines, figurines and various trinkets taken from the traditional village life.
Country style fireplace can be decorated with a shelf
By the way, items from army life will look quite appropriate over the fireplace, since English provincial landowners very often brought trophies of war to their estates. In their capacity in a modern country-style living room, you can use various heraldic signs, imitation weapons and hunting accessories. A rocking chair, coffee table or pair of chairs in combination with such a table can complete the design of the living area.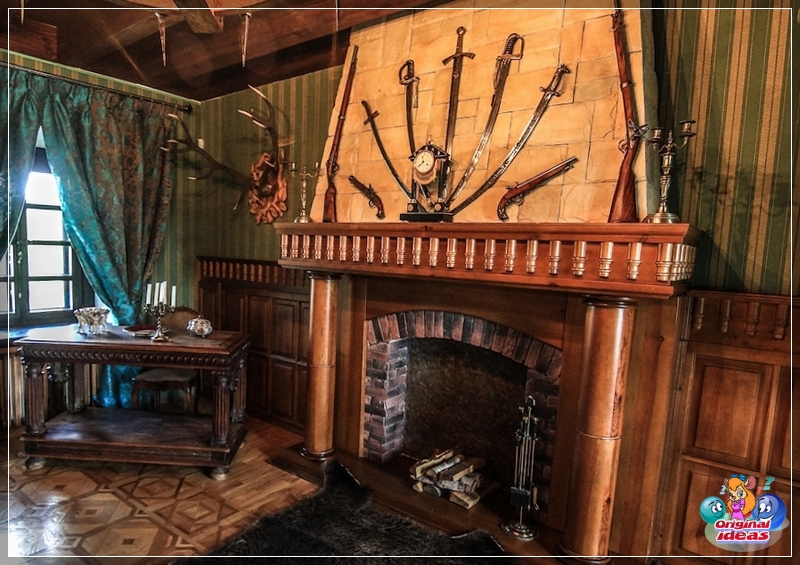 The fireplace in the living room in the English country style can be traditionally decorated with captured weapons
It is worthwhile in advance, even before laying out the fireplace, to obtain all the necessary permissions for this. The fact is that the architectural features of a building or structure may not allow you to lay down a fireplace in it.
Advice! It is always worth remembering the fire safety rules, because a fireplace is an open source of fire, and you should always be careful with it.
Country style living room interior
The interior and design of the living room in country style begins with the design of the floor, which is made only from natural materials. So, a parquet board is considered an excellent option for such an interior design. In country houses, the living room floor made of natural stone will look great. If funds for interior design are limited, you can use laminate flooring as a budget solution. Moreover, it must be of high quality and have a pattern that imitates a tree. It is worth covering such a budget solution with self-woven rugs.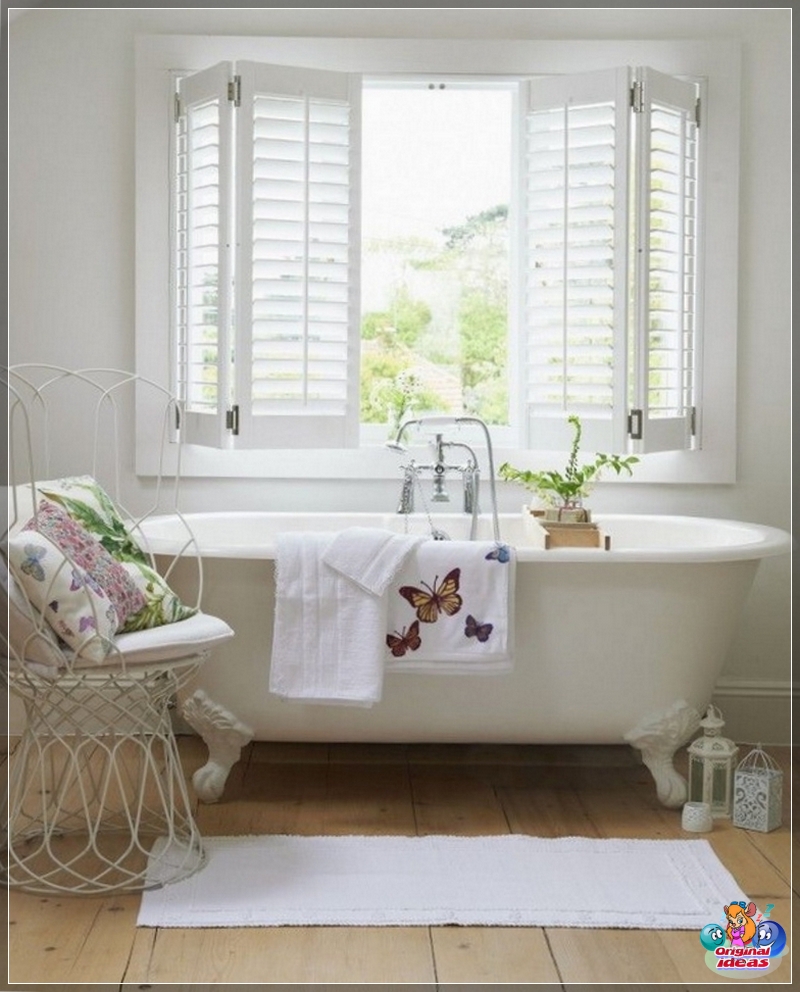 Plank or laminate works well for country-style flooring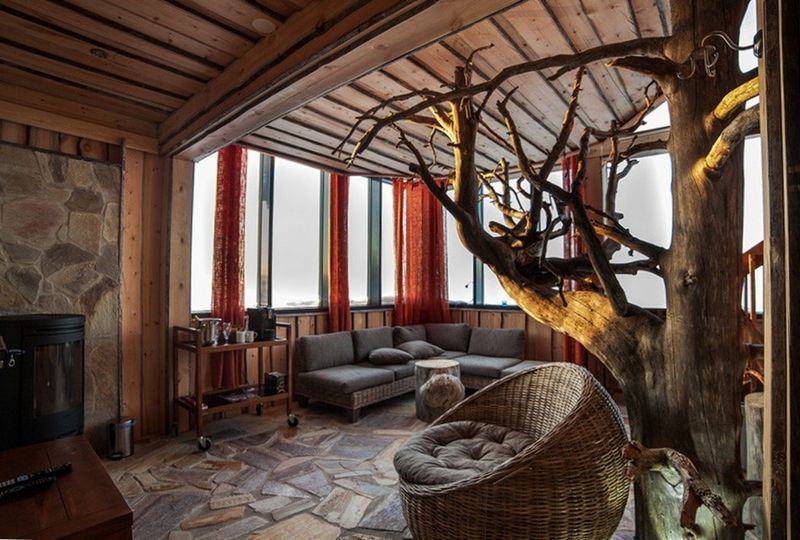 The stone floor is typical of the English country
In the living room, the ceiling can be decorated with wood, plaster or painted in a light color. For example, rough wood beams are welcome in country. Such structures can rest against the walls with their ends. In any case, the overall stylistic solution for the entire room should be preserved.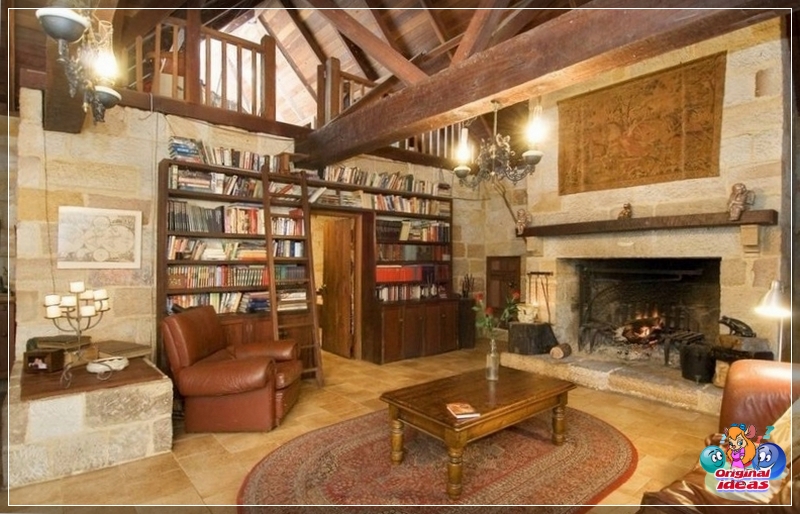 A beamed ceiling is beautifully suited for living rooms in country style
Wood-paneled wall decoration in a country-style living room
The easiest way to decorate the walls of a living room in a country style is to wallpaper them with a simple pattern. A floral ornament, for example, a floral one, will look best. In this case, you should abandon modern types of wallpaper - shiny, vinyl. If the living room will be decorated in country style in a country house, the walls are best lined with finishing stone or decorative brick.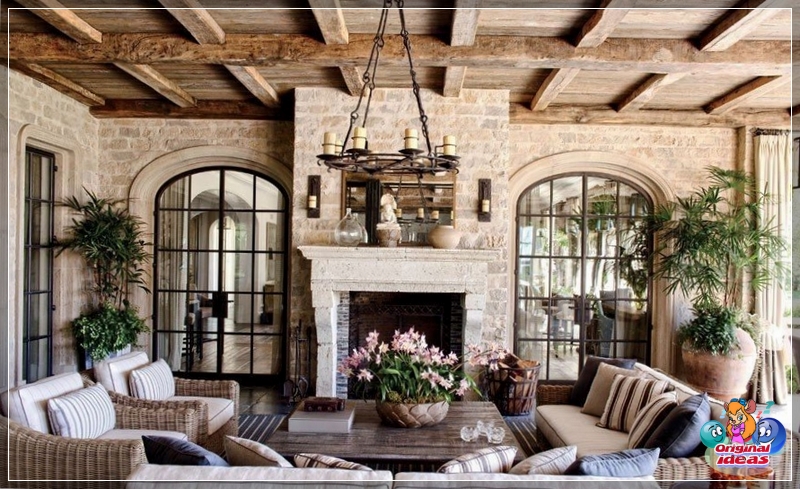 Country-style stone walls in the living room
In any case, the described style of interior design does not tolerate the use of modern materials. To do this, either modern technology is not displayed at all in the living room, or it is hidden in such a way that it cannot be seen. So, for example, the TV can be installed in a closet or sideboard. As a result, they can be used, but they will not be visible, since they are covered by the doors of a cabinet or sideboard.
To maintain a country atmosphere, the TV can be hidden in the closet
You can also hide the split system behind curtains or curtains, and hide the audio system with curtains. To create the impression of being in provincial England, it will be necessary to abandon massive curtains with numerous folds. Together with textiles with large patterns, as well as massive curtains with numerous folds, they can create the impression of excessive luxury, uncharacteristic for country style interior design.
Country style living room furniture
A country-style living room cannot be imagined without appropriate furniture. It should be simple yet functional. So, for example, this style is characterized by low and stable furniture, solid and a little rough. Moreover, if the furniture is upholstered, its upholstery should be combined with the color and pattern of the used decoration of the room. Only in this way it will be possible to achieve the integrity of the perception of the living room.
Country-style living room furniture is chosen massive and natural
In any case, it will be necessary to put a chest of drawers or a sideboard in the living room. They need to store dishes and cutlery. Moreover, such a piece of furniture should be as noticeable and massive as possible. Other furniture should also create a sense of solidity and reliability.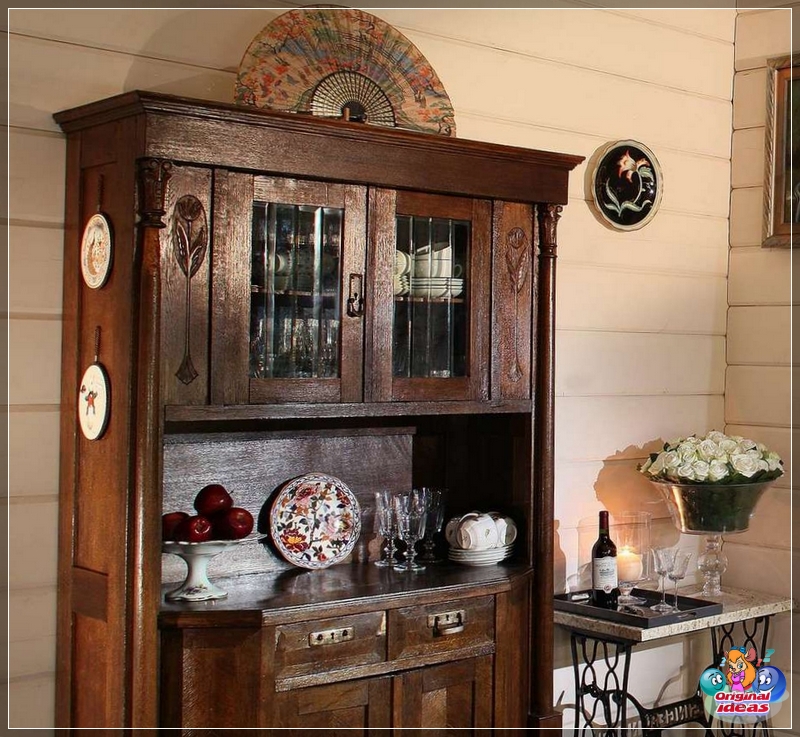 A rustic sideboard should emphasize the spirit of reliability and antiquity
So, for example, if you put chairs in the living room, they should have carved thick legs and a strong, strong back. Moreover, all furniture should be made only from natural solid wood. If you want to put furniture made from chipboard and fiberboard in a country-style living room, it can give lightness to the entire interior design, which will negatively affect the overall image of the room
Separately, it is worth talking about the principle of arrangement of country-style furniture. The fact is that, unlike the classics, furniture in this style of interior design is arranged in a free order. The best option will be when it will stand in some disarray, which will give the entire interior simplicity and naturalness. The strict placement of furniture in the corners or along the wall here will only spoil the whole feeling of this interior style.
Country-style furniture in the living room is arranged as it is convenient for the owners
If upholstered furniture is used in country style, then it should be relatively low and predispose to rest in the quietness of the countryside. If we call specific objects, then they can be ottomans, sofas, armchairs. If you limit yourself only to cabinet furniture and chairs, then they should not be varnished and should retain the natural structure of wood.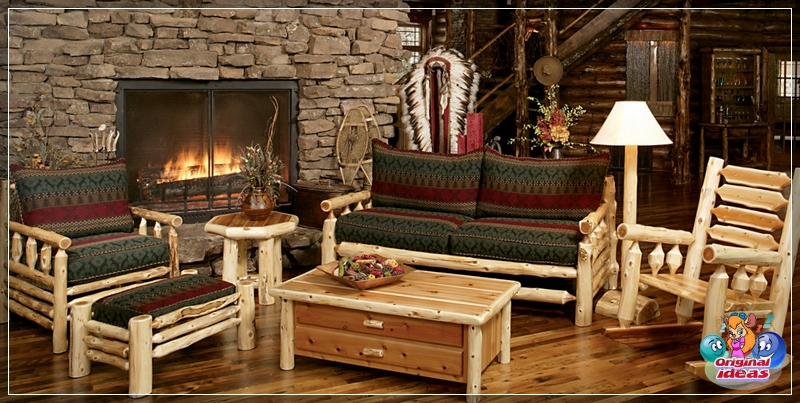 Interestingly emphasizes and conveys the rustic style of the furniture made of logs in the living room
Separately, it is worth talking about such an option for arranging a living room in a country style, as combining it with a balcony. When there is an exit from the living room to the balcony, you can take out some of the furniture on it, for example, put chairs and a coffee table, here you can equip an area for meeting guests. As a result, the place directly in the hall will be freed up, and there it will be possible, for example, to fold the fireplace. By the way, windows in the described style must have wooden frames.
Experienced Design Tips
Specialists in the field of interior design usually advise property owners who want to decorate a living room in a country style, take into account some of the nuances, without which such a design would be considered incomplete. So, you should be very careful about the walls of the room, since they should not have dents, bumps and other irregularities.
Advice! It should be noted that the texture of the walls themselves can be quite rough.
An atmosphere of rest and relaxation should reign in a country-style living room
Country style is a style of comfort and home coziness, therefore it does not tolerate nervousness, variegation and bright spots on walls or furniture. The interior of the living room should be moderate, decorated in calm dull colors. If you do not understand how to achieve this effect, just take a photo of any rustic English house in color and try to at least copy it.
Lighting should be soft. To do this, it is worth purchasing lamps with frosted glasses, as well as with horns pointing up. As a result, the light should turn out to be a little yellowish, light. In country style, you can safely do without a chandelier, this will save on buying it and give the room a slightly antique look.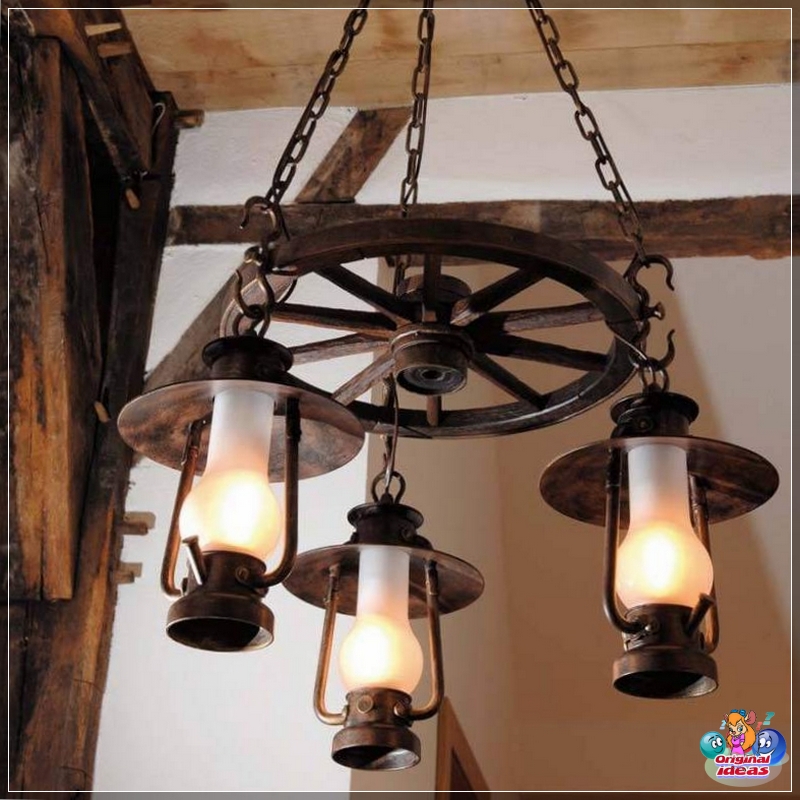 Country style chandelier is a combination of forging and wood
When decorating a living room, do not overload the room with decorative elements. The fact is that country is characterized by spaciousness, and if the room is filled with unnecessary things, the feeling of it will disappear. In connection with this circumstance, it makes sense to use only a limited number of decorative elements when decorating an English living room, for example, hang animal skins on the wall or place imitation beams on the ceiling.
An interesting option will be to recreate the interior of a real country estate of an English aristocrat. Such a reconstruction can be done using a decorative stone. You can place real things brought from England in such a room, for example, dishes or decor items. Furniture, artificially aged, or real antiques will look very stylish.
Sometimes, to achieve antiquity, furniture is artificially aged
In any case, the country style is quite atmospheric, so before you start implementing it, you should study the photos of ready-made living rooms. This will help you save time and give you an impetus to implement unusual ideas in your living room. As a result, you will get an "English" living room for relatively little money, decorated to your liking.