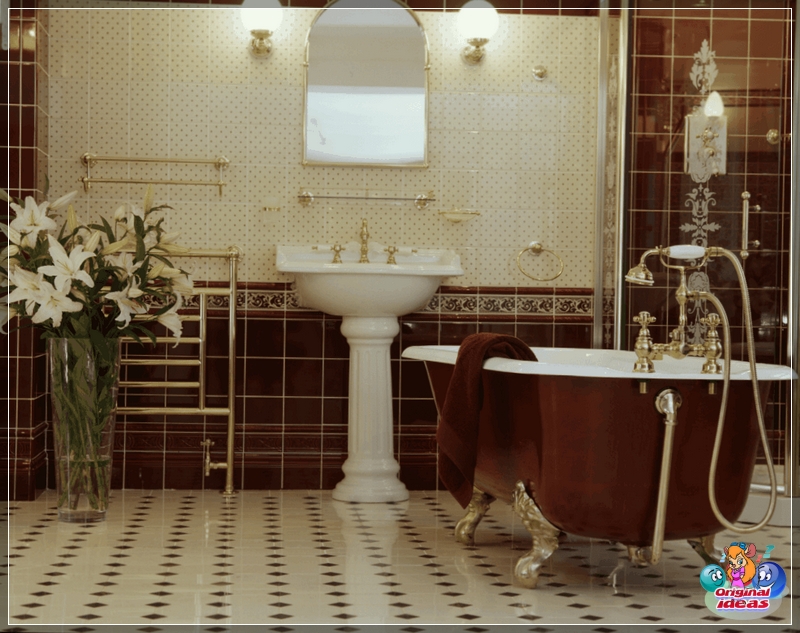 Victorian bathroom - perfect for private homes. This English style is rich and cozy. The main element is a freestanding bathtub with powerful legs in a spacious and bright room. Victorian design lacks simplicity. In the formation of the style, a huge role is played by the decor, in which the main thing is restrained luxury and beauty.
Victorian bathroom has English aristocracy and elegance
But you can successfully implement this style in a small bathroom, if you do not fill it with some massive interior elements. The room will also be beautiful, cozy, comfortable.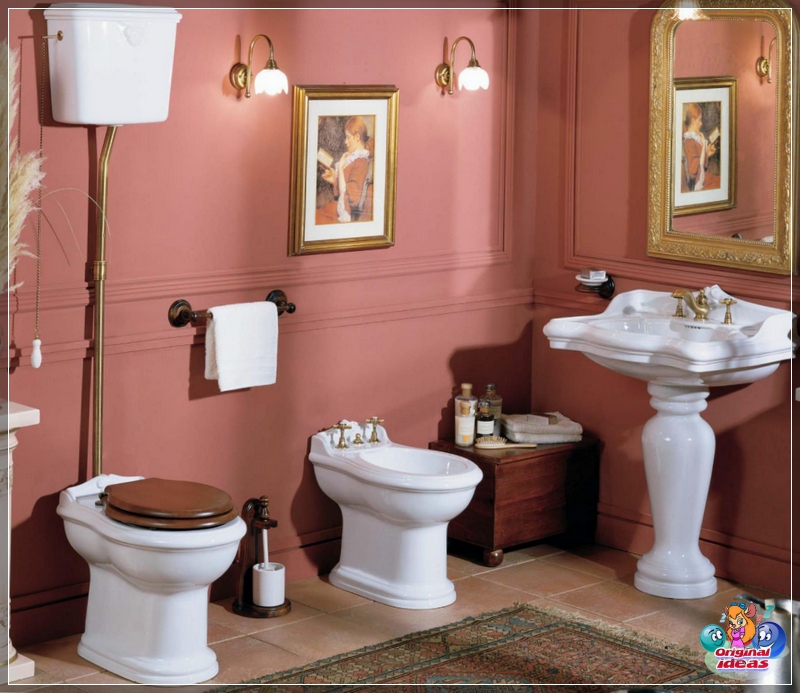 Even a small bathroom can be furnished in a Victorian style
General features of the English style
A characteristic feature of the interior style of the Victorian era is the classic, combining eclecticism (a mixture of styles) and exotic, implying a Chinese or Indian style. Its main elements are:
combination of several styles: baroque, gothic, renaissance;
the use of brown or burgundy;
vertically elongated planes, arcs and straight lines;
arched, gothic and rectangular windows;
massive wooden doors;
use of a large number of accessories.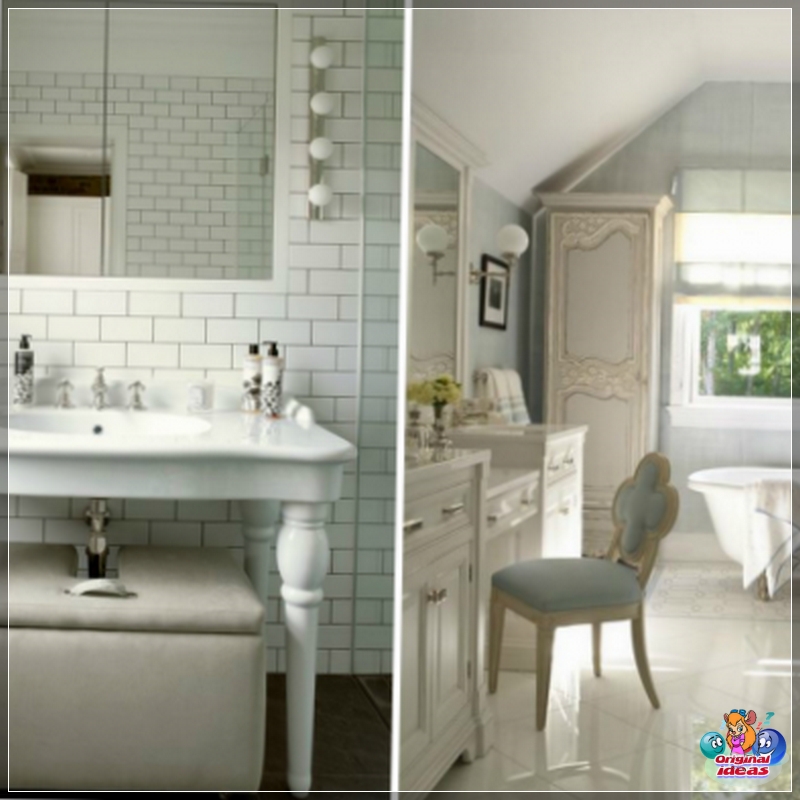 In addition to English sophistication, the Victorian bathroom has colonial Indian motives
Arched windows in the bathroom with stained glass in Victorian style
Signs of an English-style bathroom
The bathroom must be allocated at least 8 square meters. A small area will neutralize the effect of a peculiar design. A Victorian bathroom acts as a complete room, like a bedroom or study. Therefore, there must be furniture in it. Even a small table and chairs are enough. Interior items should not be placed very close to each other. Other stylistic features include:
high rectangular or oval window with a vertical lift-and-slide frame;
bright and rich decor, red shades must be present;
combined wall decoration, involving the use of wood wall panels, wallpaper or ceramic tiles;
the decoration uses vertical stripes, Scottish cage, heraldry and oriental ligature (ornament);
the bathtub should be on legs that resemble animal paws, and the piping and taps should be copper;
a classic Victorian bathroom should have a fireplace.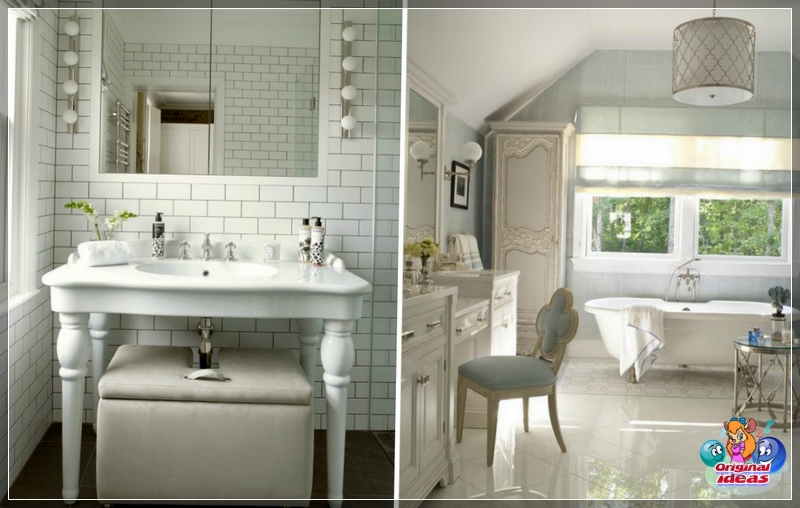 A Victorian bathroom is a traditionally full private room
Victorian bathrooms often have shades of red
An indispensable attribute of a bathroom in the English Victorian style - a fireplace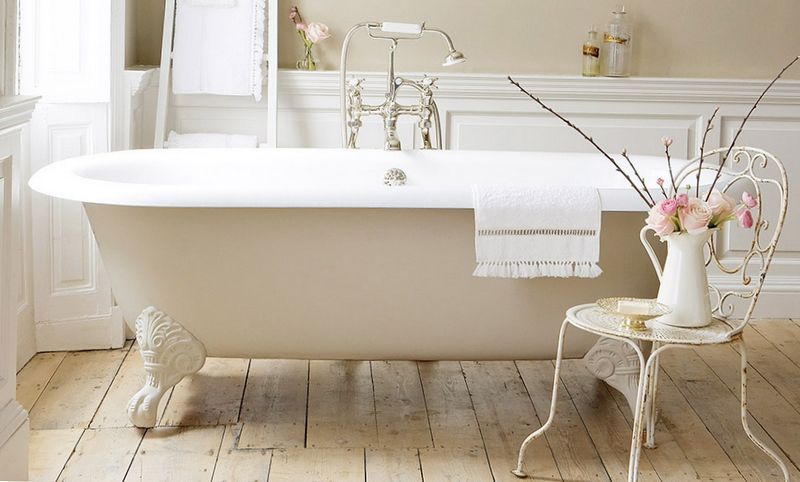 In a Victorian bathroom, the bathtub usually has a graceful legged structure
Decorating ceilings, walls and floors
Ceiling trim in traditionally white. Stucco molding is allowed. For walls, a 2-level principle is applied. Half of the wall from the floor is covered with natural wood panels, and the rest is pasted over with light wallpaper. They should be with a pleasant floral pattern, a plot with birds and flowers, this should be the border. You can use wallpaper in green and dark red shades with stripes.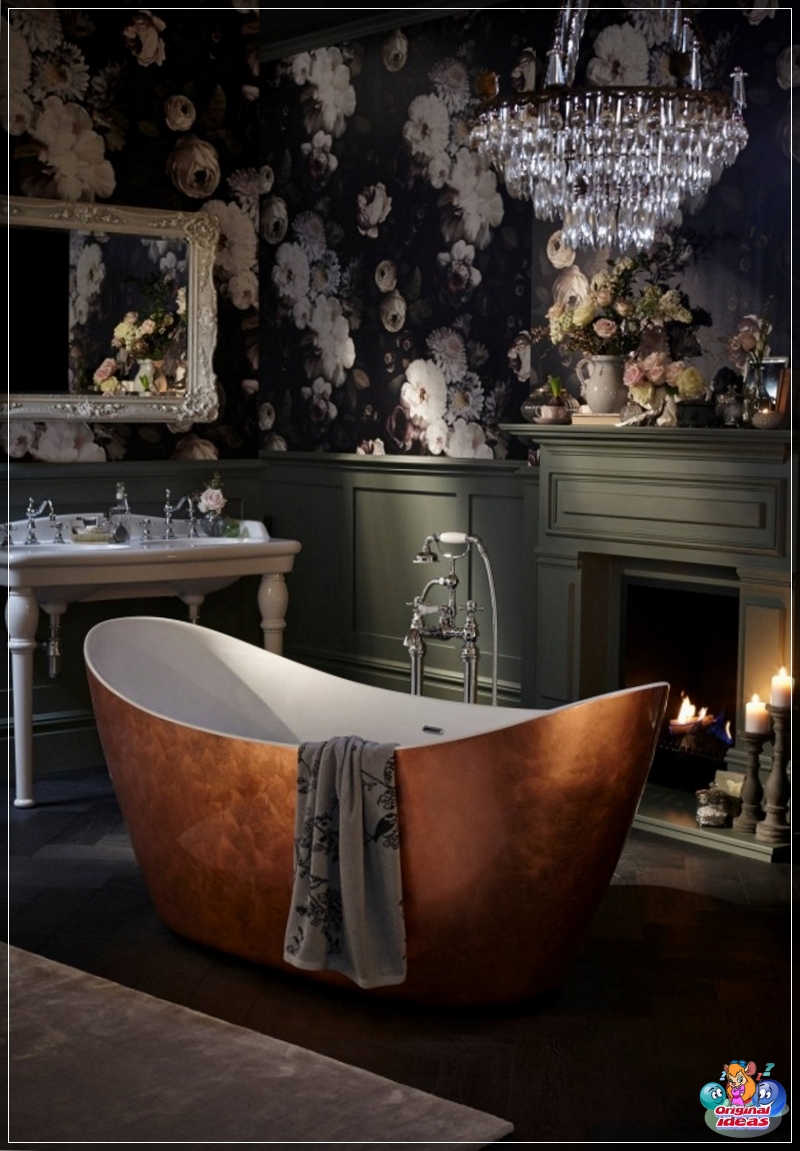 The decoration of the walls in the bathroom in the Victorian style is traditionally combined: from wood panels and wallpaper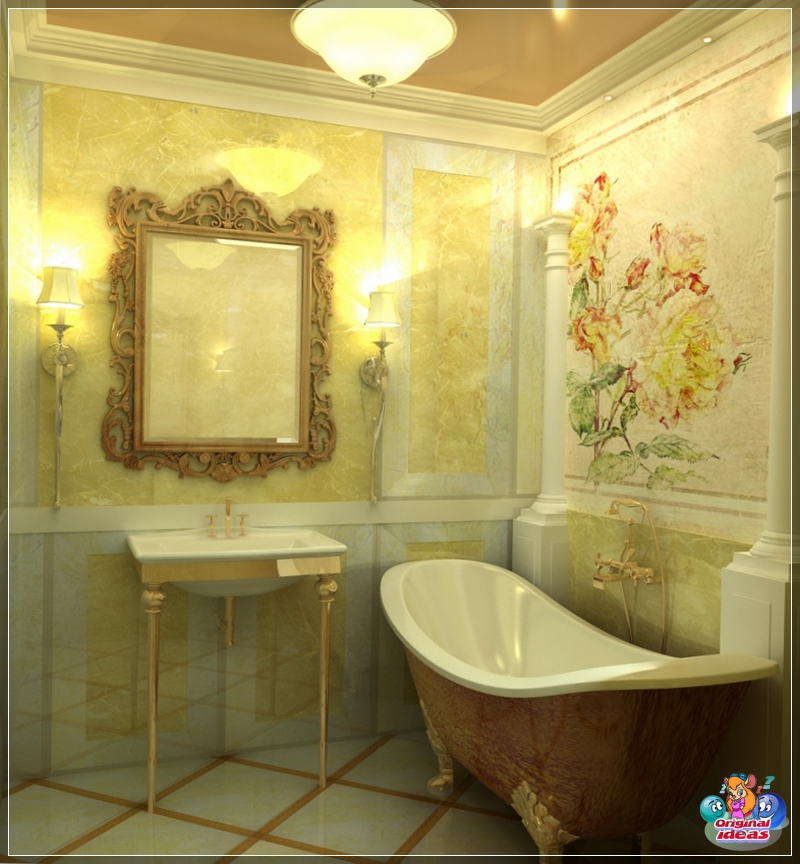 Victorian wall painting looks beautiful
In modern interiors, instead of wood, ceramic tiles are used; in luxurious bathrooms, wallpaper is replaced by drapery with dense fabrics.
Advice! Classic tiles in ivory or white combined with dark green, black or burgundy. But colors should not clash with each other.
In modern Victorian bathrooms, tiles are often used for wall decoration, as they have good moisture resistance properties
Victorian luxury bathroom can be finished with porcelain stoneware
The layout of ceramic tiles on the floor is performed in the form of a mosaic with an uncomplicated geometric pattern. The use of pieces of various shapes and sizes is allowed. This makes it possible to fold a repetitive symmetrical pattern or stagger. Allows for this style and the use of wood parquet in the bathroom.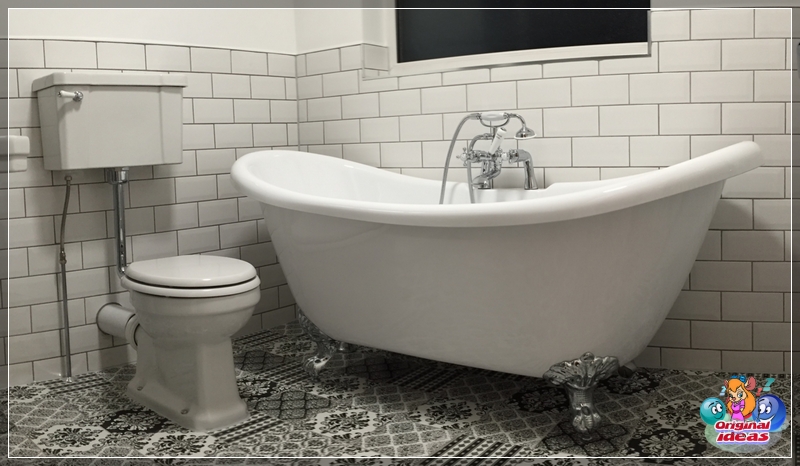 Victorian bathroom floors can be decorated with beautiful mosaics
Furniture and accessories
Standard English bathroom furnishings include mahogany cabinets, carved and inlaid cabinets. Mirrors should be in an oval frame with carved patterns. In old England, even tables, chairs and armchairs were placed in large bathrooms.
Advice! A feature of the Victorian bathroom is a slightly dim and soft light.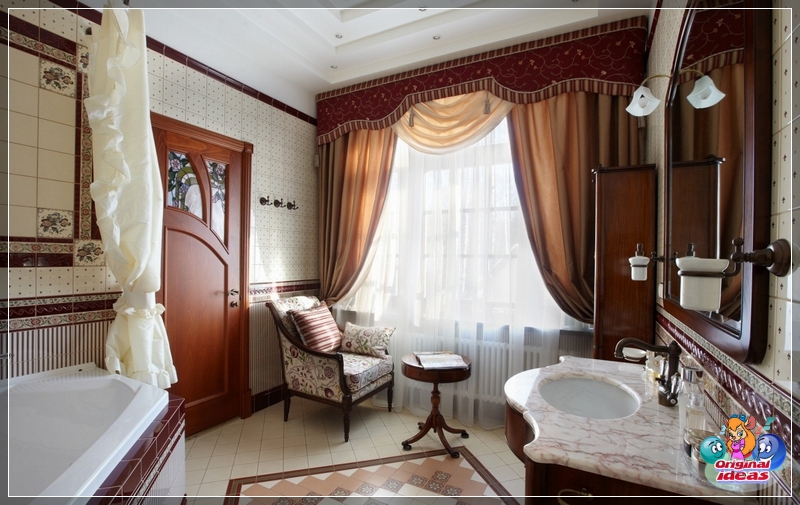 A Victorian bathroom can accommodate room furniture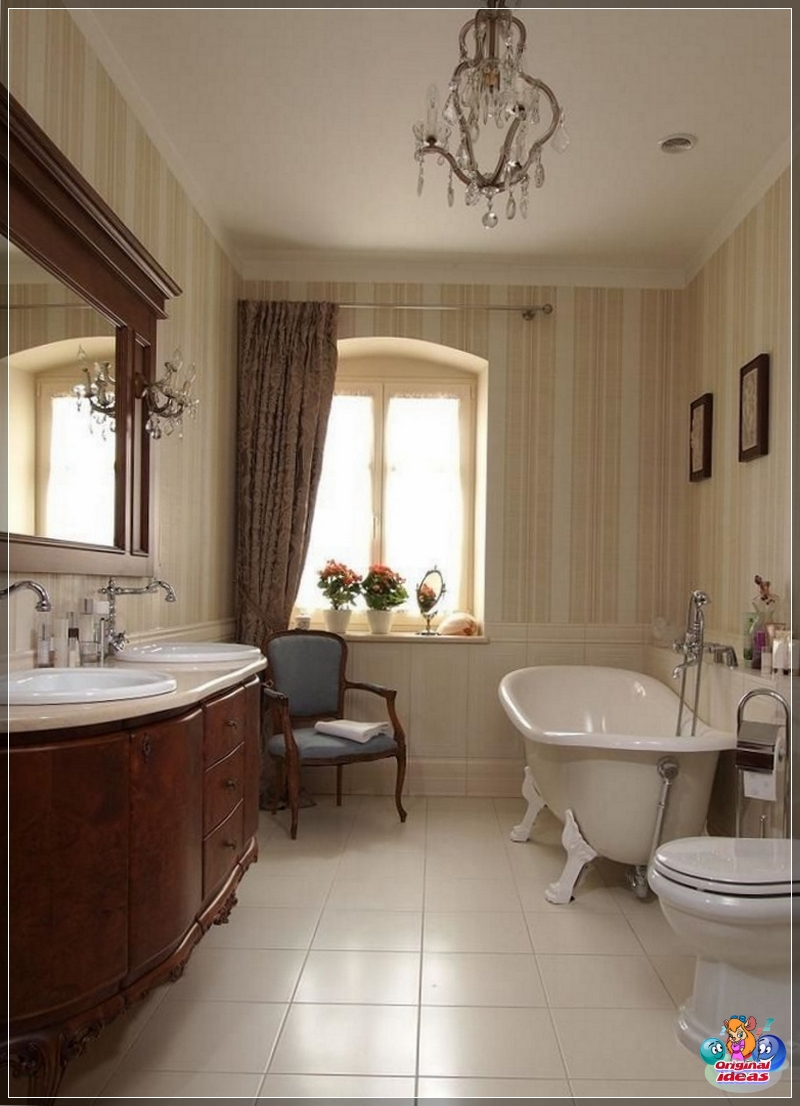 Victorian bathroom furniture is carved and graceful yet solid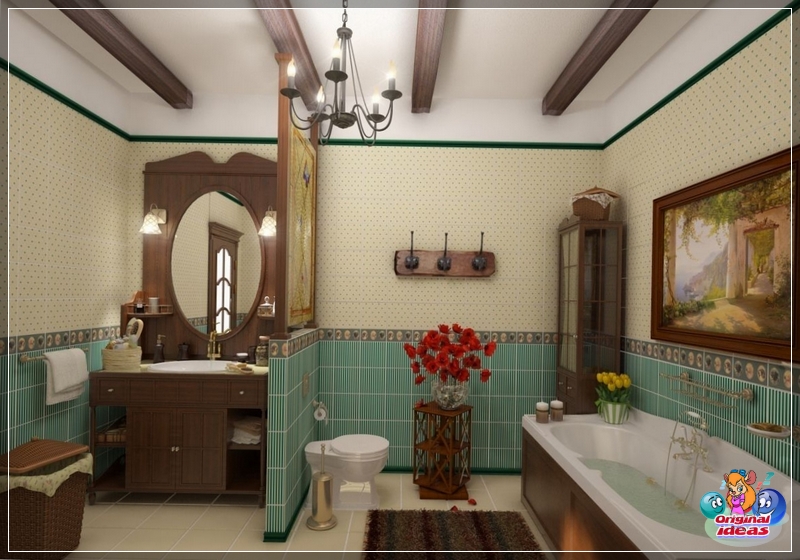 Complement the Victorian bathroom with a semicircular mirror
The emphasis is on copper chandeliers, lamps in brass frames and with crystal pendants are allowed. For visual division into zones, wall sconces are provided on both sides of the mirror located above the sink.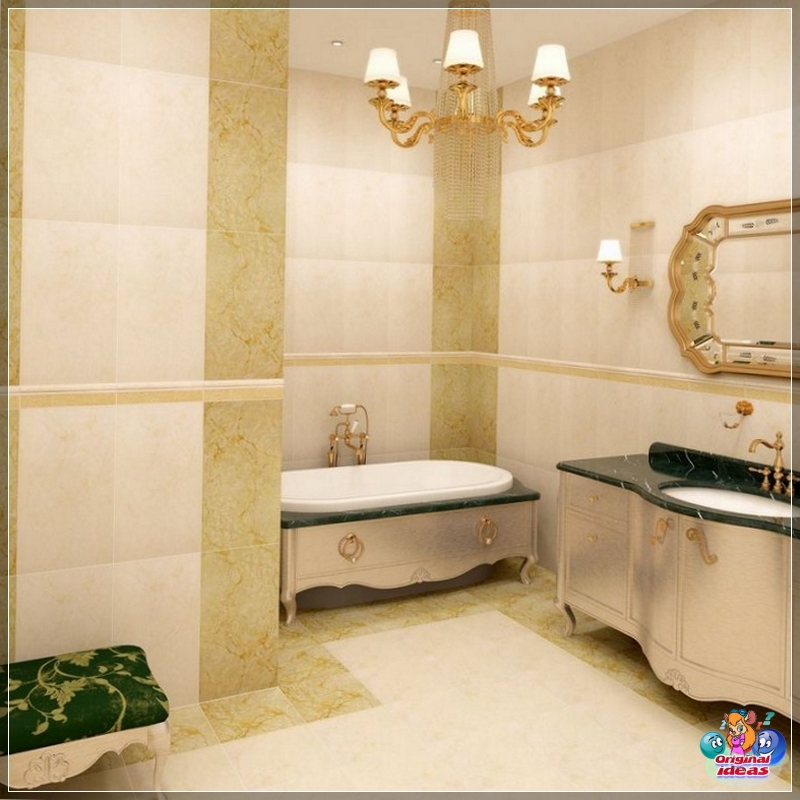 The Victorian bathroom uses classic chandeliers and wall lights for lighting
Important! Sparkling crystal chandelier fits well into a room with a high ceiling. In the bathroom, she will be the main element of the Victorian style.
Plumbing equipment
A distinctive feature of such a room is the installation of two cast-iron baths: an oval one and with a slightly tilted back, which has asymmetric sides. Legs should be slightly curved. On the sides, they are sometimes sewn up with wooden decorative screens, but you cannot move them to the wall, they should only stand separately.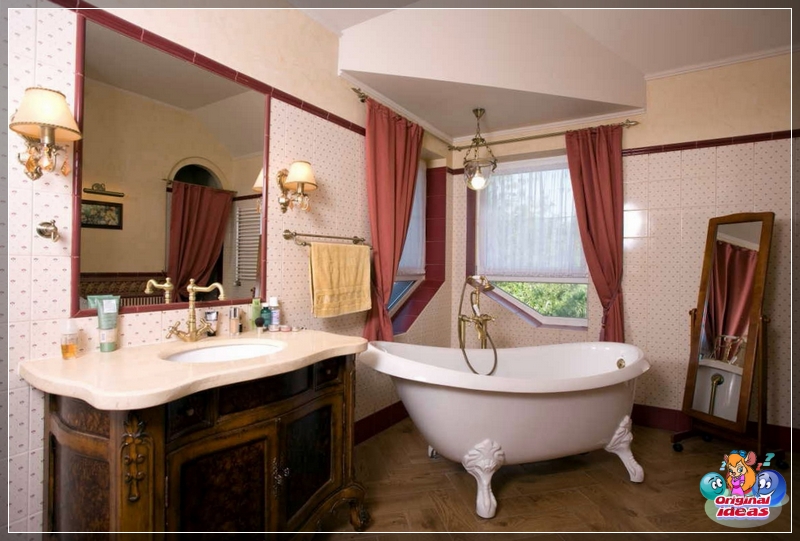 An oval, asymmetric claw-foot bathtub fits perfectly into a Victorian interior
If painted plumbing is very to your taste, then in the English room it will be appropriate. During the reign of Queen Victoria, Asian-Eastern motives were at the peak of popularity. The toilet should be the simplest model with a hinged cistern. But most often it is reinforced on a high pipe, which is not very convenient.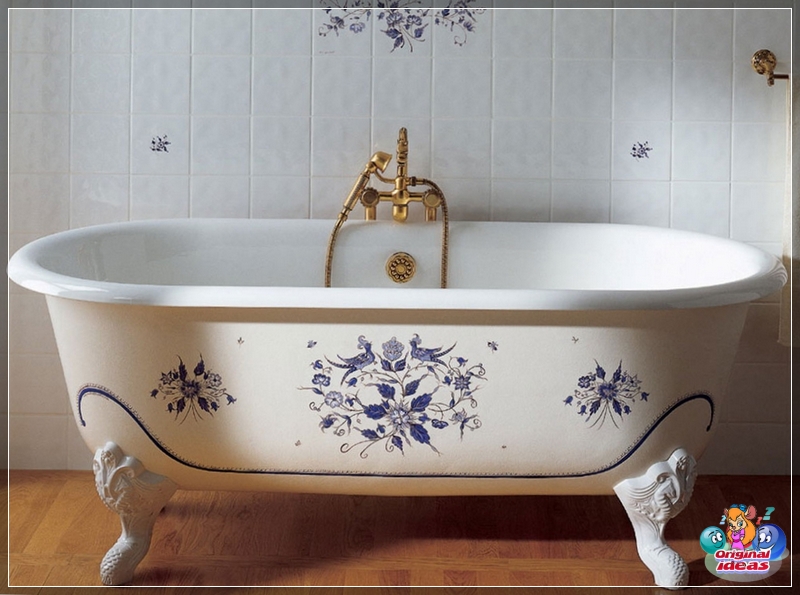 Often on plumbing in a Victorian bathroom, you can find painting in the form of floral or oriental patterns
A Victorian bathroom has its own permanent attributes. These are massive sinks on a pedestal, made of marble or porcelain, shining with a mother-of-pearl luster. What a Victorian bathroom looks like, you can see it perfectly in the photo of the site.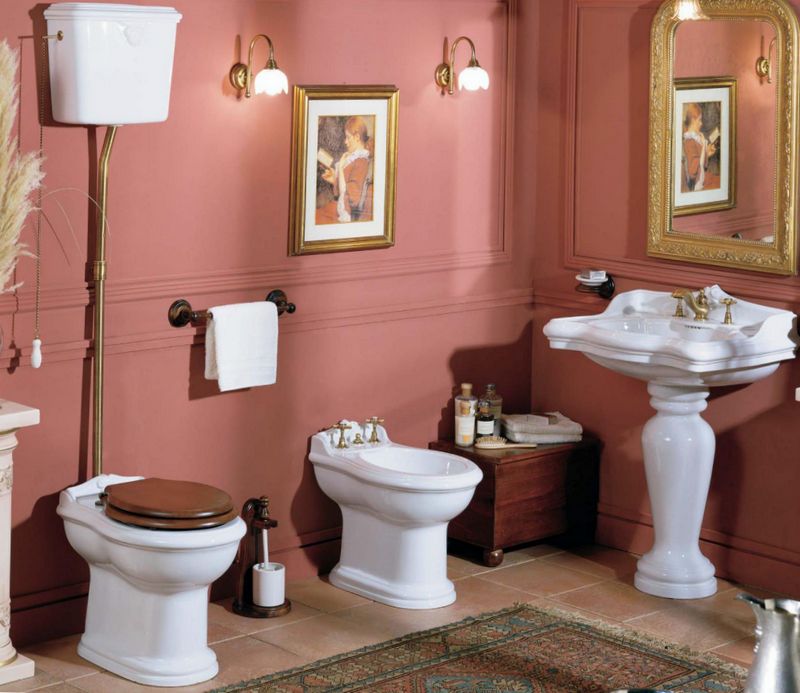 Victorian bathroom fixtures are sleek and graceful
Modern English bathroom decoration
A modern Victorian bathroom is designed using only basic principles, without adhering to strict conservative rules. You can add just a few traditional elements to the design. The materials are selected simple, and the decoration is minimal:
Wall decoration can be limited to tiles at the bottom and wallpaper or paint at the top. Wallpaper must be selected that only tolerate steam and moisture well, but completely safe for health. Canvases with vegetation, flowers, and pastoral scenes evoke associations with Victorian England.
You can use only tiles, but then it should be laid out in 2 levels, dividing with a border. A panel on the theme of old England will look great on the wall.
Floor tiles can be large in size, their layout should be classic with any pattern. The tile, which has a maroon color and stylized as an English cage, will give the room a special chic.
A completely wooden door will look heavy in a modern bathroom, so you can decorate it with stained glass or painted glass. But wooden frames in dark shades must be.
The bathtub should only be on legs. It is advisable to purchase decorative models that imitate the paws of an animal. They must be made in bronze or gold.
The fittings should be aged artificially, giving it a patina. It will look spectacular. Mirror in a massive frame above the dressing table - expressive accent of style.
A Victorian room should be dominated by wood, so it is not recommended to add plastic furniture to it. Can refurbish a regular wooden chair.
A separate section in the room is the toilet. But it must be in a zone of good visibility and quick access.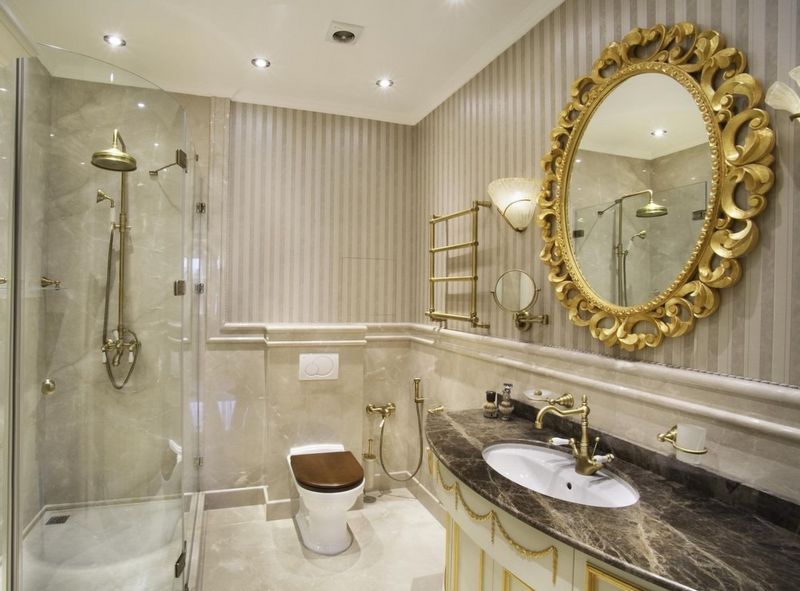 For a modern Victorian bathroom, choose a waterproof and washable wallpaper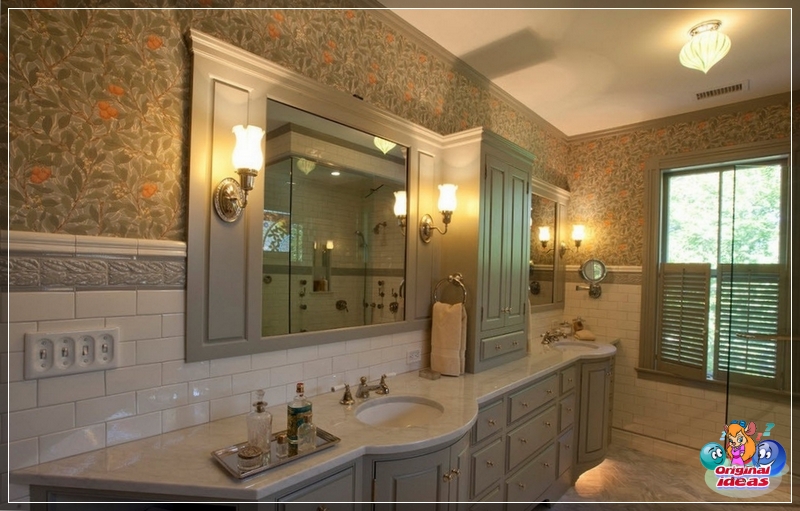 Visual horizontal division of walls in the bathroom with a border is a favorite technique for decorating walls in the Victorian style
Beautiful stained-glass windows create and complement the old Victorian atmosphere
Exquisitely beautiful accessories
Numerous soap dishes, hooks, towel holders, toothbrush containers, waste baskets give the bathroom Victorian charm. They can be made of metal, porcelain with gilding or glass. You can safely place vases with flowers, paintings, a false fireplace and even an armchair in it, if the area allows.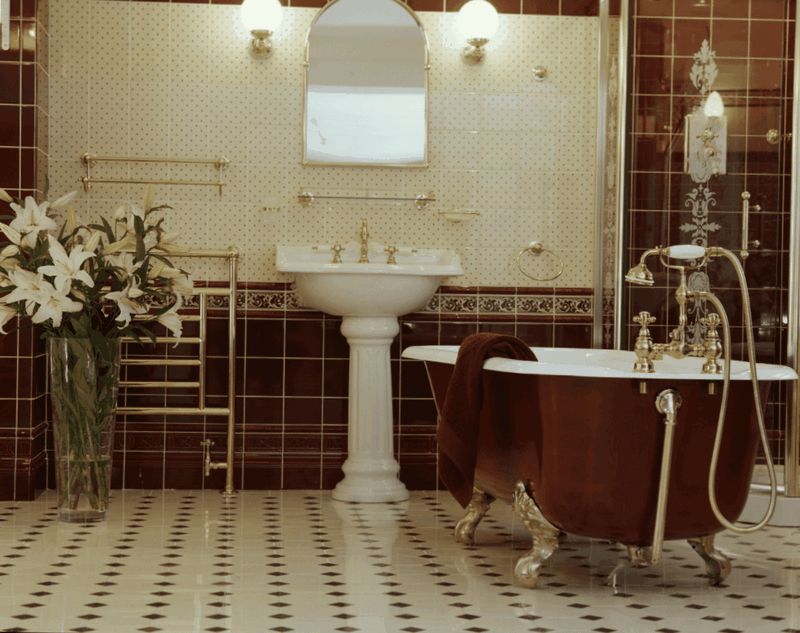 Victorian bathroom is beautifully complemented by various accessories and gilded details
A luxurious English-style bathroom demonstrates the wealth and excellent taste of the owner of the house, and also fills the home with English charm and comfort. This trend will never go out of fashion, because luxury and shine are always a good decision.