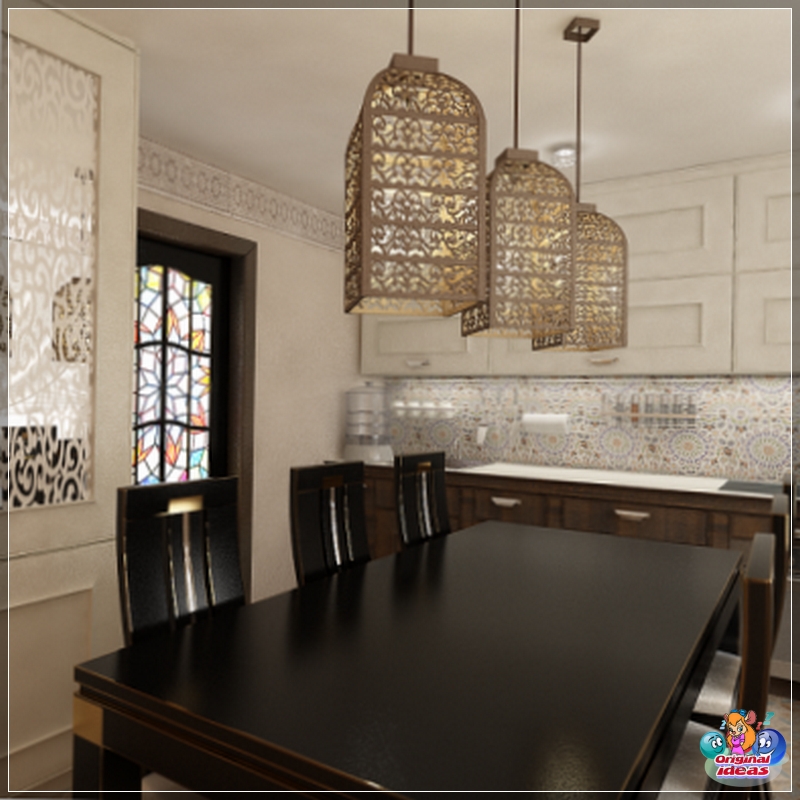 It has long been believed that the world's strongest sorcerers and wizards lived in the African country Maghreb (now it is Morocco). It is easy to believe in it: alluring colors, wonderful ornaments, exquisite lines of national Moroccan ornaments give the feeling of a real miracle.
Interior designers highly appreciated the distinctive style of this country: a bedroom, living room or kitchen in the Moroccan style will become the pearl of the house, imperceptibly transforming everyday life into magic, filling it with light and colors.
On a note! All year round in such a kitchen it will be cozy to cook, arrange family gatherings and treat guests.
You can plunge into the atmosphere of the fabulous East, making a radical restructuring of the room, or designate the style with a few light touches. Moroccan-style cuisine is always unusual, sophisticated and beautiful.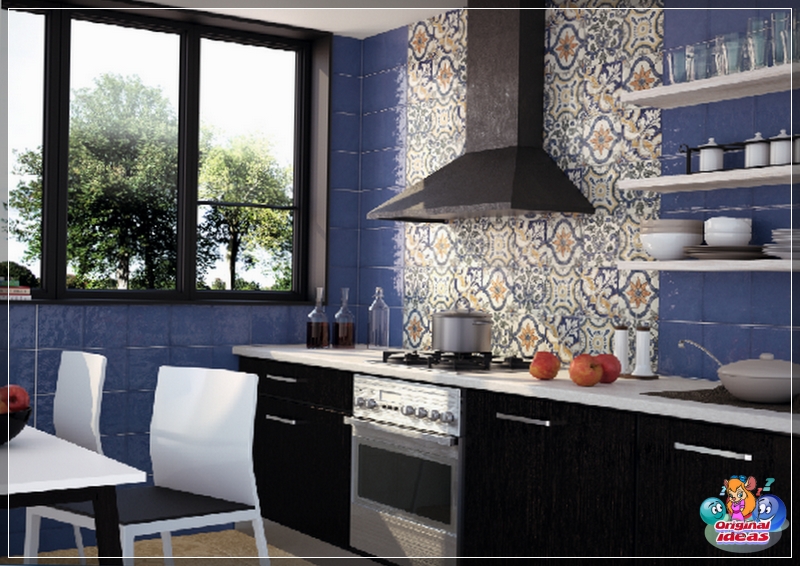 Moroccan style in the interior of the kitchen: materials and ideas
The style of Morocco is interesting in that, with all the pronounced penchant for rich, even flashy, materials and colors, it can no less successfully be implemented in black and white, which will give the interior nobility and restraint.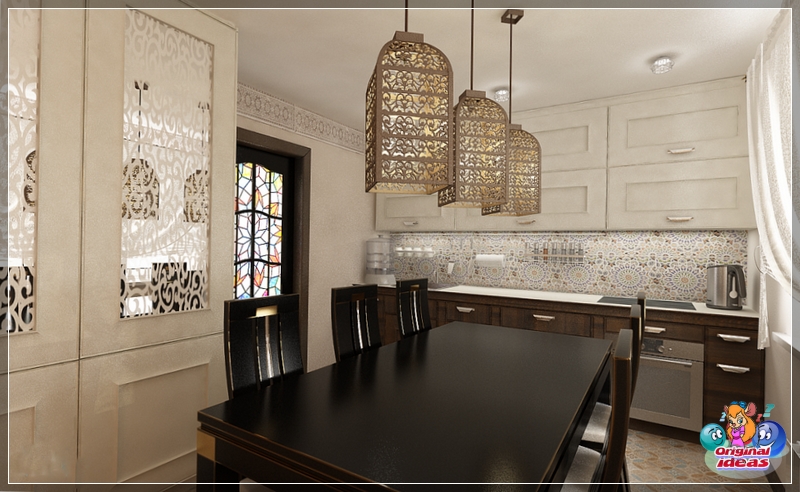 The Moroccan style has its own differences and is created using the following design elements:
rich color palette;
structural details - arches, niches, shutters;
exclusively natural materials in decoration, the main material is ceramic tiles;
patterns and ornaments are everywhere: in accessories, floor and wall coverings, dishes;
accessories, including special lamps;
textile draperies and curtains.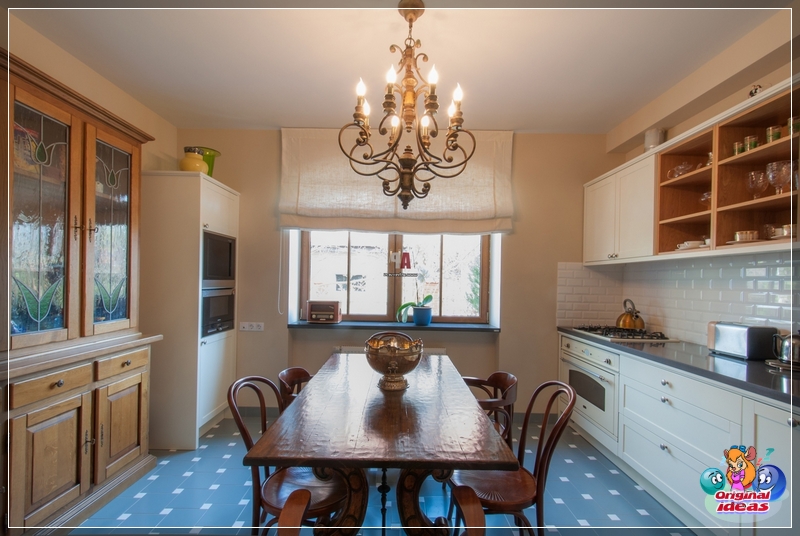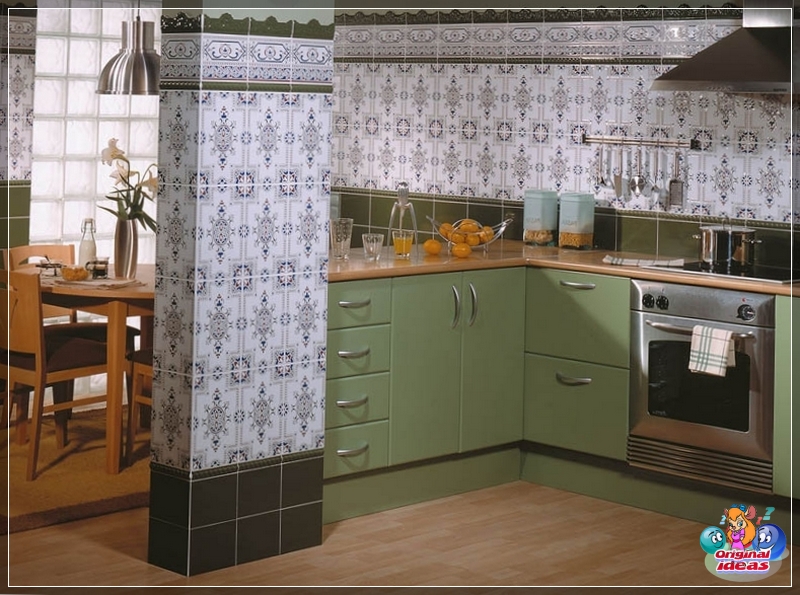 Color matching
Color is very important in the Moroccan style, combining the brightest features of the Mediterranean and African cultures.
To realize the fabulous atmosphere of the East in the interior, the following colors are used:
red in all shades, priority to rich rich tones: wine, cherry, scarlet, ruby;
the whole gamut of yellow from transparent sandy to thick ocher;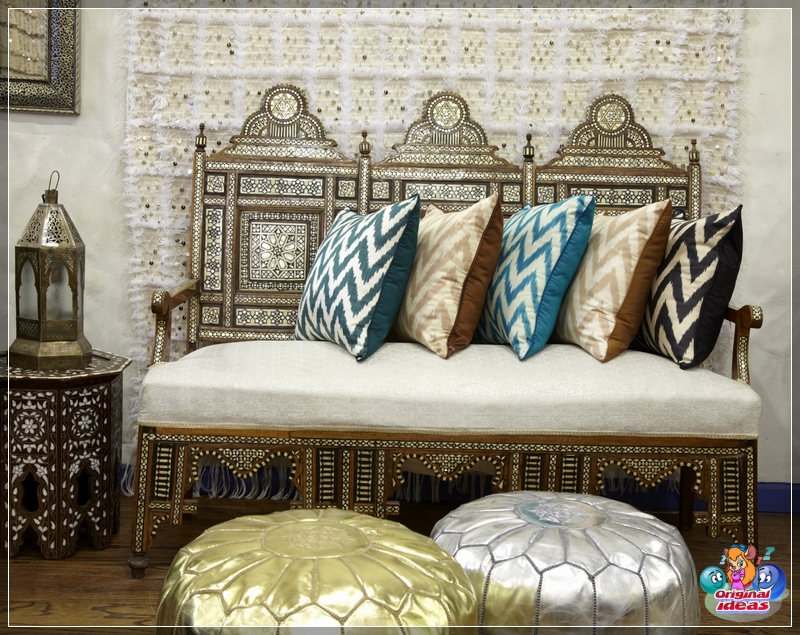 necessarily gold or silver, but only one thing;
turquoise, ultramarine, cobalt are certainly present;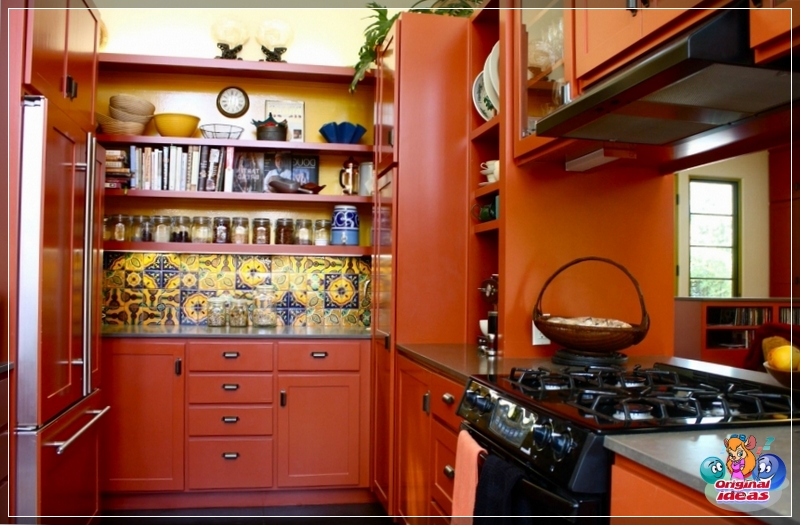 brown tones;
Orange;
White.
Important! No faded or synthetic shades - only pure natural colors create an atmosphere of hot spicy Morocco.
Constructive alterations
Minimal adjustments will help to give the kitchen the charm of a fairy tale:
the doorway is made in the form of a pointed arch, trimmed with wood; instead of a door leaf, the opening is decorated with a curtain of fine silk threads with beads;
using drywall, you can easily make shallow lancet or horseshoe-shaped niches in the walls, and then place shelves with utensils, a stove or a refrigerator, or even a whole furniture group - a sofa and a dining table in them;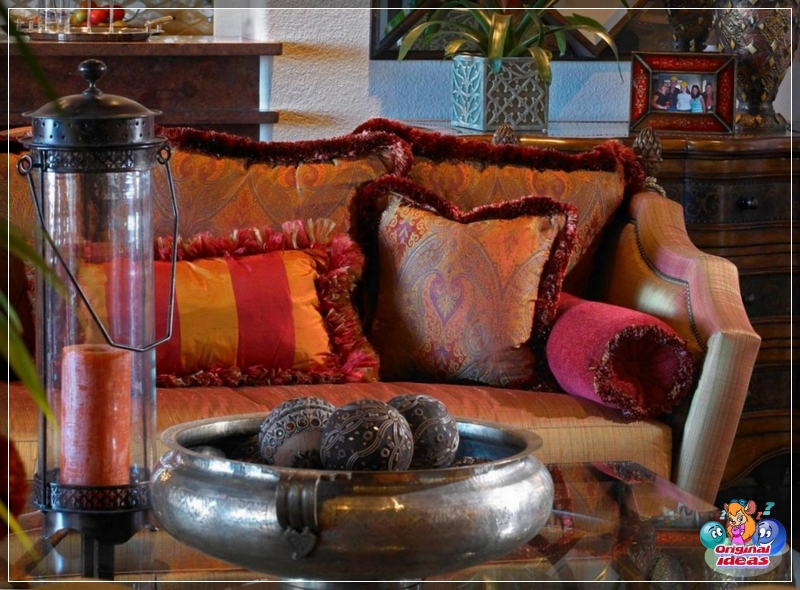 decorative lattice shutters will come in handy in this interior.
Room decoration
Like any ethnic style, Moroccan tends to use natural materials or their high-quality imitation: wood, stone, mosaic, metal, ceramic tiles. Floor covering, wall decoration, furniture - everything should give the impression of a real, durable, solid.
We'll have to give up the ubiquitous plastic.
Important! The easiest way to treat walls is to paint over the plaster layer.
However, when undertaking a serious kitchen renovation, it is better to use, although expensive and time-consuming, but an incredibly beautiful method of processing - the application of tadelakt plaster.
This is a mineral plaster, which is applied with the addition of a special wax and creates an interesting relief surface with an unusually rich color, imitating the cuts of natural stones.
This way of decorating walls was invented in Morocco many centuries ago, and only a select few masters were able to create such beauty.
Now you can buy ready-made mixtures made in Morocco, Germany, France.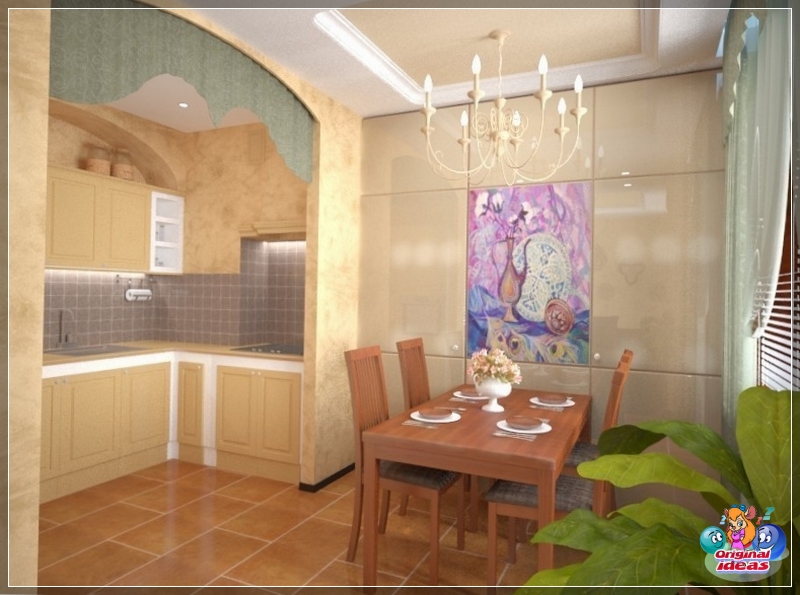 The ceiling in Moroccan traditions is decorated:
wooden boards;
with massive wooden beams, which can be replaced with high-quality lightweight imitation;
the ceiling can be flat or domed.
Dark matte boards or natural stone mosaics are laid on the floor.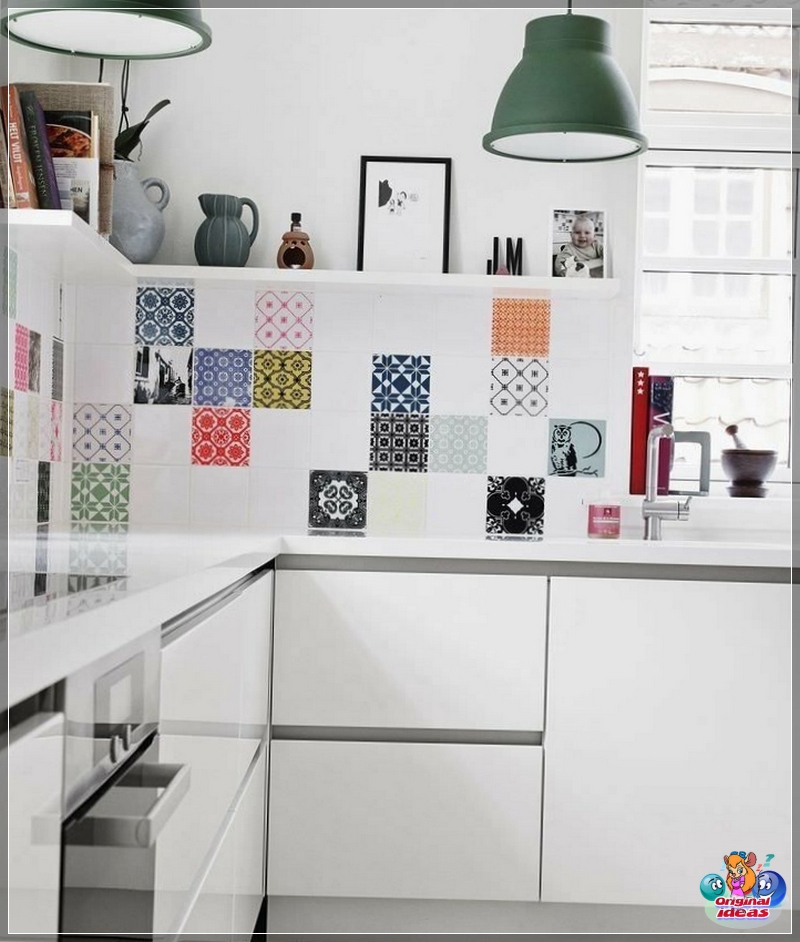 However, you should carefully look at the photo: a Moroccan-style kitchen necessarily has at least a small corner lined with ceramic tiles with arabesque pattern.
The intricately intertwined ornament of floral and geometric details, elements of Arabic calligraphy once shook the Europeans traveling in the East with its mesmerizing beauty.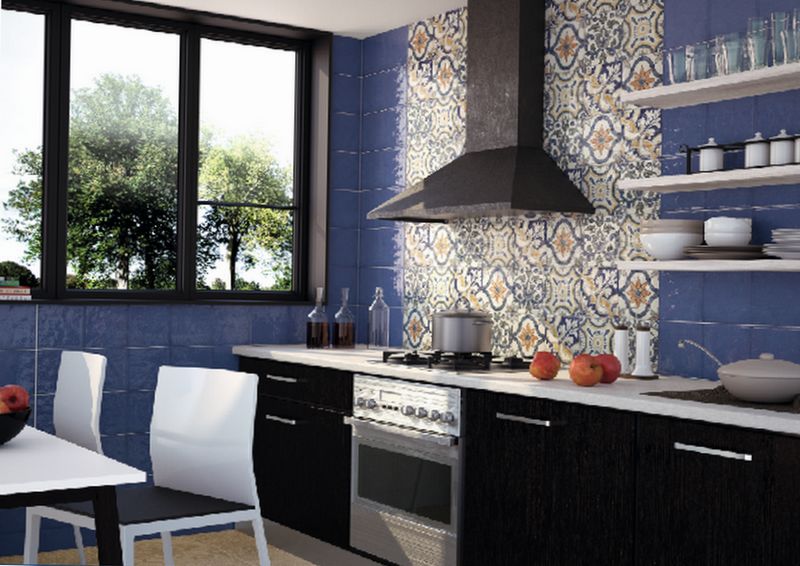 Intricate tiles can be used to decorate any elements of the kitchen space:
apron;
niche with shelves;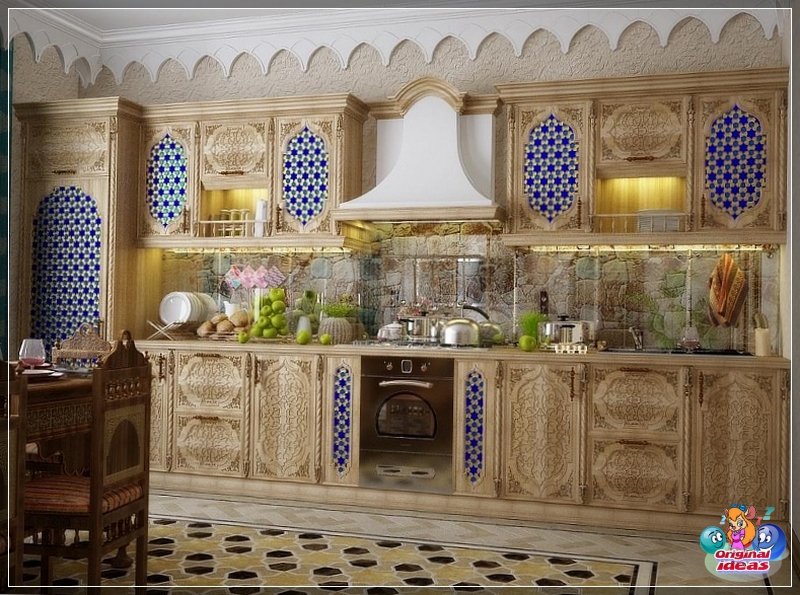 the wall above the sink or countertop, under the hood;
windowsill inserts;
floors, completely or partially zoning the room or visually highlighting the space;
window hole;
furniture.
The color of the ceramic coating is selected depending on the overall tone of the room:
can be restrained black and white, blue and white, brownish;
two-color;
pleasing the eye with multicolor national pattern.
Recently, mosaic ceramics, created using the ancient Moroccan zelidge technique, have been gaining popularity.Each tile is tiny in size, only 6x6 cm, but is part of a large repeating pattern - octahedron, rectangle, square.
Nuance! Without the charm of rhythmic tiled patterns, it is difficult to bring Moroccan style to the kitchen.
Therefore, the presence of ceramic tiles is mandatory.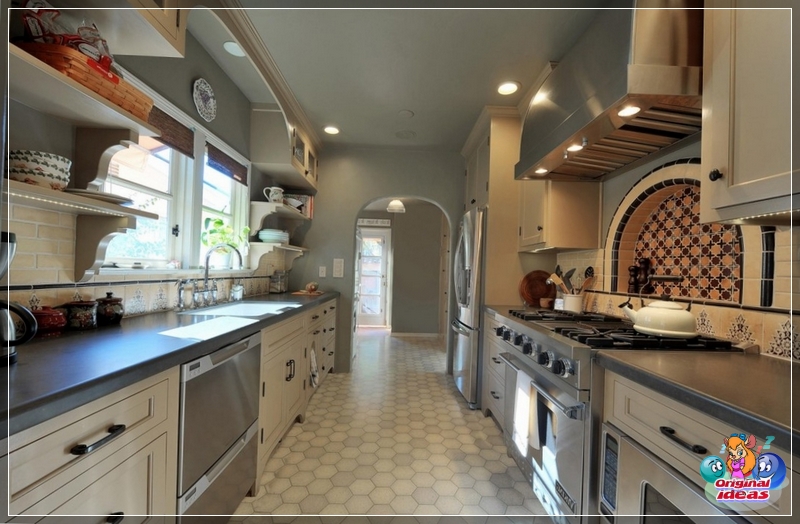 Furniture and kitchen equipment
In such a bright interior, furniture must necessarily be neutral light colors:
white;
blue;
brown;
gray-green;
gray-blue.
The shape of furniture products is classic, laconic, slightly squat.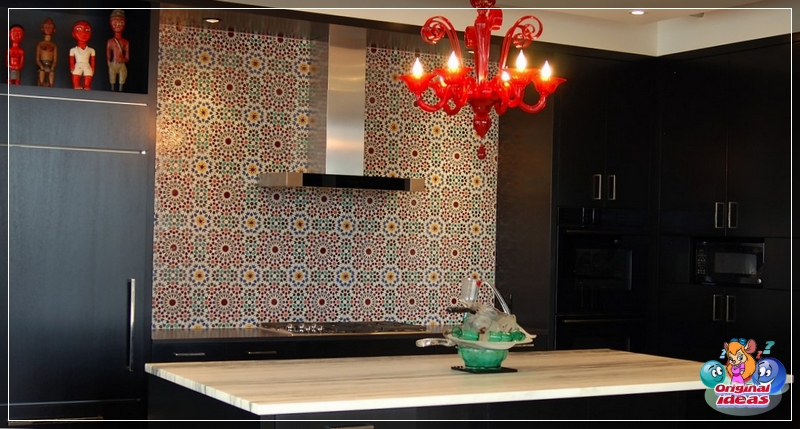 A special feature of kitchen furniture in the Moroccan style - massive decorative handles. Open thick wooden shelves attached to the wall look good; it is appropriate to place a collection of heavy porcelain dishes, silver jugs or vessels, metal vases on them.
For a true embodiment of the style, it is preferable to install a ceramic sink with a classic copper mixer in the kitchen.
Stylish accessories
A Moroccan-style kitchen is unthinkable without decorative ornaments:
Dishes. Massive bright ceramic plates, bowls, dishes, bowls, handmade teapots will become a real gem in the kitchen, performing not only a utilitarian function, but also bringing fresh colors. The dishes can be glazed or the color of burnt clay, as well as glass.
Light fixtures. Moroccan style is 1 large or several small lamps of a slightly elongated spherical shape, located in different areas of the kitchen. They can hang in a row above the work table, bar counter, or represent a focal point over the dining area of ​​the kitchen. Lamps are made of metal and decorated with embossing, multi-colored glass inserts, suspended on thin chains. Lamps do not make a bulky impression thanks to carved patterns, letting in soft light.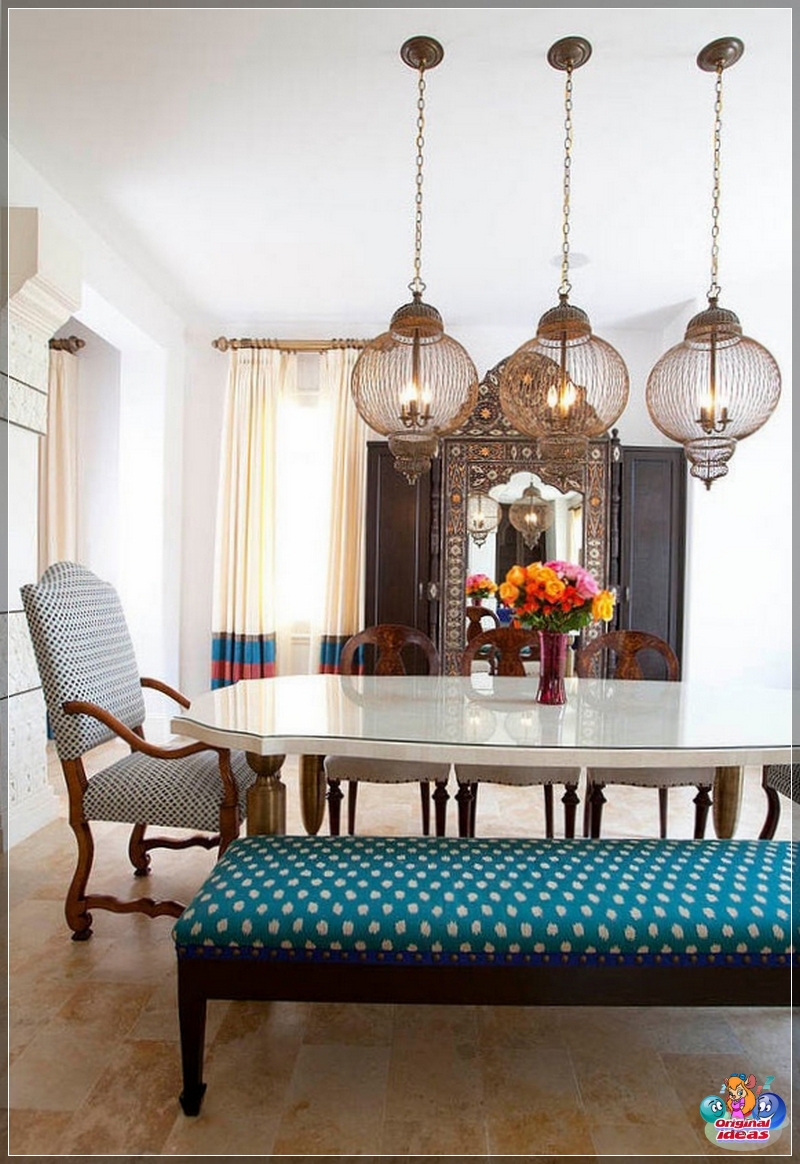 Coffee tables. Small tables made of expensive woods, decorated with skillful carvings, will be appropriate in the kitchen, replacing modern counters. It's nice to have a cup of coffee and relax behind them.
Curtains for the kitchen in the Moroccan style
Curtains will help maintain a juicy and elegant Moroccan style in the kitchen.
Colorful draperies decorate not only windows, but also doorways, niches, even walls.
Curtains are sewn from the following fabrics:
cotton;
velvet;
brocade;
atlas;
silk;
organza;
chiffon.
The curtain material should be brightly colored in rich colors:
dark red, wine;
dark orange;
lilac;
shades of yellow, especially sand and gold.
On a note! Usually, the curtains are richly decorated with all kinds of elegant embroidery depicting folk patterns, national ornaments that resonate with ceramic tiles.
In Moroccan culture, curtains are hung from the ceiling on copper or white metal curtain rods, pulled down in lush draperies. Light light curtains are selected and secured with wooden beads, rich shiny curtains with braided gilded cords.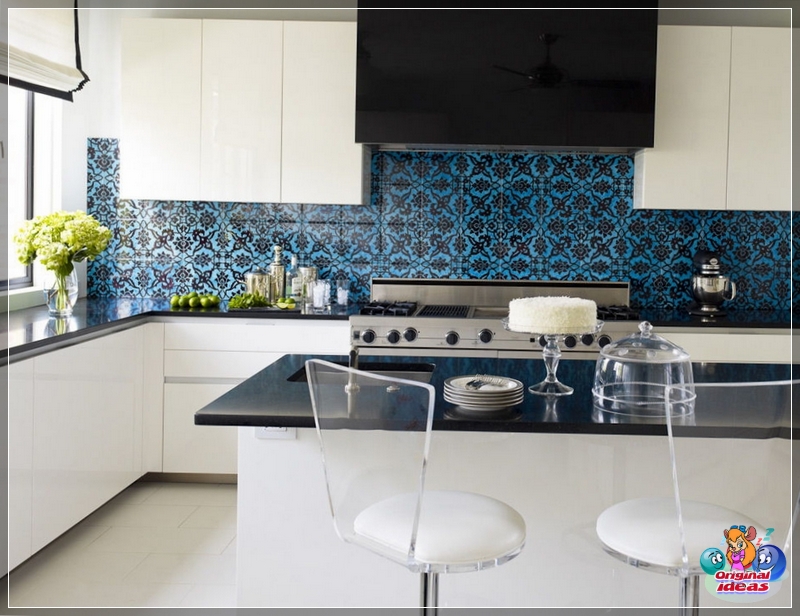 Fitting the Moroccan style into modern life, you can use Roman blinds made of simple dense fabric, but with an intricate flowing cut of the bottom. Curtains are perfectly replaced with colorful stained-glass windows.
The selection of other textile designs is also important:
napkins and tablecloths with prints in the national style;
soft natural carpet;
pillows with tassels on chairs and sofa.
Moroccan style is very suitable for kitchen decoration, creating a festive mood every day.