You can often hear the judgment that it is better not to install a stretch ceiling in the kitchen, as it is of little use for a room with high humidity. Fundamentally wrong opinion, spread by and large by manufacturers of other types of ceiling structures and materials for decoration, which are well pressed on the market by tension structures.

What kind of stretch coverings are preferred in the kitchen - advantages
Technological progress gives rise to new technologies and finishing materials that have proven themselves perfectly when creating stretch ceilings in any premises, even with so-called extreme conditions - in the kitchen, in the bathroom, unheated country houses, on verandas, balconies, loggias. They open up a wide range of ideas for creating fantastically beautiful designs. This is evidenced by photos of real objects, even the most daring decisions do not harm the functionality of tension structures.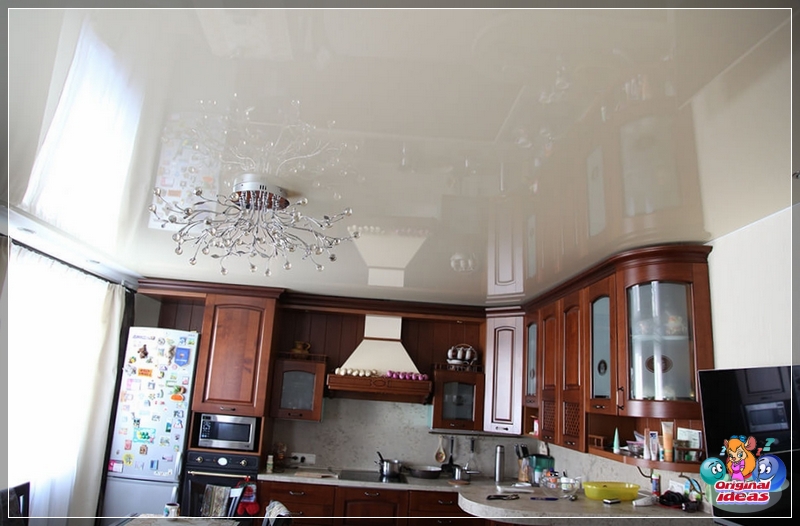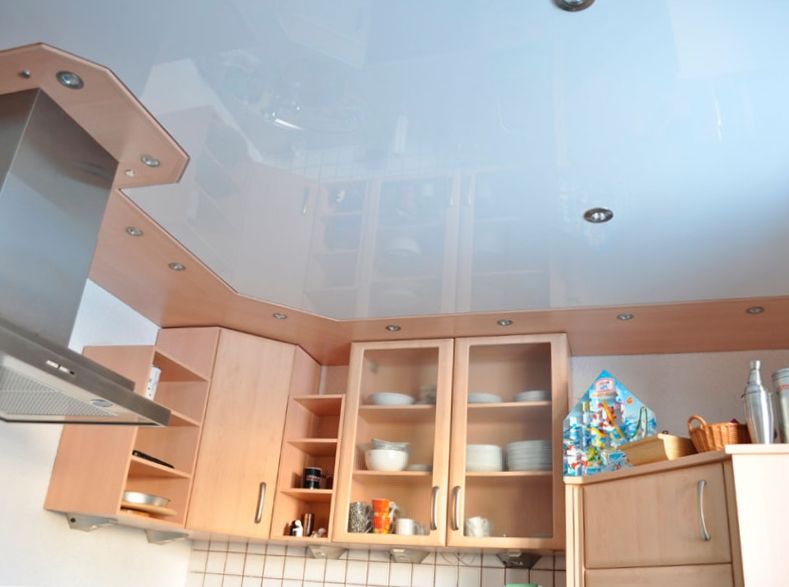 What kind of tensioning systems to make in the kitchen is up to the owners themselves, especially since there is plenty to choose from. It can be:
constructions with matte, satin or glossy films;
fabric textures made of special heat-shrinkable polyester;
monochromatic ceilings of any color or two-tone;
flow systems with photo printing, for which any photo is suitable at the request of the customer;
3D or art coverings (artistic);
stretch fabrics with soldered flowers;
single-level planes, as well as complex multi-level.
Regardless of the type, they are all:
environmentally friendly and do not support combustion;
moisture-resistant and heat-resistant, especially fabric fabrics, which perfectly tolerate temperature fluctuations in the range from -40 ° C to +80 ° C;
durable;
easy to care for and durable;
are distinguished by ease of installation, aesthetic appearance and good sound insulation.
But the most important plus of stretch ceilings in the kitchen, as in principle in other rooms, is that they can withstand a huge volume of water (up to 100 l / m²), and in case of flooding they will serve as a protective barrier for walls, floors, furniture, carpets, expensive equipment and other household items
And after eliminating the leakage and draining the water, the tensioning structures return to their original shape.
But this, unfortunately, does not apply to fabric canvases. They do not retain water well, but in the form of compensation they are endowed with additional individual advantages:
an easier installation process without the use of thermal equipment makes it possible to carry out the installation independently and very quickly;
seamlessness provides fabric textures with a noble appearance, reminiscent of smooth, beautiful plaster;
they can be painted in any color, even black, which, judging by the photo, looks unusually attractive and extravagant, or make an artistic painting and thus update the design at any time;
photo printing on a fabric basis turns out to be muted, thanks to this you can easily achieve the impression of a fresco, which will greatly delight lovers of antiquity and classicism;
in addition, fabric coverings, due to their high temperature resistance, do not fade or deform, which is why a variety of lamps of any power can be installed under them.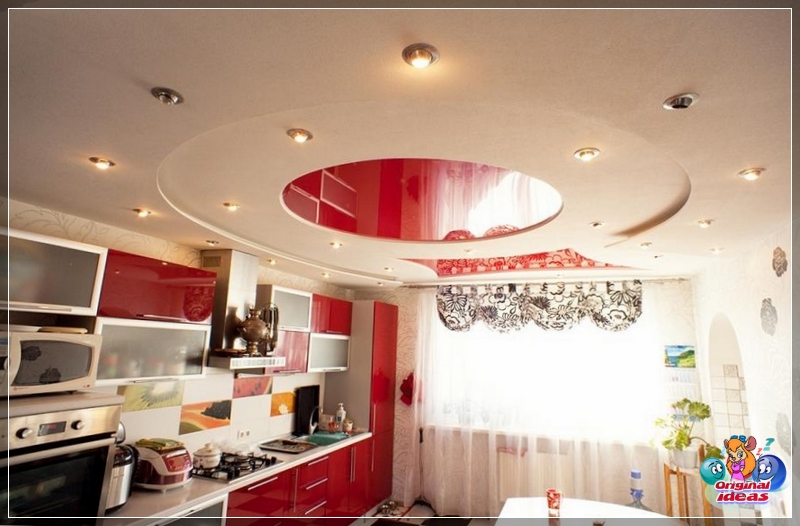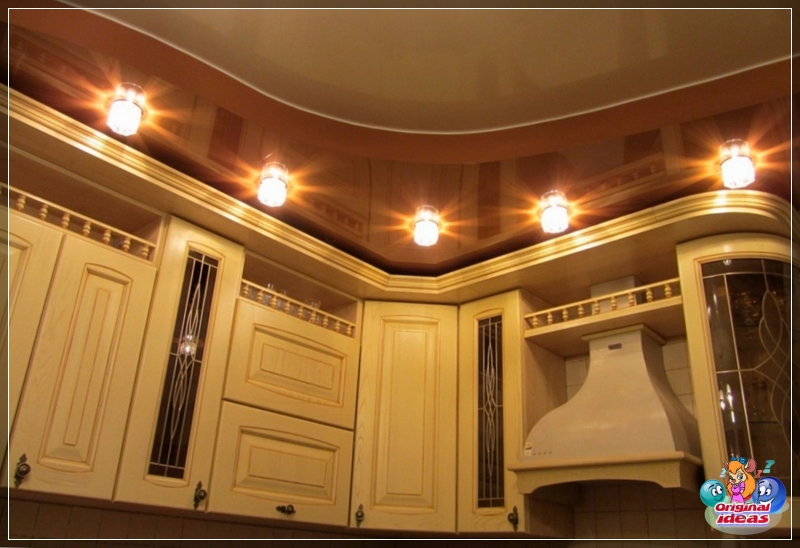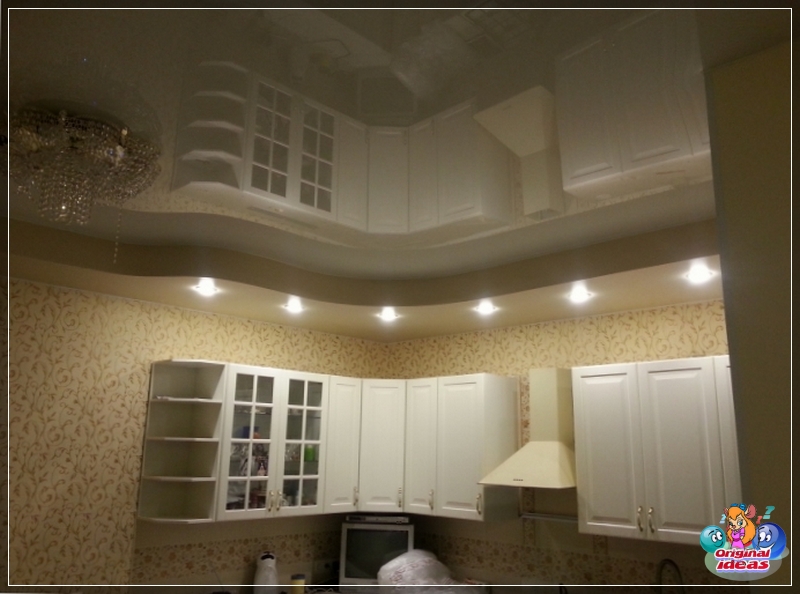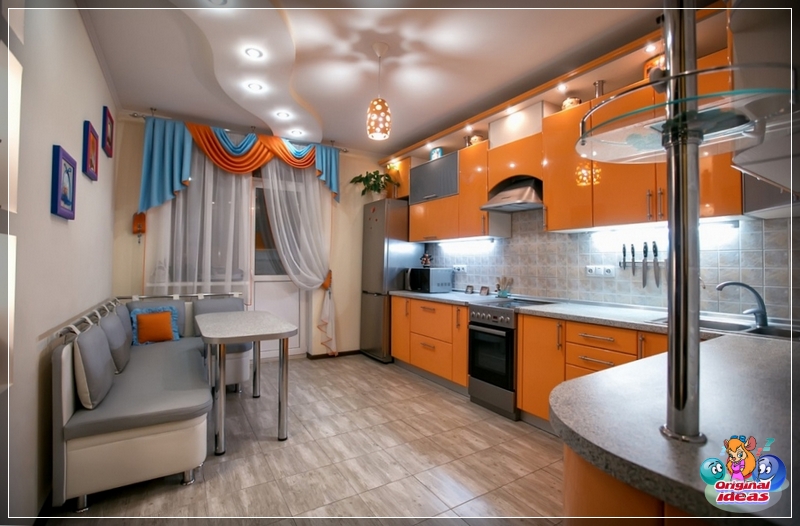 On a note. PVC films (matte, suede, with a gloss effect, satin), in contrast to fabric textures, have low frost resistance, which is why they are not used in unheated rooms.
It is forbidden to install them in saunas, baths, etc. d. That is, where the air temperature can rise above 90 ° C (due to the release of harmful chemical elements that make up the films).
But in the kitchen, designers advise using film stretch ceilings, especially with glossy canvases, which, due to high light reflection, will effectively emphasize the shine of metal fittings, super-fashionable household appliances, lacquered facades and tiles.
Against the background of plain walls and floors, mirrored ceiling systems with a pattern made using different programs look gorgeous. A bright and rich image will add more positive to the kitchen environment.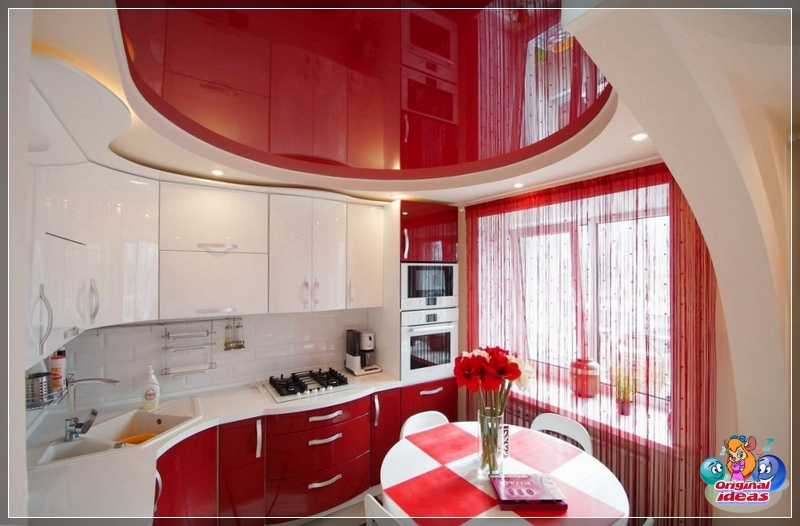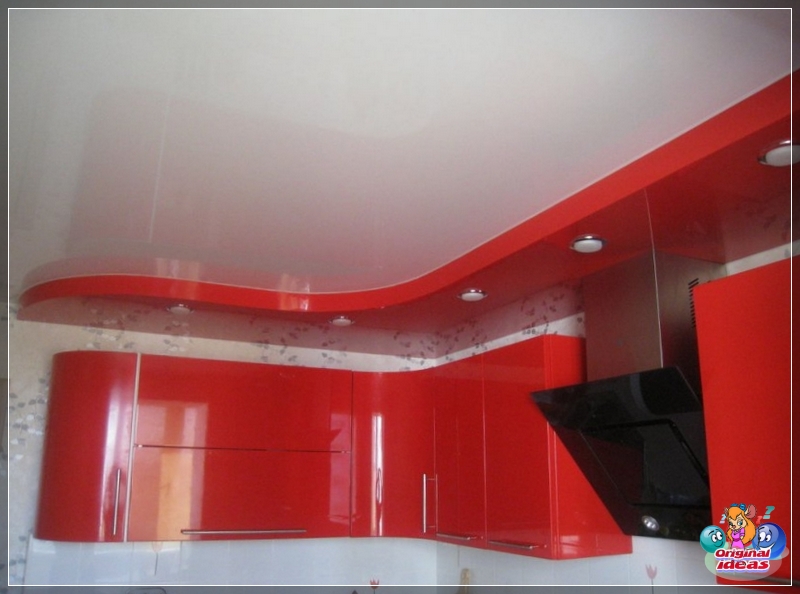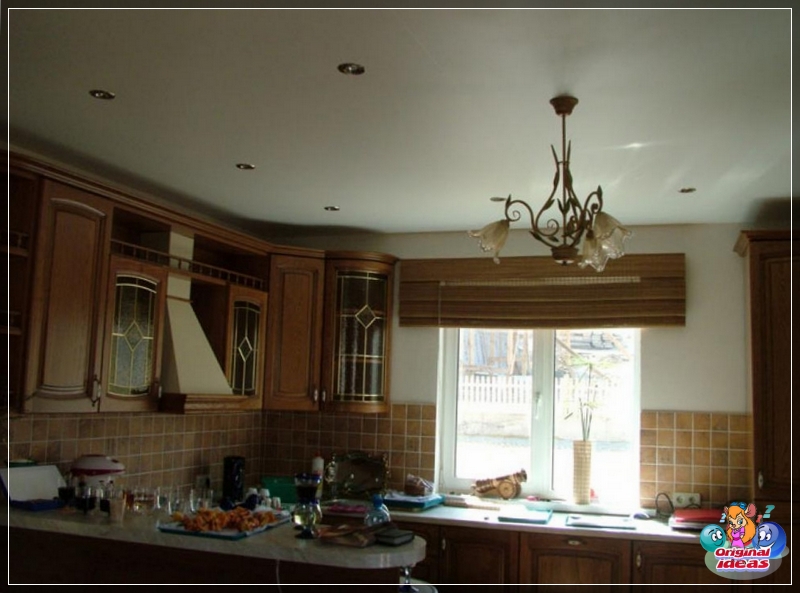 But we must not forget that a stylish kitchen assumes a measure of gloss and decor, as well as the fact that glossy coatings are suitable only for modern designs.
But when stylizing the kitchen interior in rustic motifs, classics or semi-antique, lacquer bases are unacceptable.
Matte and satin films will be appropriate here, without glare and visible seams, more reminiscent of a classic putty, or, if you really like glossy textures, then the soldering of matte and lacquer canvases, creating together the effect of "optical illusion" - matte films will emphasize the real height of the ceiling, and mirrored - its depth, forming the appearance of the second level.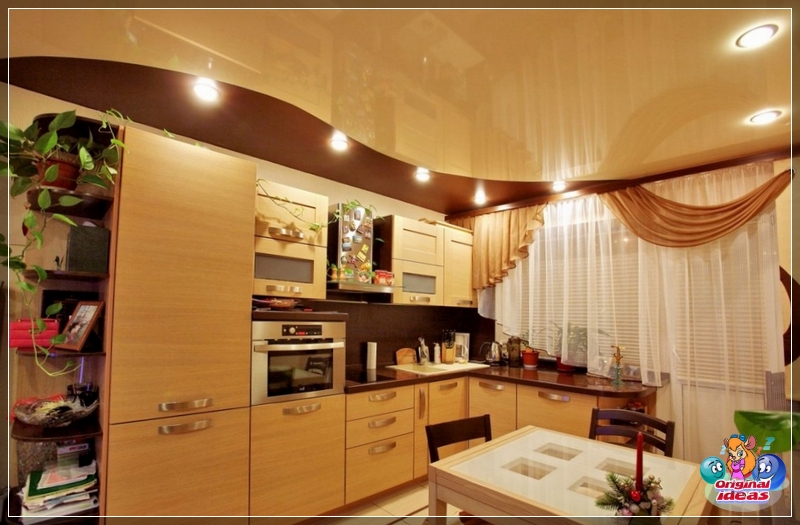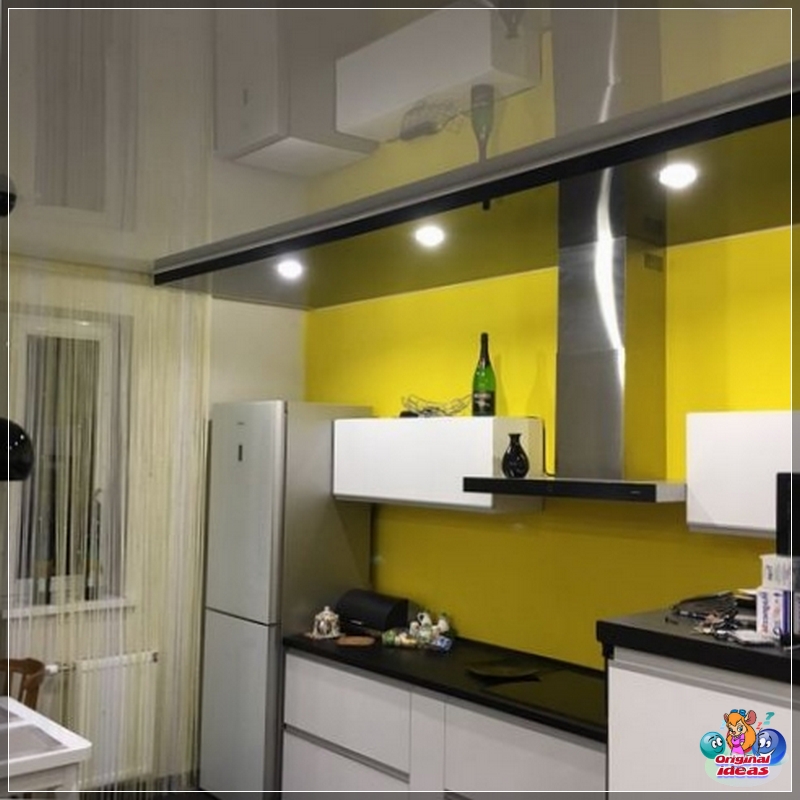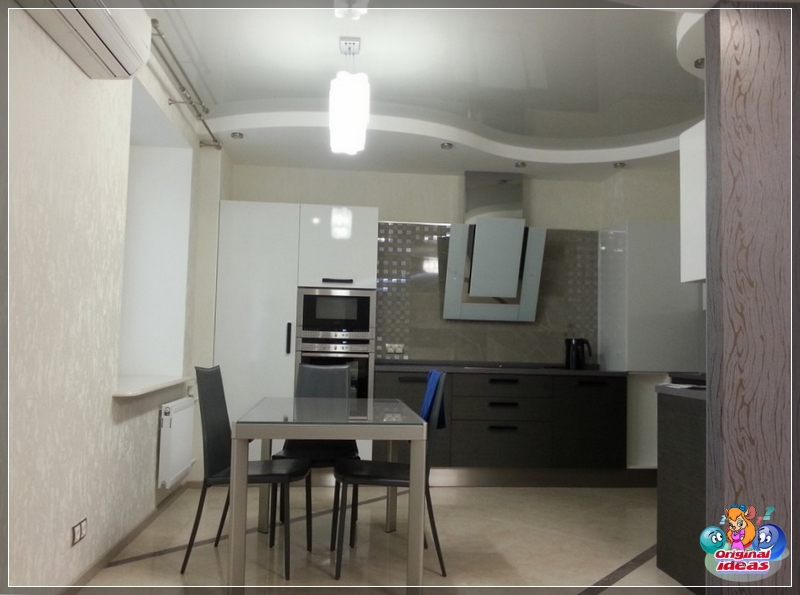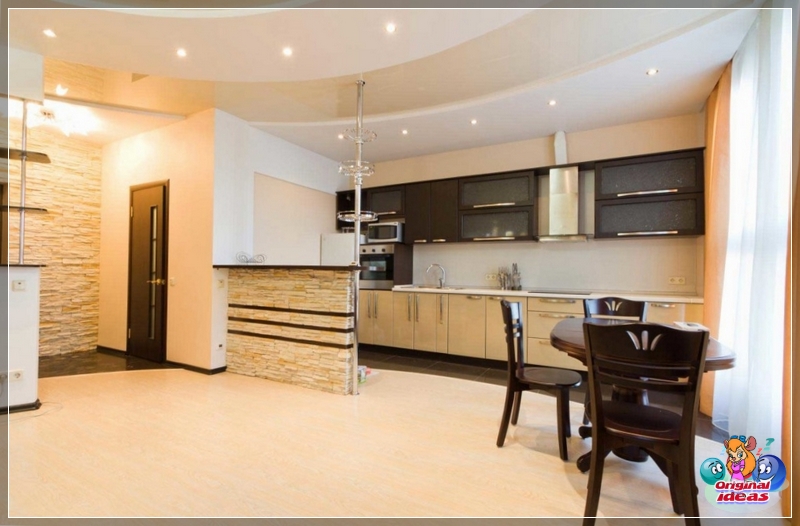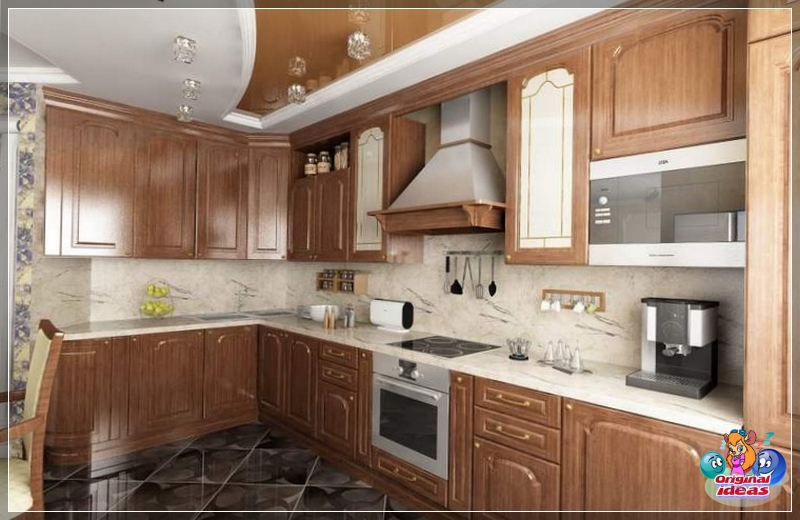 What to look for
Disadvantages of stretch coatings
Along with the advantages, stretch coatings also have disadvantages, which include:
Seam line. All canvases are small. Against this background, Chinese films with decent dimensions stand out, but, alas, at the expense of quality.
Vulnerability of canvases, which follows from the first paragraph. It is the seam line that is the most unprotected area.
During cooking, in the presence of a gas stove, ovens and other equipment, the temperature in the kitchen rises significantly. Hence, softening of the films is possible, their deformation to a greater extent along the seam, violation of integrity, steam penetration into the space between the floor slab and the tension structure. The consequences can be the most sad - an unsightly appearance, the appearance of mold and mildew on the base ceiling, therefore, a putrid smell in the kitchen, as well as a decrease in the strength of the coating and its protective ability. To prevent this from happening, you need to choose products only from well-known brands for which reputation is not an empty phrase.
High cost, especially when carrying out installation work by invited specialists. You can, of course, do the installation yourself, of course, especially for single-level fabric structures that do not require heat treatment. In all other cases, or when arranging complex two-level stretch ceilings in the kitchen, knowledge and experience are needed.
Small resistance to punctures, cuts, although mechanical shock (within reasonable limits, naturally) all film canvases withstand perfectly.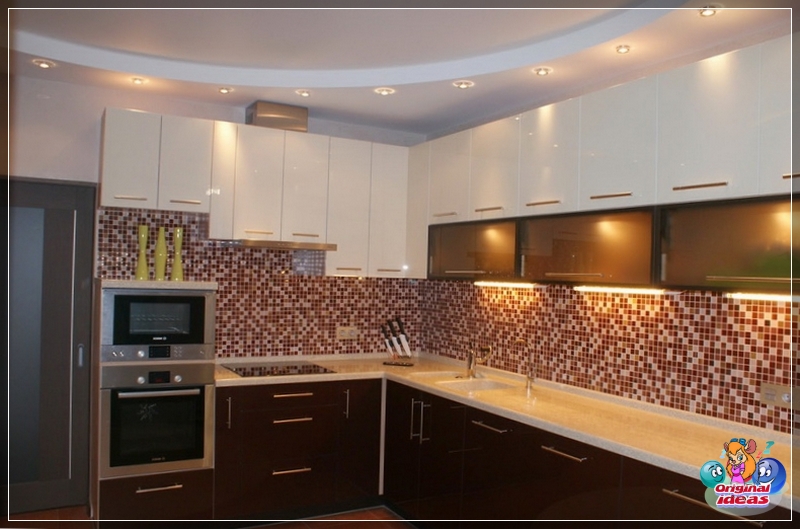 Possible problems during operation
In the process of using stretch ceilings in the kitchen, owners may encounter some difficulties:
The cotton effect can be very mood-damaging, especially if it occurs frequently. It occurs when doors and windows are opened, during which the film is noisily attracted to the base overlap. This is the result of improper installation, and such a defect is rather difficult to eliminate. We will have to equalize the pressure of the ceiling and kitchen space, which only specialists can do. Such a nuisance will not arise when using a seamless fabric.
Another drawback of unskilled assembly and installation or the use of dubious film quality is the sagging of the structure. Such a problem, to the delight of the owners, is solved simply - by pulling up the canvas, which can be done on your own, however, after spending time.
Reducing the height of the kitchen, which does not spoil with its parameters in multi-storey buildings. But here, too, you can gracefully beat the space, making, for example, a stepped tension structure in an adjacent room, and in the kitchen a single-level simple one or using floating technology, which will visually make the kitchen space much higher.
Incompatibility of the canvas and lighting devices, which is why experts recommend purchasing everything at the same time and preferably from one manufacturer. You can, of course, purchase medium-power lamps in advance, but this will negatively affect the conceived design of the ceiling, when a noticeable light transition is needed for zoning or accent.
Proper care is the key to the longevity of tensile structures
A kitchen is a room with increased risks of pollution and humidity, where soot, even with a powerful hood, settles on the surrounding objects, and mostly on the ceiling, making it completely unattractive over time. Traditional ceilings will require whitewashing, plastering, suspended ceilings - washing cells, slats, which is quite troublesome and difficult.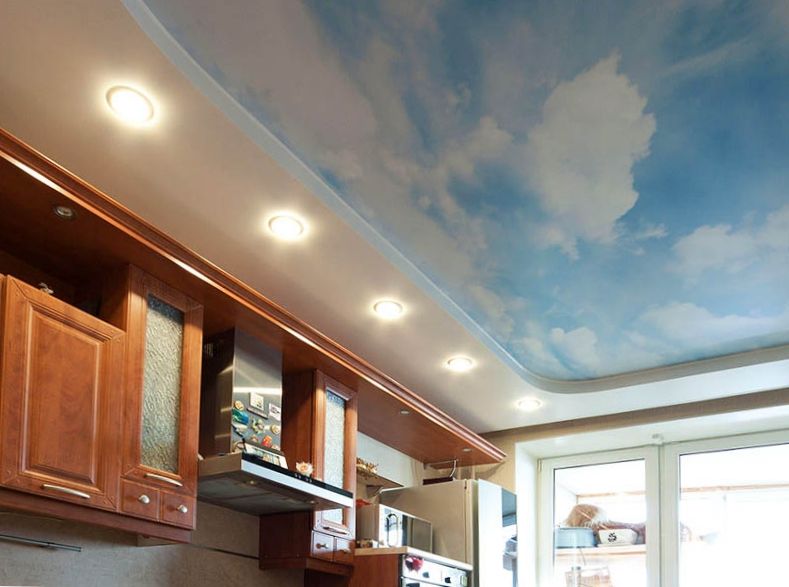 Stretch ceilings in the kitchen are a different matter, for which maintenance is minimized and does not take much time. Is this not the dream of every hostess.
Care instructions:
All canvases can be washed well with simple soapy water or any detergent without abrasive particles. To prevent fatty and nicotine deposits, it is enough to wipe the ceiling once a month with a sponge soaked in detergent solution. It is good to use a regular mop with soft bristles for cleaning or a special one with a movable soft nozzle.
It is forbidden to use sharp objects - adhering lumps of dirt must be removed with a soft cloth soaked in vinegar solution.
A tarnished glossy ceiling will sparkle with new colors if you wipe it with a 10% solution of ammonia, and then with a damp cloth.
The cleaning solution can be sprayed with a spray bottle, which will help to apply it evenly to the surface and avoid streaks.
You should not press too hard on the canvas in order to prevent damage. Especially carefully you need to wipe ceilings located at a distance of 3-4 cm from the base. In this case, it is better to refuse a mop and rinse the canvas by hand using a stepladder.
After washing, the ceiling should be wiped with a dry cloth to remove possible stains.
In addition to soap solution and detergents, you can use:
composition for washing windows, colorless, based on ammonia, which does not leave streaks and is suitable for washing all types of canvases, except for fabric textures and matte;
dishwashing detergent - it perfectly cleans soot and nicotine deposits, which is important for the kitchen;
a solution of 10% ammonia and warm water (in a ratio of 1: 9) for satin and glossy films, but in no case for matte.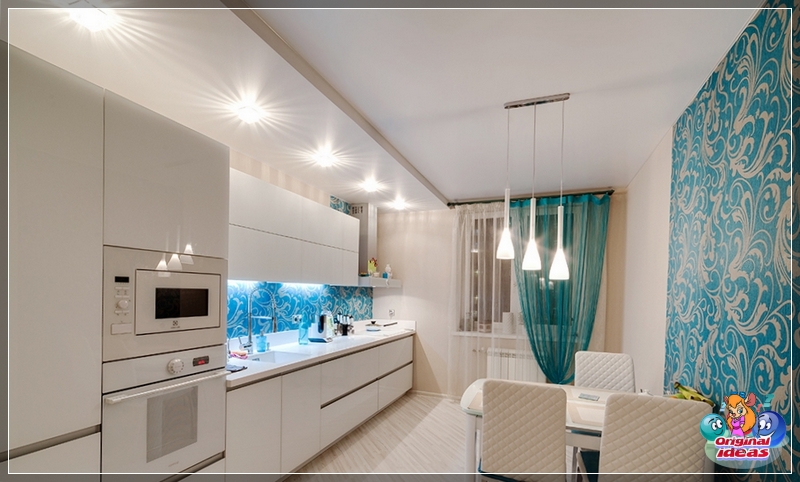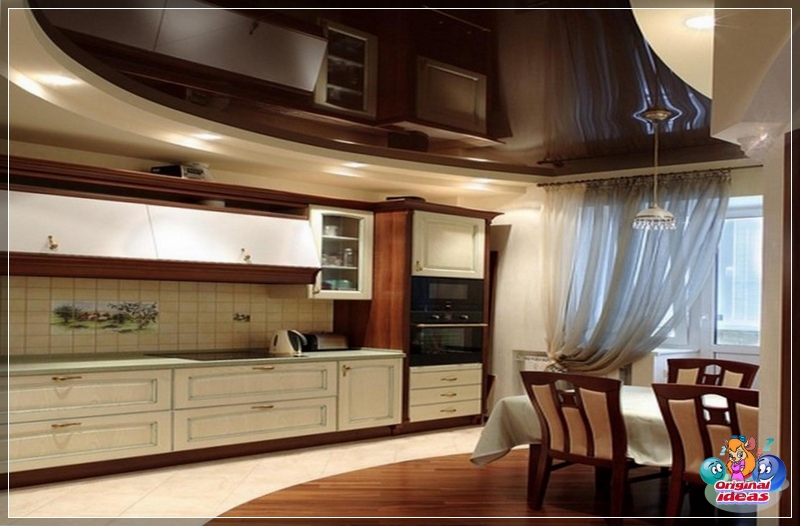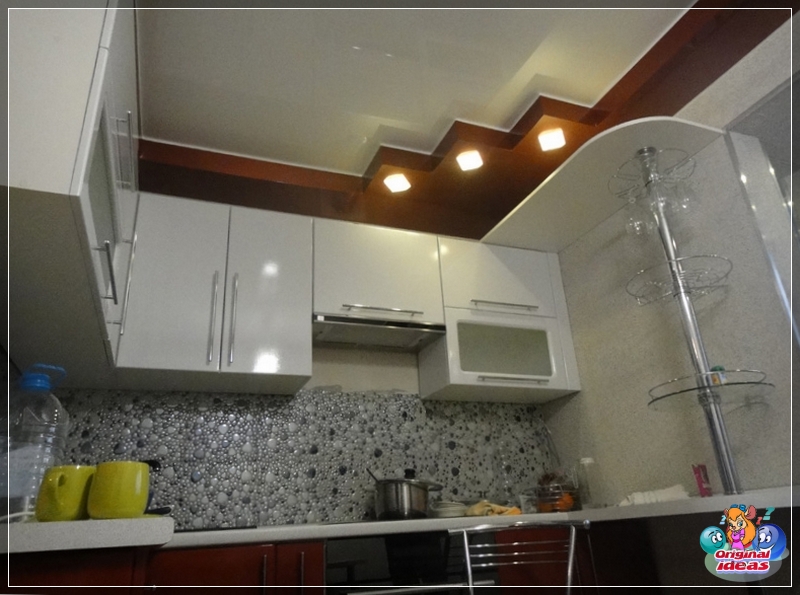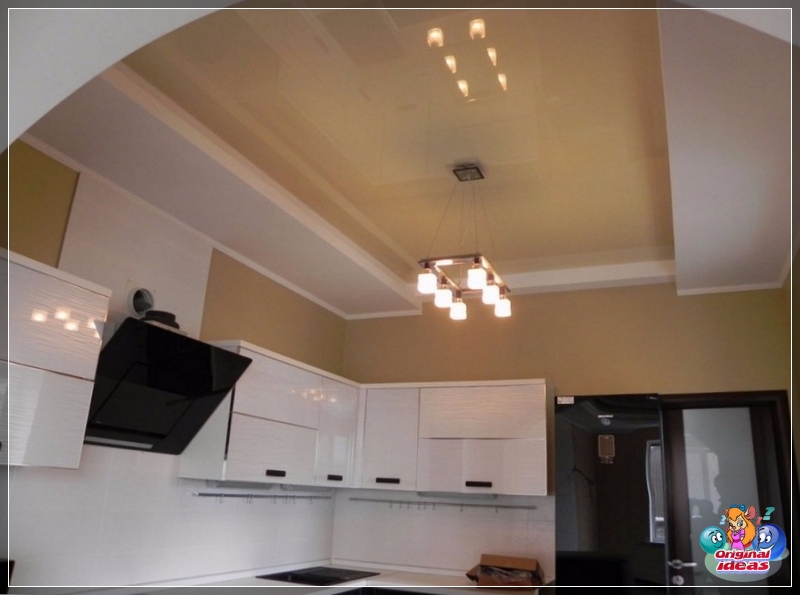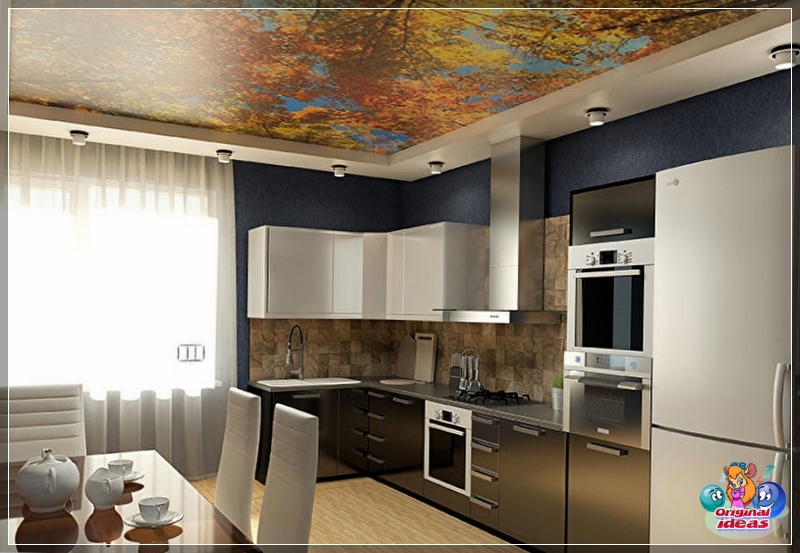 During operation it is necessary:
use a hood, especially if there is a gas stove in the kitchen;
periodically remove dust with a soft dry cloth;
wipe off any dirt immediately, without waiting for them to dry out and penetrate the canvas;
Well, in very difficult cases, use cleaning services - specially trained employees with the help of appropriate devices will quickly return the ceiling to its former greatness.
Stretch structures are the most beautiful way to disguise all the flaws of the ceiling. They create a unique atmosphere of luxury, striking the imagination with ideal geometry and color. They are also very practical. According to consumer reviews, problems with stretch ceilings in the kitchen are rare and mainly not due to their shortcomings, but due to the illiterate selection of all components and amateur installation. To avoid this, you need to approach the arrangement of structures competently.